Kavanaugh and Gorsuch Yearbooks
A telling contrast of two Georgetown Prep schoolmates.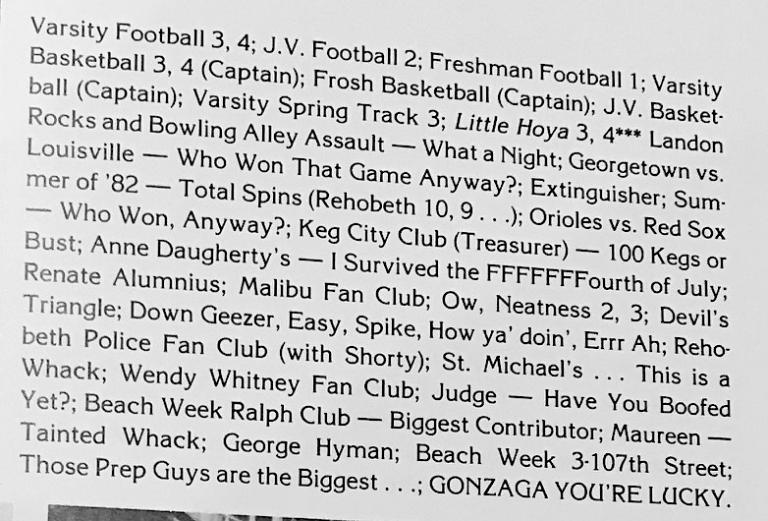 As the accusations against Brett Kavanaugh started to flow, Republican defenders naturally started floating conspiracy theories that it was all a political stunt by the Democrats. The fact that the timing of the release of the first allegation, by Christine Blasey Ford, was politically convenient for delaying a vote and that Senator Dianne Feinstein held the information for so long helped feed that conspiracy theory. The natural counter-argument, though, was that no such charges emerged against Neil Gorsuch—and that Democrats were certainly motivated in that case because he was appointed to fill the vacant seat they thought rightfully belonged to Merrick Garland.
For some reason, it hit me this morning that, since both Gorsuch and Kavanaugh attended the same prep school, a politically-motivated Ford could very well have levied the same allegations against Gorsuch. Given that Gorsuch is a year younger than her and Kavanaugh two years older, though, that likely wouldn't have been plausible.
But while checking their ages, I stumbled on a fascinating bit of sleuthing by Libby Anne, with whose credentials and background I'm unfamiliar, on a religious website with which I'm also unfamiliar, comparing the yearbook entries of Kavanaugh and Gorsuch. It's an interesting topic because we know that Kavanaugh lied repeatedly about those entries.
Neil Gorsuch, Trump's first nominee to the Supreme Court, who was quickly confirmed, also attended Georgetown Prep, just like Kavanaugh. In fact, the two were there at the same time: Gorsuch graduated in 1985; Kavanaugh graduated in 1983. Suddenly, I was curious.

What did Gorsuch's yearbook look like? Was it full of the same alcohol-fueled joking as Kavanaugh's? If Kavanaugh was just doing what every Georgetown Prep student did—an academically serious kid who also had strong friendships—it should look about the same, right?

So I looked it up. Here is Gorsuch's yearbook entry:

President of the Yard, Student Government: English Class Representative 1, Border Council Member 2; Executive Council Member 3; Forensics 1, 2, 3 (National Champion), 4 (Vice President); International Relations Club 2 (CO-founder), 3 (Vice President), 4 (President of O.A.S.); Dramatics 2 (The Odd Couple); How to win by a landslide 3, 4; YES 4; "Lousy Spanish Student" 2, 3, 4; Facism Forever President (Founder and President) 1, 2, 3, 4; Believer in The World According to Ward; Committee to reform The Beast (President) 2, 3, 4; "The carrousel ride is over" (or is it?) 4; I am not an alkie; I never wrote a debate case!

Huh. That actually doesn't look like Kavanaugh's yearbook at all. Gone are the references to partying. Gone are the references to girls. Nearly entirely absent are the references to heavy drinking. "I am not an alkie" is the only reference to drinking in Gorsuch's yearbook entry. There are no references, in his entry, to kegs or a drinking pact or drinking-induced vomiting. The politics are concerning, but the partying is absent.

Gorsuch's entry is so different from Kavanaugh's that it's jarring.

Here, for comparison, is Kavanaugh's entry:

Varsity Football 3, 4; J. V. Football 2; Freshman Football 1; Varsity Basketball 3, 4 (Captain); Frosh Basketball (Captain); J. V. Basketball (Captain); Varsity Spring Track 3; Little Hoya 3, 4*** Landon Rocks and Bowling Alley Assault — What a Night; Georgetown vs. Louisville — Who Won That Game Anyway?; Extinguisher; Summer of '82 — Total Spins (Rehobeth 10, 9…); Orioles vs. Red Sox — Who Won, Anyway?; Keg City Club (Treasurer) — 100 Kegs or Bust; Anne Daugherty's — I Survived the FFFFFFFourth of July; Renate Alumnius; Malibu Fan Club; Ow, Neatness 2, 3; Devil's Triangle; Down Geezer, Easy, Spike, How ya' doin', Errr Ah; Rehobeth Police Fan Club (with Shorty); St. Michael's…This is a Whack; Wendy Whitney Fan Club; Judge — Have You Boofed Yet?; Beach Week Ralph Club — Biggest Contributor; Maureen — Tainted Whack; George Hyman; Beach Week 3-107th Street; Those Prep Guys are the Biggest…; GONZAGA YOU'RE LUCKY.

Kavanaugh's yearbook entry is filled with innuendo and references to drinking, among other things. Also absent are Gorsuch's references to academic pursuits, clubs, and honors, despite Kavanaugh's claim that he buckled down and focused on academics while in high school.

Of course, on some level these entries don't just (or primarily) tell us about the individuals who wrote them. The real insight these entries give us is a window into these individuals' friend groups. Who did they run with? Who did they form their jokes with? Gorsuch, it would seem, was a policy nerd who hung with the debate kids. Kavanaugh, in contrast, seems to have run with a crowd that partied, and partied hard.

[…]

Lots of people party in high school. There is nothing wrong with having partied in high school. Kavanaugh's yearbook only matters because Kavanaugh has been insisting that he was a squeaky clean Boy Scout in high school in order to discredit Christine Blasey Ford's allegation that he sexually assaulted her at a party.

Kavanaugh's yearbook would suggest that he wasn't the academically focused service project driven Boy Scout during high school that he's claiming he was to discredit Ford's allegations.
Note: I did a bit of cleanup of her entry for the sake of this post. Most notably, hers includes photographic images of both yearbook entries and then repeats them in text form. I've found other images of Gorsuch's yearbook entry, in various places and taken from various angles, that confirm that hers is legitimate.
This contrast is striking, indeed. It confirms not only that Kavanaugh was the party animal that all accounts of his high school and college associates have said he was—and that he, shockingly, started denying with that Fox News interview just ahead of Thursday's hearing—but it demonstrates how much of an outlier he and his circle were. The fictionalized account of those days by Mark Judge of "Bart O'Kavanaugh" is much closer to the truth than the fictionalized account of "Brett Kavanaugh" presented under oath by Brett Kavanaugh.
Again, I don't much care that Kavanaugh was a teenage douchnozzle. I do care that 53-year-old Kavanaugh is both a serial perjurer and seemingly completely unrepentant for the sins of his past.