Kenny Baker, The Actor Inside R2-D2, Dies At 81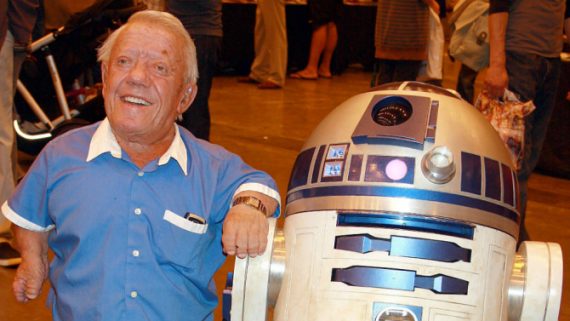 Kenny Baker, best known as the man inside R2-D@, one of only two characters to appear in all of the principal Star Wars films that have been released to date, has died at the age of 81:
Kenny Baker, the British actor who rose to fame by playing the robot R2-D2 in six "Star Wars" films, died on Saturday. He was 81.

His death was confirmed by a spokeswoman for Lucasfilm, the company that created and produces the enormously popular "Star Wars" franchise.

Mr. Baker was a little person whose adult height was widely reported to be 3 feet, 8 inches. He referred to his short stature as "my height difficulties" in an autobiographical sketch on hisofficial website, but it would have been impossible for a taller man to play the role that made him famous.

"They said, 'You've got to do it; we can't find anybody else. You're small enough to get into it and you're strong enough to be able to move it,'" he said of R2-D2's cylindrical metal costume in a video interview in Stockholm that he shared on his website. "I was a godsend to them, really."

Mr. Baker was born on Aug. 24, 1934, in Birmingham, England. He began his entertainment career in 1950 as part of a traveling troupe in Britain called Burton Lester's Midgets.

He soon left that act and toured the country for many years, performing in theaters, nightclubs and holiday resorts in a variety of roles: a circus clown, a performer in an ice-skating show and, later, as part of a musical comedy and variety act alongside the performer Jack Purvis. (Mr. Purvis also acted in "Star Wars," playing the diminutive, cloaked Jawa who shoots R2-D2, Mr. Baker said.)

The traveling act brought Mr. Baker financial security and a measure of fame in Britain, but it was an entertainment ecosystem that was wiped out by the invention of television. Then came R2-D2. That role began with the 1977 release of "Star Wars," but it was a part he almost did not take.

"This film came along and I turned it down," Mr. Baker said during the interview in Stockholm. "I said, 'I don't want to be stuck in a robot, what for, for goodness sake.'"

He ultimately relented and agreed to take the job as a favor toGeorge Lucas, he said. The role had no lines — the character's signature beeps and boops were not voiced by Mr. Baker — and, seated inside the robot, he never showed his face. But R2-D2 so changed his career that in later years he told an interviewer that if he could go back in time, he would do it again for free.

"Had I known I would have done it for nothing because he was broke at the beginning, he didn't have a penny, George," Mr. Baker said.

But he might have asked for a share of the film's profits, he said. "I'd be a millionaire like Alec Guinness was!"
While Baker was present in all of the scenes that featured R2 in the original trilogy, his role was reduced in the prequel trilogy as many of the robot's appearances were accomplished via robotic replacements or CGI effects. For the as-yet unnamed Episode VIII, set to be released in 2017 and which is currently in production, Baker's role was taken over by a new actor due to his retirement, although Baker was kept on board with a credited role as a consultant for the role.