Larry Wilmore Taking Colbert Report Time Slot
Larry Wilmore is getting a much-deserved promotion.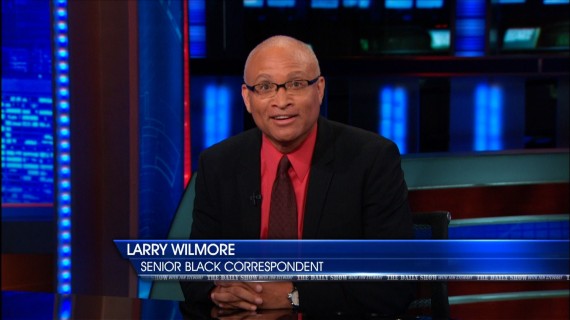 Larry Wilmore is getting a much-deserved promotion.
WaPo ("Larry Wilmore to take over Stephen Colbert's time slot with 'The Minority Report' on Comedy Central"):
Comedy Central isn't wasting any time — "Daily Show" correspondent Larry Wilmore will take over Stephen Colbert's time slot in 2015, the network announced Friday night.

"The Minority Report with Larry Wilmore," created and produced by "Daily Show" host Jon Stewart, will debut next January after "The Colbert Report" wraps up for good this year, airing at 11:30 p.m. Colbert, of course, is heading over to CBS  to take over "The Late Show" from David Letterman in 2015.

Wilmore, 52, is a familiar face to "Daily Show" fans — he's been on the late-night show since 2006 and currently serves as "Senior Black Correspondent." In addition, Wilmore, a veteran comedy writer, co-created "The PJs" (the animated show with Eddie Murphy) as well as the Emmy-winning "Bernie Mac Show." Fans of "The Office" might also recognize him as the guy who ran the "Diversity Day" seminar; he also served as a consulting producer on the NBC comedy series.

"While Larry Wilmore is a brilliant comic and showrunner, this is all just a complicated ruse to get him to move to New York and turn him into a Knicks fan," Stewart said in the announcement. He will serve as executive producer with Wilmore.

Wilmore chimed in as well: "I'm beyond excited to have this chance to continue my relationships with Comedy Central and the brilliant Jon Stewart," he said. "I love the city of New York and promise to only wear my Laker t-shirts when I'm layering."

As the late-night shuffle has taken place over the last few weeks, speculation had ramped up as to whether Comedy Central would mix things up and diversify the predominantly white and male line-up across the late-night TV spectrum. That fact was not lost on the network: "'The Minority Report with Larry Wilmore' will provide viewers with a distinct point of view and comedic take on the day's news from a perspective largely missing in the current late night landscape," the show description reads. "The series will feature a diverse panel of voices currently underrepresented in comedy and television."
I don't choose my entertainment for the diversity of its viewpoints or a sense of fairness but rather its entertainment value.  More than any of the remaining supporting members of the "Daily Show" cast, Wilmore manages to be consistently funny. Alas, maybe because he lives on the other coast, he's on far too infrequently. His getting his own vehicle is great news.