Law Enforcement Claims New Apple And Google Encryption Policies Will Hurt Investigations
The FBI and other law enforcement agencies are pushing back against Apple and Google's efforts to provide greater privacy to users.. They're wrong.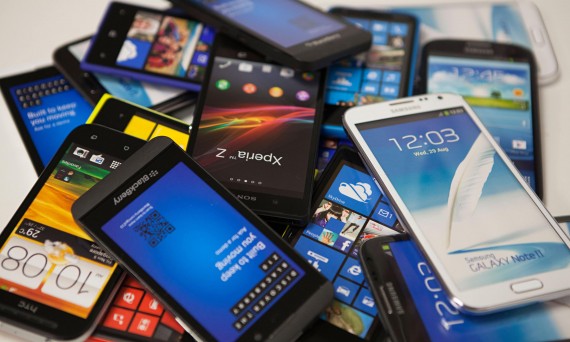 In the wake of the announcement that Apple would be making changes to iOS that would make it impossible for the company to unlock user's iPhones and iPads even if law enforcement presented them with a search warrant, Google announced that they would be making similar changes to its Android operating system. Not surprisingly, these announcement by the two predominant smartphone OS's on the market are causing some consternation among members of law enforcement, who are claiming that the moves will make it harder for them to do their jobs:
FBI Director James B. Comey sharply criticized Apple and Google on Thursday for developing forms of smartphone encryption so secure that law enforcement officials cannot easily gain access to information stored on the devices — even when they have valid search warrants.

His comments were the most forceful yet from a top government official but echo a chorus of denunciation from law enforcement officials nationwide. Police have said that the ability to search photos, messages and Web histories on smartphones is essential to solving a range of serious crimes, including murder, child pornography and attempted terrorist attacks.

"There will come a day when it will matter a great deal to the lives of people . . . that we will be able to gain access" to such devices, Comey told reporters in a briefing. "I want to have that conversation [with companies responsible] before that day comes."

Comey added that FBI officials already have made initial contact with the two companies, which announced their new smartphone encryption initiatives last week. He said he could not understand why companies would "market something expressly to allow people to place themselves beyond the law."

(…)

For detectives working a tough case, few types of evidence are more revealing than a smartphone. Call logs, instant messages and location records can link a suspect to a crime precisely when and where it occurred. And a surprising number of criminals, police say, like to take selfies posing with accomplices — and often the loot they stole together.

But the era of easy law enforcement access to smartphones may be drawing to a close as courts and tech companies erect new barriers to police searches of popular electronic devices. The result, say law enforcement officials, legal experts and forensic analysts, is that more and more seized smartphones will end up as little more than shiny paperweights, with potentially incriminating secrets locked inside forever.

The irony, some say, is that while the legal and technical changes are fueled by anger over reports of mass surveillance by the National Security Agency, the consequences are being felt most heavily by police detectives, often armed with warrants certifying that a judge has found probable cause that a search of a smartphone will reveal evidence of a crime.

"The outrage is directed at warrantless mass surveillance, and this is a very different context. It's searching a device with a warrant," said Orin Kerr, a former Justice Department computer crimes lawyer who is now a professor at George Washington University.

Yet the devices themselves are gradually moving beyond the reach of police in a range of circumstances, prompting ire from investigators. Frustration is running particularly high at Apple, which made the first announcement about new encryption and is moving much more swiftly than Google to get it into the hands of consumers.

"Apple will become the phone of choice for the pedophile," said John J. Escalante, chief of detectives for Chicago's police department. "The average pedophile at this point is probably thinking, I've got to get an Apple phone."
Manhattan District Attorney Cyrus Vance Jr. made similar comments in an Op-Ed in The Washington Post:
Apple and Google have brought their products to a new level of privacy, and of course privacy is critically important to our society. But the protection of privacy is found in the Constitution, which requires warrants issued by neutral, detached judges and supported by probable cause before law enforcement can obtain information from a mobile device. Absent certain narrow exceptions, my office cannot search a mobile device without a warrant. Neither can the other thousands of state and local prosecutors offices throughout the country. The warrant requirement assures that peoples' possessions and privacy remain secure in all but exceptional circumstances.

Apple's and Google's software updates, however, push mobile devices beyond the reach of warrants and thus beyond the reach of government law enforcement. This would make mobile devices different from everything else. Even bank security boxes — the "gold standard" of the pre-digital age — have always been searchable pursuant to a judicial warrant. That's because banks keep a key to them.

I am aware of no plausible reason why these companies cannot reverse these dangerous maneuvers in their next scheduled updates to iOS 8 and Android "L." Apple's and Google's software should not provide aid and comfort to those who commit crimes. This is not a matter of good or bad corporate citizenship. It is a matter of national public safety.
There are clearly some legitimate issues raised by the decision that Apple, and now Google, has made here. The contents of a suspects smartphone or tablet is likely to contain information that could be crucial to a criminal investigation including photos, email and text messages, contacts lists, electronic documents, and social media activity. Prior to these changes, law enforcement officers wishing to gain access to the contents of a locked phone or tablet would be able to obtain a warrant and then serve it on the appropriate third party which would then be obligated to unlock the phone. Now, however, that will not be possible because Apple and Google will be able to respond to these requests by saying that unlocking the phone is impossible for them. At the very least, this means that a very convenient avenue for the police in these types of situations has been shut off to them and they will need to find other means to conduct their investigation. The fact that law enforcement might have to do more legwork, for example, is not justification for the kind of attack on Google and Apple that we're seeing here.
Quite obviously, making these electronic devices more private is something that both companies have decided to do in the wake of the revelations about the National Security Agency's surveillance programs and the widespread concerns about privacy that those revelations prompted. Undoubtedly, the fact that phones and tablets will now be more secure from monitoring and tampering is something that consumers will react to positively and, in the end, that is exactly what Apple and Google ought to be doing, responding to their customers. Arguing that the companies should be dissuaded from making these changes because things might be a little more difficult for law enforcement quite simply doesn't hold water in this context, especially since there remain ways for investigators to gain access to a device that they are interested in. They could, for example, simply try to guess the password, a strategy that might be more successful than it sounds simply because most Americans aren't very good about creating passcodes are difficult to crack. They could also try to utilize a so-called "brute force" attack that throws passcodes at the operating system until it finds the correct one.  That strategy, admittedly, is not one that smaller law enforcement agencies may be capable of undertaking and the cost and time involved may not be justifiable in all cases, however it is available and it does put the lie to the assertion that what Apple and Google are doing is going to unreasonably hobble law enforcement.
Finally, as I noted in my original post on this issue, police confronted with a locked electronic device could seek a search warrant compelling the suspect or target of the investigation to provide them with the unlock code, While the Supreme Court has yet to rule on the issue, the law on the issue of whether or not a party can be compelled to reveal an electronic passcode to police has mostly fallen on the side of law enforcement. Given all all of this, the arguments from the FBI and District Attorney Vance seem to me to be quite overblown. There are more than enough resources at law enforcement's disposal to deal with this issue, the fact that Apple and Google are moving to provide an additional level of security to their customers is not going to hobble them significantly. In the end, the benefit to the public in these changes outweighs the minor inconveniences that law enforcement will suffer in their investigation, and hopefully neither company will now to government pressure on this.