Leaked Documents Reveal International Web Of Hidden Assets, Secret Bank Accounts
A treasure trove of documents from a law firm in Panama could prove problematic for a large group of international leaders.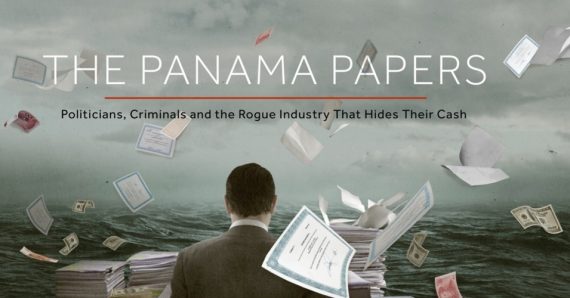 A treasure trove of document leaked from a law firm in Panama could end up proving quite embarrassing, and perhaps worse, to many international bankers, industrialists, and world leaders:
WASHINGTON — A group of news media outlets published articles on Sunday based on what they said were 11.5 million leaked documents from a Panama law firm that helped some of the world's wealthiest people — including politicians, athletes and business moguls — establish offshore bank accounts.

The German newspaper Süddeutsche Zeitung said its reporters had obtained the documents from a confidential source. The newspaper then shared the files with other media organizations, like The Guardian and the International Consortium of Investigative Journalists.

In an article, the investigative journalism organization said the documents revealed the offshore accounts of 140 politicians and public officials, including a dozen current and former world leaders and several individuals with close ties to President Vladimir V. Putin of Russia. The organization said reporters at 100 news media outlets working in 25 languages had used the documents to investigate the law firm, Mossack Fonseca, and its clients, including political figures in countries like Iceland, Pakistan and Saudi Arabia.

It is not illegal in many cases to have offshore bank accounts. But they are used in some instances by wealthy individuals and criminals to hide money and business transactions, and to avoid paying taxes.

The leak followed a series of high-profile breaches in recent years in which individuals working for governments or companies have amassed internal files and then given them to media organizations. In 2014, Edward J. Snowden, a contractor for the National Security Agency, gave reporters what intelligence officials have estimated was at least 1.5 million documents from the agency. Hundreds of articles have been published based on those documents.

The media organizations looking into Mossack Fonseca are expected to publish many more articles based on the new documents in the coming days.

The firm, which has dozens of offices around the world, has been investigated by law enforcement authorities in several countries over accusations of connections to money laundering.

In a lengthy statement provided to The Guardian, the firm said it could not respond to specific questions, but insisted that many of the individuals and companies named in the documents were never clients of Mossack Fonseca. The firm added that in many cases it was "legal and common for companies to establish commercial entities in different jurisdictions for a variety of legitimate reasons."

"Our services are regulated on multiple levels, often by overlapping agencies, and we have a strong compliance record," the firm said.

"In addition, we have always complied with international protocols" to assure "that the companies we incorporate are not being used for tax evasion, money laundering, terrorist finance or other illicit purposes," it added.

According to the news reports, the documents related to Russia identified several officials with close ties to Mr. Putin, including two of his oldest friends, Sergei Roldugin, a cellist, and Yuri V. Kovalchuk, the principal shareholder of Bank Rossiya, a financial institution that has come under sanctions by the United States as the "cashier" of officials in the Kremlin.

The reports said Mr. Putin's friends and associates had channeled $2 billion through a complex, deliberately convoluted network of offshore companies. Mr. Putin's name appears on none of the records for the companies or the transactions, but Bank Rossiya and Mr. Roldugin do.

Mr. Roldugin acknowledged in an interview with The New York Times that he owned a share of Bank Rossiya, which he acquired in the 1990s, but offered few details about an investment that made him, on paper at least, a very rich man.

"I've got an apartment, a car and a dacha," he said. "I don't have millions."

According to the disclosures, Mr. Roldugin holds similar shares of other companies, including an advertising firm founded by another close associate of Mr. Putin's, Mikhail Y. Lesin, who was found dead in a hotel in Washington last fall.

Last week, the Kremlin's spokesman, Dmitri S. Peskov, preemptively denounced the articles published on Sunday. He warned that the consortium had prepared an "information attack" against Mr. Putin and his associates, and described the articles as "an undisguised paid-for hack job."

The revelations also touched Ukraine's president, Petro O. Poroshenko, who was elected in the aftermath of the political upheaval in the country in 2014 that led to the annexation of Crimea and open conflict with Russia in eastern Ukraine.

Mr. Poroshenko, a tycoon with assets in television and a chocolatier before his entrance into politics, pledged to divest himself of his holdings but instead moved the assets into an offshore company in the British Virgin Islands, according to the consortium's reporting. It said that Mr. Poroshenko, who has received political support from the United States, had not disclosed the arrangement.
Although we are only in the early stages of the disclosures that are inevitably expected to come from what are already being called the "Panama Papers," an obvious homage to the Pentagon Papers released during the height of the Vietnam War, it seems clear that they have the potential to cause major headaches for institutions across the globe and are already being compared to the National Security Agency documents that came to light as a result of the actions of Edward Snowden. Indeed, many of the newspapers and news organization involved in the release of this information were also involved in the joint investigation and publication of the information revealed by the Snowden leaks as well as the documents released to Wikileaks by Chelsea Manning, who is now serving a sentence for violations of the Espionage Act and other charges related to her actions while serving in the U.S. Army during which time she was known as Bradley Manning. Much as in the early days of the Snowden case, it is unclear who the source(s) for the Panama Paper leaks may be, although the most obvious conclusions would be either an employee or contractor for the the law firm or someone who hacked into the law firms systems
The Guardian summarizes just some of what's already been found:
The Panama Papers reveal:

Twelve national leaders are among 143 politicians, their families and close associates from around the world known to have been using offshore tax havens.
A $2bn trail leads all the way to Vladimir Putin. The Russian president's best friend – a cellist called Sergei Roldugin – is at the centre of a scheme in which money from Russian state banks is hidden offshore. Some of it ends up in a ski resort where in 2013 Putin's daughter Katerina got married.
Among national leaders with offshore wealth are Nawaz Sharif, Pakistan's prime minister; Ayad Allawi, ex-interim prime minister and former vice-president of Iraq; Petro Poroshenko, president of Ukraine; Alaa Mubarak, son of Egypt's former president; and the prime minister of Iceland, Sigmundur Davíð Gunnlaugsson.
In the UK, six members of the House of Lords, three former Conservative MPs and dozens of donors to British political parties have had offshore assets.
The families of at least eight current and former members of China's supreme ruling body, the politburo, have been found to have hidden wealth offshore.
Twenty-three individuals who have had sanctions imposed on them for supporting the regimes in North Korea, Zimbabwe, Russia, Iran and Syria have been clients of Mossack Fonseca. Their companies were harboured by the Seychelles, the British Virgin Islands, Panama and other jurisdictions.
A key member of Fifa's powerful ethics committee, which is supposed to be spearheading reform at world football's scandal-hit governing body, acted as a lawyer for individuals and companies recently charged with bribery and corruption.
One leaked memorandum from a partner of Mossack Fonseca said: "Ninety-five per cent of our work coincidentally consists in selling vehicles to avoid taxes."
In addition to newspapers and news organizations that will no doubt have a lot more to say about what they have found in these documents, all of this will no doubt be of great interest to law enforcement in nations throughout the world, including the United States, which has a Federal statute prohibiting American companies and their subsidiaries from engaging in activity that violates American law overseas even if it is perfectly legal in the jurisdiction where they're operating. Other nations could see their political systems thrown into chaos over investigation and revelations from the papers, such as Iceland where the nation's Prime Minister already finds already finds himself in the midst of controversy after being implicated by information revealed in this first round of data dumps. Other leaders in other nations are likely to find themselves in similar situations, and the revelations will also likely have implications for the investigation of corruption among the leaders of FIFA, the world's governing organization for soccer and the World Cup, which is already under the microscope due to apparent corruption related to the awarding of the World Cup both for past gams and those scheduled to take place in 2018 in Russia and 2022 in the United Arab Emirates.
Suffice it to say that this appears to be something that could have widespread, worldwide implications. So, stay tuned.
You can follow the documents that have been released at this link, although I'm sure all the usual news organizations will have further details in the days, weeks, and months to come. So, stay tuned.