Manuel Noriega, Former Panamanian Dictator, Dies At 83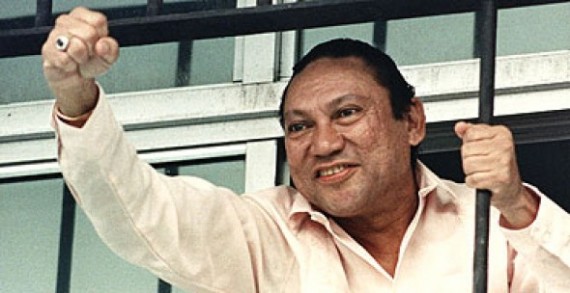 Manuel Noriega, the former Panamanian dictator who was ousted after a 1989 invasion by American troops, has died at the age of 83:
Manuel Antonio Noriega, the brash former dictator of Panama and sometime ally of the United States whose ties to drug trafficking led to his ouster in 1989 in what was then the largest American military action since the Vietnam War, has died. He was 83.

President Juan Carlos Varela of Panama announced Mr. Noriega's death on Twitter early Tuesday morning.

Mr. Varela's post read, "The death of Manuel A. Noriega closes a chapter in our history; his daughters and his relatives deserve to bury him in peace."

Mr. Noriega died around 11 p.m. Monday at Santo Tomás Hospital in Panama City, a hospital employee confirmed. An official cause of death was not immediately available.

Mr. Noriega had been in intensive care since March 7 after complications developed from surgery to remove what his lawyer described as a benign brain tumor. His daughters told reporters at the hospital in March that he had had a brain hemorrhage after the procedure. He had been granted house arrest in January to prepare for the operation.

His medical problems came on the heels of a legal odyssey that had begun with the invasion and led to prison terms in the United States, France and finally Panama. While imprisoned abroad he suffered strokes, hypertension and other ailments, his lawyers said.

After returning to Panama on Dec. 11, 2011, he began serving long sentences for murder, embezzlement and corruption in connection with his rule during the 1980s.

It was an inglorious homecoming for a man who had been known for brandishing a machete while making defiant nationalist speeches and living a lavish, libertine life off drug-trade riches, complete with luxurious mansions, cocaine-fueled parties and voluminous collections of antique guns. It was a quirky life as well: He liked to display his teddy bears dressed as paratroopers.

Mr. Noriega, who became the de facto leader of the country by promoting himself to full general of the armed forces in 1983, had a decades-long, head-spinning relationship with the United States, shifting from cooperative ally and informant for American drug and intelligence agencies to shady adversary, selling secrets to political enemies of the United States in the Western Hemisphere and tipping off drug cartels. Whose side he was on was often hard to tell.

It was an awkward embrace that befitted the history of American and Panamanian relations since the United States built the Panama Canal early in the 20th century. The United States continued to operate the canal — and govern a strip of territory alongside it — for eight decades before turning it over to Panama on Dec. 31, 1999.

In the 1990 book "In the Time of the Tyrants," a chronicle of the Noriega years, the journalists Richard M. Koster and Guillermo Sánchez Borbón gave a startling example of Mr. Noriega's double-dealing. While providing secrets about Cuba to the United States, they wrote, Mr. Noriega sold Fidel Castro thousands of Panamanian passports, at $5,000 each, for use by Cuban secret agents and possibly agents of other Soviet bloc nations.

The authors estimated that his illicit gains came to at least $772 million. (The White House put his personal fortune at $200 million to $300 million in the months before his ouster.)

"He craved power and became a tyrant," Mr. Koster and Mr. Sánchez wrote in laying out Mr. Noriega's ultimate undoing. "He craved wealth and became a criminal. And the careers came in conflict."

(…)

Manuel Antonio Noriega was born in a Panama City slum on Feb. 11, 1934 — or was he? The date has been in dispute. In a court hearing in France in June 2010, he initially gave his birth year as 1936, but then corrected himself, saying it was 1934, the generally accepted date. Legal documents have listed it as 1938, and Mr. Noriega had been said to lie about his age.

His father was a public accountant and his mother a cook or laundress, depending on the account, but for murky reasons they were gone from his life in early childhood. He told interviewers that he had been raised by a godmother. He attended the Instituto Nacional, Panama's best public high school, and in a yearbook he named his life's ambitions: to be a psychiatrist and president of Panama.

When his plans for medical school did not work out, a connection in government helped him get a scholarship to a military academy in Peru. On his return, he began rising in the National Guard.

In the late 1960s, he came under the tutelage of Gen. Omar Torrijos Herrera, a dictator who would sign a 1977 treaty in which the United States would agree to cede control of the canal and the American property alongside it in December 1999. Mr. Noriega became a loyal aide to General Torrijos, orchestrating the abuse and imprisonment of political opponents and tightening relationships with American law enforcement and intelligence officers.

After General Torrijos died in a plane crash in western Panama in 1981, Mr. Noriega maneuvered to take over the National Guard. Ascending to the rank of general in 1983, he effectively became the country's strongman, even though a civilian was president. An early step was to unite the various guard units under the Panama Defense Forces.

He took on the moniker "El Man," but the nickname that endured among his detractors was "Pineapple Face," owing to his pockmarked skin. (A judge in California in October 2014 dismissed a lawsuit filed by Mr. Noriega's representatives protesting the use of his likeness and the "Pineapple Face" moniker in a "Call of Duty" video game.)

Embracing his power, Mr. Noriega rigged civilian elections to favor his handpicked candidates. He strengthened ties to drug traffickers. But he also sought close bonds with the United States.

Even as American drug agents grew more worried about his cartel relationships, Mr. Noriega reached out to the White House aide Lt. Col. Oliver L. North during the Iran-contra affair, meeting with him in September 1986 in London, according to notebooks of Colonel North's obtained by the National Security Archive through the Freedom of Information Act.

Colonel North was a central player in a Reagan administration scheme to sabotage the leftist Sandinista government in Nicaragua by secretly selling arms to Iran and using the proceeds to finance rightist Nicaraguan rebels, known as the contras. Congress had banned funding them.

Mr. Noriega offered to assassinate Sandinista leaders or commit acts of sabotage in exchange for Colonel North's help in repairing Mr. Noriega's deteriorating image in Washington. A congressional report said that the sabotage plan had been approved, but there is no evidence that it was carried out. In any event, it was too late for image rehabilitation; the American invasion was around the corner.
It was, of course, the invasion of Panama by U.S. troops that caused Noreiga to enter the public consciousness for most Americans:
In 1988, Mr. Noriega was indicted in Miami and Tampa, Fla., on federal narcotics-trafficking and money-laundering charges. He was accused of turning Panama into a shipping platform for South American cocaine destined for the United States, and allowing drug proceeds to be hidden in Panamanian banks.

Mr. Noriega responded by organizing large demonstrations in Panama against the United States. Gripping a machete as he spoke to a crowd, he declared, "Not one step back!" The slogan began appearing on billboards throughout Panama City.

There was a failed coup in 1988. The next year, Mr. Noriega annulled the results of Panama's presidential election, ratcheting up pressure on the United States to take action. After another failed coup, in 1989, he anointed himself "maximum leader," and the National Assembly declared war on the United States.4

Then, on Dec. 16, 1989, Panamanian troops shot and killed an unarmed American soldier in Panama City, wounded another and arrested and beat a third soldier whose wife they threatened with sexual assault.

"That was enough," President George Bush said in announcing the invasion, which included more than 27,000 troops.

A White House statement as the invasion got underway said the United States had acted "to protect American lives, restore the democratic process, preserve the integrity of the Panama Canal treaties and apprehend Manuel Noriega." Political commentators at the time assigned other motives, including a way for Mr. Bush to shake off perceptions of weakness; his poll numbers rose significantly after the invasion.

Panamanian forces were quickly overwhelmed as Mr. Noriega escaped into hiding, surfacing days later on Dec. 24 at the Vatican Embassy in Panama City. Twenty-three American service members were killed and more than 300 wounded in the invasion; casualties among Panamanians have been disputed, with the Panamanian government at the time estimating several hundred soldiers and civilians died, while some human rights groups insist the toll was much higher.

American troops descended on the embassy, and a standoff followed. For a time, American forces blasted heavy metal music (including Van Halen's "Panama") to torment Mr. Noriega and prevent reporters with directional microphones from hearing conversations between military and Vatican officials. He surrendered on Jan. 3, 1990, and was flown to jail in Florida, leaving behind a new president sworn in on an American military base and a new era for Panama.
Noreiga was eventually convicted of the charges against him by an American jury, and sentenced to up to forty years in Federal prison in 1992. He was released on parole in 2007, but was immediately extradited by the United States to France, where he faced charges similar to those lodged against him in the United States. After being convicted on those charges, Noreiga was extradited to Panama to finally face judgment in his home country. By early 2017, Noreiga was under house arrest to prepare for the operation that ultimately led to his death.