Libya Update: At Least 84 Dead, Possibly Hundreds
The crackdown in Libya is turning into a massacre.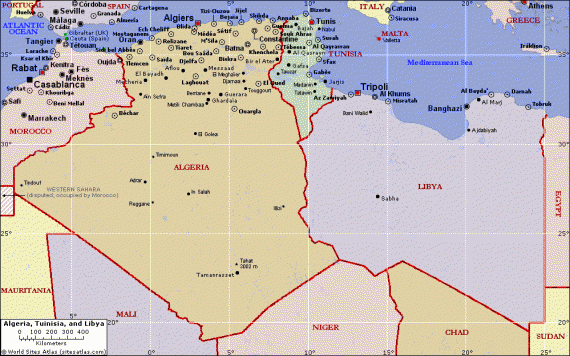 The death toll in Libya is starting to mount:
The number of people killed in three days of protests in Libya has risen to 84, according to the New York-based group Human Rights Watch.

The main focus of the demonstrations against Col Muammar Gaddafi's 42-year rule has been the second city Benghazi, where security forces are said to have attacked protesters again on Saturday.

On Friday, one hospital in the city reported 35 deaths.

State media have warned of retaliation if the unrest continues.

Media restrictions make it difficult to verify reports independently but the BBC has confirmed that websites including Facebook and al-Jazeera Arabic were blocked.

Security forces opened fire in Benghazi on Friday when protesters approached a compound used by Col Gaddafi when he visits the city, which is about 1,000 km (600 miles) from the capital Tripoli, eyewitnesses say.

(…)

In a statement on its website, HRW says there were demonstrations in at least four other eastern cities on Friday – al-Bayda, Ajdabiya, Zawiya, and Darnah – after security forces shot dead a number of protesters in the previous days.

A senior hospital official told the group: "We put out a call to all the doctors in Benghazi to come to the hospital and for everyone to contribute blood because I've never seen anything like this before."

A Benghazi resident told Reuters news agency early on Saturday that many protesters were still camped outside the courthouse. Later another eyewitness told the Associated Press that special forces had fired tear gas and cleared the area.

Benghazi residents also told the BBC on Saturday that security forces had taken critics of the government from their homes.
Al-Jazeera is reporting on its Libya live blog that hundreds may be dead in Benghazi alone. Here's an interview that was aired on the network earlier today with a resident of Benghazi describing what's going on in that city:
There have also been reports that the Gaddafi regime is making use of the thousands of foreign mercenaries that are trained in the country to put down the protests, perhaps because there are doubts that the Libyan Army would be comfortable for very long with the idea of firing on their own citizens. The one thing that the Libyan uprising shows us, though, is that in even the most repressive regimes the true desires of the people are for freedom. It kind of gives one hope for the eventual end of other regimes around the world.