Lindsey Graham: Tea Party Movement Is Unsustainable
South Carolina's Lindsey Graham sees the beginning of the end of the Tea Parties, and he's probably right.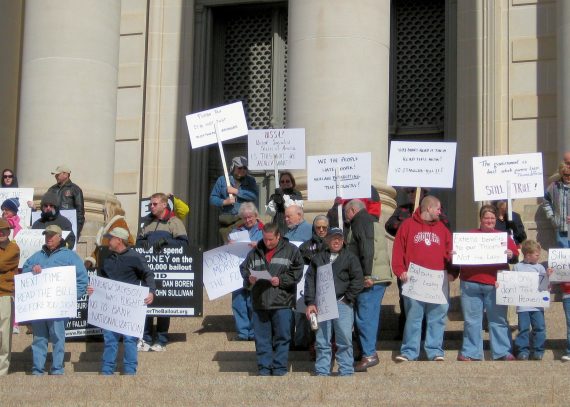 In addition to commenting about the rumors about his personal life, South Carolina Senator Lindsey Graham also fired a shot across the Tea Party movement's bow in his New York Times Magazine interview:
"Everything I'm doing now in terms of talking about climate, talking about immigration, talking about Gitmo is completely opposite of where the Tea Party movement's at," Graham said as Cato drove him to the city of Greenwood, where he was to give a commencement address at Lander University later that morning. On four occasions, Graham met with Tea Party groups. The first, in his Senate office, was "very, very contentious," he recalled. During a later meeting, in Charleston, Graham said he challenged them: " 'What do you want to do? You take back your country — and do what with it?' . . . Everybody went from being kind of hostile to just dead silent."

In a previous conversation, Graham told me: "The problem with the Tea Party, I think it's just unsustainable because they can never come up with a coherent vision for governing the country. It will die out." Now he said, in a tone of casual lament: "We don't have a lot of Reagan-type leaders in our party. Remember Ronald Reagan Democrats? I want a Republican that can attract Democrats." Chortling, he added, "Ronald Reagan would have a hard time getting elected as a Republican today."
On that last point, Graham isn't very far off the mark. The Ronald Reagan that governed for eight years in the 80s was, in many ways, very different from the mythos that many on the right, such as Rush Limbaugh and Sean Hannity, have created of a tax-cutting, hawkish foreign policy-following conservative icon. For example, Reagan raised taxes more than once during his eight years in office, he supported an immigration reform bill that granted amnesty to illegal immigrants, and while he did rebuild a decaying American military, he was also fiercely opposed to nuclear weapons and believed that they should be abolished from the planet.
Would such a candidate have a chance in the Tea Party Republican Party of 2010 ? It's hard to say, but it's by no means certain that he would be as lovingly received as he is remembered.
As for Graham's broader point about the Tea Party, that's just a fact of American political life. Protest movements in this country simply haven't lasted for very long without either dying out, or being swallowed into one of the major political parties. In the case of the Tea Party, I don't see the movement lasting for long after the 2012 elections. Either they will succeed in getting President Obama defeated and become the new face of the GOP, or they will fail and the Republican Party will begin another cycle of trying to figure out what it's supposed to stand for.
Of course, Graham's remarks are likely to inflame his opponents in the GOP and the Tea Party movement, but I don't get the impression that he really cares.