Lindsey Graham To Announce Presidential Run June 1st
South Carolina's Senior Senator is set to be the latest entry into the race for the Republican nomination.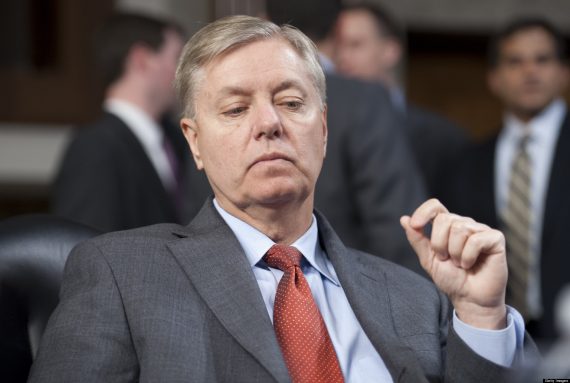 South Carolina Senator Lindsey Graham, who may be the most improbable Presidential candidate of this election cycle, says he'll announce his plans on June 1st:
Republican Sen. Lindsey Graham said on Monday that he will make his presidential ambitions known on June 1 in South Carolina.

"You're all invited to come, spend money when you do, and I will tell you what I"m going to do about running for president," Graham said on "CBS This Morning."

Graham all but confirmed that he will jump in the race, saying in the interview, "I'm running because of what you see on television. I'm running because I think the world is falling apart. I've done more right than wrong on foreign policy. It's not the fault of others, or their lack of this or that that makes me want to run. It's my ability in my own mind to be a good commander in chief and to make Washington work."

Graham teased his announcement in an email to supporters on Sunday afternoon. "As an announcement draws near, I need to know you stand with me," Graham wrote, including a link where supporters could donate money.

The South Carolina senator and foreign policy hawk has received support from several top donors, including billionaire Sheldon Adelson. The casino mogul co-chaired a luncheon for Graham's PAC that immediately followed Israeli Prime Minister Benjamin Netanyahu's March 3 speech to Congress. At the time, Graham had simply said he was "testing the waters" on 2016.

Should he declare his candidacy, Graham will enter a crowded Republican field currently lacking a presidential front-runner. But his chances of being competitive are slim. A recent NBC News/Marist pollshows that while the GOP senator is leading the field in the South Carolina primary, when it comes to all state voters, 58% think he shouldn't even put his hat in the ring.
Outside of South Carolina, where several other polls have shown Graham benefiting from a "favorite son" effect that may or may not last, Graham is pretty much a non-entity in the race for the Republican nomination. He's at the bottom of the pack in the national polls, and to date has not even been included in the polls in Iowa, New Hampshire, or Florida. Given that, it's kind of hard to see any rationale whatsoever behind Graham throwing his hat in the ring this time around, especially since he has never expressed any interest in running for President in the past and has never been seriously considered a Presidential candidate by any political analyst that I am aware of. Of all the early primary states, the one state where Graham might have shot at breaking through the field would be in New Hampshire, which has previously been kind to his friend John McCain. Even there, though, he's doing to be competing in such a crowded field that it's hard to see how he differentiates himself for voters.
In reality, of course, Graham isn't really running to win the Presidential nomination. Say what you will about Lindsey Graham, but he's not a dumb politician and he can surely read the tea leaves just as well as the rest of us. He also likely recognizes that he would not be seriously considered as a Vice-Presidential running mate by any of the other candidates who might win the nomination. Possibly, I suppose, we could see Lindsey Graham as Secretary of Defense in a Republican Administration, but that would seem to be about the height of Graham's reach when it comes to government position. Rather than running to win, though, I suspect that Graham is running largely because he feels that he needs to be the voice for a specific set of foreign policy ideas and that he sees candidates like Kentucky Senator Rand Paul as a threat to those ideas. He's not likely to admit this publicly, of course, but this seems to me to be the only conceivably rational justification behind what would otherwise be a very odd decision.