Lindsey Graham Is Running For President For Some Reason
For reasons only he can understand. South Carolina's senior Senator will be entering the race for the White House early next month.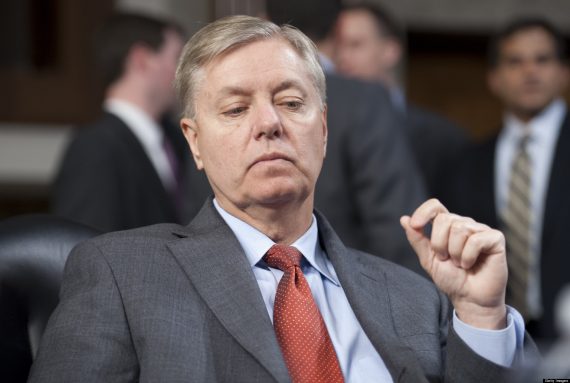 South Carolina Senator Lindsey Graham, who has never displayed even a hint of Presidential ambition before, will be entering the race for the Republican nomination for President early next month:
South Carolina Sen. Lindsey Graham will announce his 2016 presidential bid on June 1, Republican sources tell Politico.

Graham, 59, has built a reputation as one of the GOP's most outspoken hawks on defense issues. During more than two decades on Capitol Hill, he's championed a robust view of how American power should be used, and he's framed the war against radical Islam as the most important security issue facing America today.

It's a message he's likely to continue pushing onthe 2016 campaign trail.

"Ronald Reagan's policy of 'peace through strength' kept America safe during the Cold War. But we will never enjoy peaceful coexistence with Radical Islam because its followers are committed to destroying us and our way of life. However, America can have "Security through Strength' and I will continue to lead in that critical fight,"Graham said on the website for his testing-the-waters committee.

On some domestic issues, though, Graham has cultivated a more moderate profile. On immigration, in particular, he's defied the bulk of his party – in 2013, he was one of the key GOP co-sponsors of immigration reform legislation that included a path to citizenship for undocumented immigrants. As he's sharpened his message ahead of 2016, he's not backed down from his support for that measure.

"If I were president of the United States, I would veto any bill that did not have a pathway to citizenship," Graham recently told USA Today. "You would have a long, hard path to citizenship … but I want to create that path because I don't like the idea of millions of people living in America for the rest of their lives being the hired help. That's not who we are."

The remark seemed to jab at the frontrunner for the 2016 Democratic nomination, Hillary Clinton, who said Tuesday, "Make no mistakes: today, not a single Republican candidate, announced or potential, is clearly or consistently supporting a path to citizenship."

In the interview with USA Today, Graham took several shots at his potential GOP rivals. On Kentucky Sen. Rand Paul, who's taken on the hawks in his own party and pushed a less muscular view of foreign policy, Graham said, "I like him a lot (but) he's a libertarian. He is one step behind leading-from-behind. At the end of the day, his world view has not stood the test of time and I think he'd be the worst possible person to send into the ring when it came to foreign policy."

And on Florida Sen. Marco Rubio, who also co-sponsored the 2013 comprehensive immigration bill but now says the issue should be legislated step-by-step, Graham said, "One of the here helped write the bill; he now says we've got to secure the border first. That's not practical. No Democratic Congress is going to give the Republican Party everything we want on border security until you tell them what happens to the 11 million [undocumented immigrants in the U.S.]"
Graham has been a Senator for twelve years, and served in the House of Representatives for eight years before replacing Senator Strom Thurmond in the 2002 election and, as I said, he has never betrayed any Presidential ambitions during that entire time up until now. He has never been on anyone's short list of potential Presidential or Vice-Presidential candidates and, to be honest, I'm not sure that anyone had ever really asked him about running for President until he recently started bringing the subject up himself. To that degree, it's somewhat surprising to see him jumping into the race at this point in the field, especially since it seems apparent that he has no real chance of winning the nomination. In the national polls, Graham is averaging less than 2 percent in national polls, and he's been such a non-entity that he has not even been included in polling in early primary states like Iowa, New Hampshire, or Florida, but one suspects that his numbers there would be comparable to what it is in the national polls. The only state where he appears to be a player of any kind, not surprisingly, his home state of South Carolina. There, Graham is averaging 12.7% in the polls, which puts him in third place behind Jeb Bush and Scott Walker but still enough to make him worth paying attention to there. Unless he found a way to change his numbers in other states, though, it's hard to see his campaign being at all credible.
Given all of that, Graham is another one of those candidates who falls in to the "why are these people running?" category. In Graham's case, though, it's even more puzzling because, unlike a Ben Carson or Carly Fiorina, he's not going to end up as a Fox News pundit or making paid speeches to Tea Party groups. As I said when I wrote about the rumors of a Graham campaign for the White House last month, it seems as though Graham's main motivation for running is to push back against the tide of dissent from GOP orthodoxy on foreign policy represented by Kentucky Senator Rand Paul and others, Indeed, Graham seems to go out of his way to criticize Paul on a regular basis, so one assumes that we can expect to see much more of that as the campaign goes on Perhaps he sees himself as a bulwark against the threat that Paul and his supporters pose to the interventionist foreign policy that he represents along with other Senators such as John McCain and Kelly Ayotte, perhaps he thinks that by running he will be able to use his influence and popularity in South Carolina to eventually create a firewall that would stop Paul in his tracks if he did manage to do well in Iowa and/or New Hampshire, Whatever it is, though, Graham cannot seriously believe that he has a chance at winning this thing, can he?