Lindsey Graham Wants To Kill Americans Without Inconvenience of Trial
Lindsey Graham says that, if elected president, he would summarily kill anyone thinking about joining ISIS.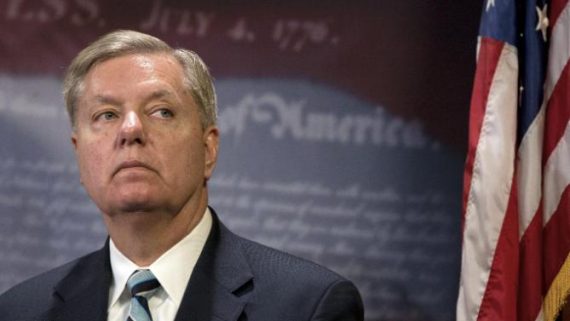 Senator Lindsey Graham told the folks at Iowa's Lincoln Day dinner that, if elected president, he would summarily kill anyone thinking about joining ISIS.
It was buried in a report on NPR's "Morning Edition" and seemingly not noticed by the reporter. The write-up on their website is under the innocuous headline "GOP Presidential Hopefuls Serve Up Ice Cream, Cheese And Red Meat To Iowans." Wisconsin Governor Scott Walker gets the photo atop the page. But this is rather stark:
But the hawkish senator quickly turned serious, taking a jab at his frequent foe, Rand Paul, the libertarian-leaning Kentucky senator. Paul, who has already officially announced his candidacy, had used his own time to reiterate his opposition to the NSA's controversial wiretaps, telling voters, "I want to catch terrorists, but I also want to protect the constitution."

Graham, who could announce his 2016 plans June 1, promised that if someone under his watch as president was thinking of joining ISIS or planning a terrorist attack, "I'm not calling a judge" to get a warrant, as Paul called for, "I'm calling a drone and we're going to kill you."
It was even more surreal in audio. Here's a longtime United States Senator whom Cokie Roberts would opine in the subsequent segment was a bonafide expert in foreign and military policy. He's risen to the rank of colonel as an Air Force lawyer, including assignments as a senior instructor at the JAG school and as an appellate judge. Yet he thinks the president ought be allowed to kill anyone he deems to be "thinking" about joining a terrorist group?
A DOJ white paper titled "Lawfulness of a Lethal Operation Directed Against a U.S. Citizen Who is a Senior Operational Leader of Al-Qaida or An Associate Force" was leaked a couple years back, narrowly focused on "the circumstances in which the U.S. government could use lethal force in a foreign country outside the areas of active hostilities against a U.S. citizen who is a senior operational leader of al-Qa'ida or an associated force." It required three conditions:
(1) an informed, high-level official of the U.S. government has determined that the targeted individual poses an imminent threat of violent attack against the United States; (2) capture is infeasible, and the United States continues to monitor whether capture becomes feasible and (3) the operation would be conducted in a manner consistent with applicable law of war principles."
I argued in The National Interest that, while the Obama administration had struck the right balance in the case of Anwar al-Awlaki, we needed more safeguards.
American citizens should nonetheless be wary of granting the president the power to single out citizens for killing based simply on his own judgment. Aside from being plainly unconstitutional, it's simply too much trust to place in a single individual. At the very least, the rules ought to be spelled out in legislation that has passed both Houses of Congress and survived judicial scrutiny for constitutionality rather than made internally.

Further, in addition to checks and balances, there has to be more transparency. The notion that the government can compile a list of citizens for killing, not tell anyone who's on it or how they got there, is simply un-American. Surely, a modern version of a WANTED: DEAD OR ALIVE notice could be publicly circulated, with a listing of the particulars. Maybe the named individual would turn himself in rather than wait for the drones to find him. Or maybe he'd hire an attorney to present evidence he's not actually an imminent threat to American citizens.

For centuries, civilized societies have understood that even wars must be fought according to rules, which have developed over time in response to changing realities. Rules are even more important in endless, murky wars such as the fight against Islamist terror groups. Currently, we're letting whomever is in the Oval Office pick and choose from among the existing rules, applying and redefining them based on his own judgment and that of his advisors. We can do better.
But Graham is advocating a move radically in the other direction. Awlaki, while a citizen, was in a foreign country where capture and extradition was unfeasible. As I noted, "If al-Awlaki or Khan were performing the exact same acts in Cleveland—or, indeed, London, Paris, or Sydney—they would have been targeted for arrest and extradition, not assassination." Graham seems to think that too inconvenient on the grounds that we're "at war."
That position is not only counter to decades of judicial principle, but also to Graham's introductory statement that "I want to catch terrorists, but I also want to protect the constitution." Apparently, he wants to do neither.