Majority Of Americans Don't Believe Trump's Explanation For Firing James Comey
A new poll reports that most Americans don't believe the President when it comes to key parts of the Russia investigation.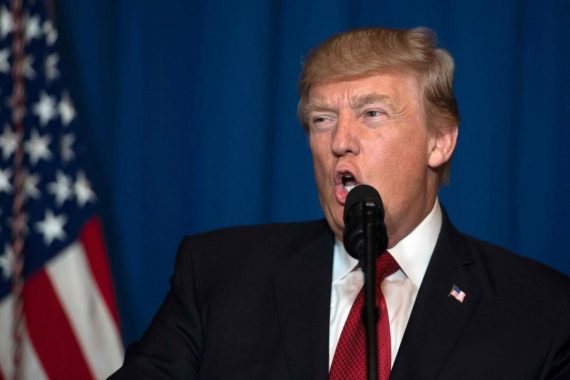 A new poll finds that a majority of Americans do not believe the President's claims for why he fired F.B.I. Director James Comey:
A majority of Americans believe that President Donald Trump fired FBI Director James Comey to deter that agency from investigating Trump's ties to Russia, according to a new poll released Wednesday.

Fifty-five percent of those polled by Quinnipiac University say Comey was removed "to disrupt the FBI investigation into potential coordination," a reasoning that Trump has denied. Trump says Comey was fired because he no longer had confidence in him to lead the agency, a claim that only 36% of Americans say they believe.

More than half of those polled, 54%, also say Trump is more generally abusing the powers of his office and Trump's approval rating continues to sag. Thirty-seven percent of Americans told Quinnipiac that they approve of Trump's job performance; 55% say they do not — largely in line with daily tracking polls.

Americans also generally do not seem to believe the narrative Trump has told about the Comey firing: 54% say they do not believe that Comey told Trump three times that he was not under investigation, which Trump claimed in his letter firing Comey.

And 55% say they believe Comey when he claims that Trump asked him to drop the investigation of his former national security adviser, Michael Flynn, which Comey said in memos happened during private conversations with the President.
To the best of my knowledge, this is the first poll that has been released on the question of what the public believed when it comes to the various claims regarding the Russia investigation that have been revealed over the past several weeks and months. If this is any indication, it would seem clear that the Trump Administration is heading into what are likely to be even more difficult times when it comes to this investigation at a distinct disadvantage among members of the public. Obviously, there are likely to be some people who will remain true believers to the end but already we seem to be starting to see cracks in the wall that show that the explanations that the Trump Administration is giving for what increasingly appears to be inept or suspicious actions on their part aren't being seen as believable by members of the public. This can be further seen in the job approval numbers from this same poll, which shows that 55% of those polled disapprove of the way the President is handling his job, while just 37% approve. Additionally, Trump is in negative territory when it comes to job approval among all demographic groups "except Republicans, who approve 84 – 13 percent; white voters with no college degree, who approve 52 – 40 percent, and white men who are split 47 – 46 percent."
Even worse for Trump are some of the numbers deeper in the poll showing that most Americans don't believe that the President possesses the leadership skills necessary to do his job:
President Trump is not honest, voters say 59 – 36 percent. Voter opinions of most of Trump's personal qualities remain negative:

– 57 – 40 percent that he does not have good leadership skills;
– 56 – 42 percent that he does not care about average Americans;
– 65 – 31 percent that he is not level-headed;
– 64 – 33 percent that he is a strong person;
– 57 – 40 percent that he is intelligent;
– 62 – 36 percent that he does not share their values.

The president's first overseas trip has little impact on voter opinion of his foreign policy ability, as he gets a negative 38 – 56 percent approval rating for handling foreign policy, compared to a negative 36 – 59 percent in a May 10 Quinnipiac University poll.
Looking more broadly, the President continues to sink in the polling averages. In the RealClearPolitics polling average, for example, he stands at 39.9% approval and 54.1% disapproval. At Pollster, he stands at 39.8% approval and 54.6%, and at 35.5% approval and 54.3% disapproval among Independents. The President is also seeing his personal favorability numbers head back in a negative direction after improving to some degree in advance of the Inauguration. According to RealClearPolitics, his favorability stands at 40.4% while his unfavorability stands at 54.6%. At Pollster, he stands at 41% favorable and 53.2% unfavorable. In both cases, the trends are showing that Trump's unfavorability number is trending back toward the highs it was at prior to the election, which doesn't bode well for the future. Additionally, the chart from RCP for Trump's job approval numbers show the gap between approval and disapproval widening significantly:
These numbers are likely to become even more important as we head deeper into the Russia investigation. The fact that we area already at the point where the public clearly isn't believing what the Administration is saying regarding important parts of that investigation suggests that things are likely to get even worse once we actually start hearing from witnesses such as former Director Comey who will presumably testify regarding efforts to undercut an investigation into Russian interference in the election. As things stand, this is going to get worse for the Trump Administration before it starts getting better, if it ever does get better that is.