Marco Rubio Misses Senate Vote On Omnibus Budget Bill
After making a big deal about voting against the budget bill passed yesterday by Congress during the last debate, Marco Rubio ended up missing the vote altogether.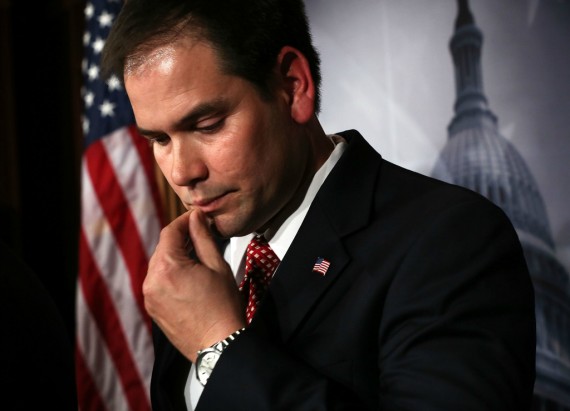 For several months now, Florida Senator Marco Rubio has had to fight back attacks from Jeb Bush and other of his opponents for the Republican Presidential nomination regarding the fact that he has missed a seemingly large number of votes in the Senate while running for President. The issue first made national news when one of Florida's largest newspapers called on Rubio to resign if he feels he's unable to do his job while running for President. Jeb Bush picked up the attack during a subsequent debate, but his attack largely fell flat and to some degree it was felt that Rubio had successfully put the issue behind him. This hasn't really proven to be the case, though, and it's seemingly guaranteed that it will return with the news that Rubio missed the final Senate vote on the spending bill that sailed through Congress yesterday:
Sen. Marco Rubio missed Friday's Senate vote approving a massive $1.8 trillion end-of-the-year spending bill and tax package — a day after he suggested that he could try to slow the legislation down.

The Florida Republican, who is running for president, was the only 2016 contender to miss the vote, which is the Senate's final vote of the year.

Rubio defended his absence in an interview, telling CBS News that "in essence, not voting for it, is a vote against it."

Sens. Ted Cruz (R-Texas), Rand Paul (R-Ky.) and Bernie Sanders (I-Vt.), three other presidential candidates, all voted against the legislation.

Sen. Lindsey Graham (R-S.C.), a fourth GOP presidential candidate from the Senate, backed the bill.

Cruz announced his opposition to the legislation on Thursday, describing his vote as a "hell no."

Rubio's missed vote comes after he suggested that he could use procedural tactics to try to slow down the legislation, which he said he opposed.

"We should use every procedural aspect that we have to slow it down and perhaps force some changes on these things we've been discussing," Rubio told Fox News.

However, Democrats quickly pointed out that the time agreement on the votes clinched that the Florida Republican would miss his chance.

Rubio's campaign has previously defended his voting record, saying that he will show up in the Senate when he believes his vote could be a deciding factor. The candidate doubled down on that argument on Friday.

"Look, I'm running for president. …When there are important votes, especially those where I can be a decisive voice, I'm going to be there," Rubio said.

The Florida Republican has missed more than half of the Senate's votes since October.
Rubio's failure to cast a vote on the budget despite promising during the debate to do everything he could to stop it has already let Senator Rand Paul to call on Rubio to resign or quit accepting his salary. Paul's call was joined by Michigan Congressman Justin Amash, a Paul supporter, and while their calls can be dismissed as political opportunism, as Sean Sullivan notes at The Washington Post, Rubio's missed vote on this bill is likely one that will stand out:
The bill is among the most significant Congress has passed this year. It includes a $1.1 trillion spending portion and a $622 billion tax section. Many fiscal conservatives rallied against it.

Rubio is in the midst of a busy week of fundraising and campaigning. On Friday, he is holding public events in Iowa and Missouri. A study by Vocativ and Govtrack earlier this year found Rubio to be the most absent member of the Senate.

In a Friday interview with CBS News, Rubio said of the bill, "In essence, not voting for it is a vote against it."

"Votes like Friday's are why Marco is running for president," said his campaign spokesman, Alex Conant. "Leaders in Washington crafted this trillion-dollar spending bill in secret, and unveiled it during the debate on Tuesday night. Marco had barely 48 hours to review over 2,000 pages of spending. Marco has consistently voted against those sorts of bills, but the truth is that it's not going to change until we elect a new president. That's why Marco is meeting voters in Iowa today."
Honestly, Rubio's vote would not have made a difference in the outcome of the vote and it's highly probable that his efforts to use legislative maneuvering to try to delay the vote would have likely been easily defeated by Majority Leader Mitch McConnell. Nonetheless, the fact that Rubio had made a promise on the stage of the debate on Tuesday night that he would be voting against the bill and that he would at least try to engage in some effort to stop the bill make the fact that he missed the bill look somewhat bad, and more importantly give opponents like Paul, and more importantly Ted Cruz, who did get back to Washington to vote, something to attack Rubio on. If Rubio knew at the point he was speaking on Tuesday that the legislative process had begun in such a way that there would be insufficient time for him to take any steps to stop the bill, then the smarter response from him, it seems to me, would have been to acknowledge that fact in the debate and cite it as one of the reasons that voters should support him so that he can work to change the way things are done in Washington. In reality, of course, as President Rubio would have even less control over the rules of the Senate than he does as the junior Senator from Florida, but for political purposes it seems like it would be a more effective message than promising to do something and then not doing anything at all, and not even bothering to fly back to Washington cast a "no" vote. At the very least, it is the kind of unforced error that a campaign that is in Rubio's position ought to be smart enough to avoid.
As I said when I first wrote about this in October, it isn't clear now much an issue like this actually matters to voters when it comes down deciding who to vote to. After all, Senator Rubio is not the first sitting officeholder to run for higher office, and he's not likely to be the last. Other candidates who have run for one office like holding another, including Barack Obama, Hillary Clinton, and John McCain, have missed votes and it didn't really seem to have much of an impact on their campaigns. Even for candidates in that position who ultimately lost their elections, it's not really fair to say that missed votes was a significant issue at all. So, perhaps, Rubio isn't taking as big a risk as it may seem, that will ultimately be up to the voters in Iowa, New Hampshire and elsewhere Given the position he's in, though, and the fact that this issue has already come up once for him, it seems as though the prudent thing would be to avoid even the appearance that he wasn't interested in diligently doing his job while running for another one.