Marco Rubio To Enter The Race For President, But His Star Has Dimmed
Florida Senator Marco Rubio is getting ready to jump into the race for President, but he has an uphill fight ahead of him.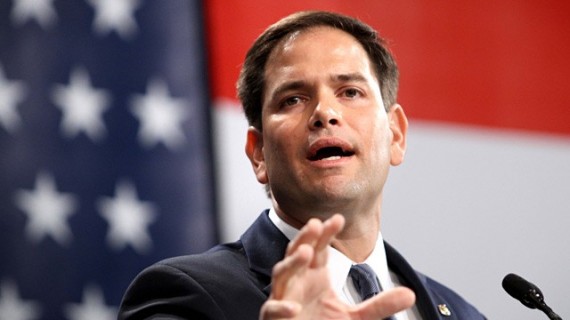 With Ted Cruz entering the Presidential race last week, and Rand Paul expected to do so on April 7th in New Hampshire, the 2016 Presidential race is moving forward fairly quickly. While candidates like Jeb Bush may hold off announcing until later in the spring, it's looking like April will see several candidates get into the race. The latest name to fall in that category is Florida Senator Marco Rubio:
Senator Marco Rubio plans to announce his campaign for president on April 13 in Miami, two Republican sources confirmed to Bloomberg Politics on Saturday.

That could make Rubio the third Republican senator to enter his party's presidential nomination contest, which is shaping up to be one of the most wide-open races of recent election cycles. Ted Cruz of Texas last week became the first formally declared candidate, and Rand Paul of Kentucky isexpected to announce his plans April 7 in Louisville.

Rubio, 43, is also expected to compete with former Florida Governor Jeb Bush, who is in the midst of a fundraising blitz that could collect $100 million in the first three months of the year. Bush said this month that he might not formally announce his own campaign until the summer.

One of the leading contenders for the venue for Rubio's hometown announcement is the iconic Freedom Tower downtown, according to one of the sources, who requested anonymity to speak about plans that haven't been formally announced. The Tampa Bay Times first reported on Friday that Rubio may use the tower as the backdrop for his announcement on that date.

That location could highlight Rubio's personal story as the son of Cuban immigrants who left the island in the 1950s and worked as a bartender and hotel maid. He portrays it as a quintessential American experience, and says it gives him insight into how to solve pressing problems such as rising student debt and the widening gap between rich and poor.

In Bush, a son and brother of former presidents, Rubio faces a towering figure in Florida politics. The men live a few miles apart in Miami. Rubio has said his friendship with Bush wouldn't dissuade him from jumping into the 2016 race. "If I don't run, it won't be because Jeb is running," he told the New York Times in December.

The former Florida House speaker rose to national prominence in 2010 after his underdog primary bid against sitting Governor Charlie Crist, then a Republican, was lifted by a wave of Tea Party activism.

Rubio would become one of the youngest candidates in the field. He is regarded as a top GOP communicator, capable of captivating large audiences and interacting with small crowds in the type of town-hall settings that are important in the first two states to hold presidential nominating contests, Iowa and New Hampshire.
For a time, Marco Rubio was a rising star in the Republican Party, especially among the Tea Party crowd. In 2010, he was the upstart who took on then Florida Governor Charlie Crist for the Republican nomination for the Senate seat that had been vacated by Mel Martinez. He proved to be so popular among Florida Republicans that he forced Crist from the race and into an independent bid in the General Election that only seemed to help Rubio as he went on to defeat both Crist and the Democratic nominee. During the election and afterwards, Rubio received much attention as a "rising star" inside the Republican Party, and there were countless column inches, cable news segments, and blog posts devoted to Rubio's frequent warnings to his fellow Republicans regarding the party's inability to connect with Latino voters and its unwillingness to move forward on immigration reform. Rubio quickly became a star inside the GOP and a favorite among Tea Party supporters. That stardom began to fade, though, once Rubio signed on to the bipartisan effort in the Senate to pass an immigration reform bill. While Rubio backtracked on his support for the bill somewhat after it passed, the issue continues to haunt him to this day and is likely to be an issue in states like Iowa and South Carolina.
You can see Rubio's problem quite clearly in the early polling of the race. At the national level, RealClearPolitics puts Rubio's average at 5.0 %, well behind candidates like Scott Walker and Jeb Bush, but also behind people like Mike Huckabee, Ben Carson and Rand Paul. Instead, he's in the same tier as candidates like Ted Cruz, Rick Perry, and Chris Christie. In Iowa,Cruz is similarly in single digits with a RealClearPolitics average of 5.3% as of the most recent polling. Rubio is similarly at the back of the back in polling in New Hampshire and South Carolina. The only early primary state where Rubio is in double digits, in fact, is Florida and even there he's behind both former Governor Jeb Bush and Wisconsin Governor Scott Walker. If Rubio is going to be a credible candidate, he is going to have to find a way to make a breakthrough in one or more of these early states and, while there's certainly a lot of time between and and when the primaries start in February, the Florida Senator is in a fairly deep hole against candidates who are already better known and who are likely to be better funded. While it's certainly possible for Rubio to make up this lost ground, it's going to require a lot of things to go exactly right for him and it leaves very little room for error.
One interesting consequence of Rubio entering the race will be the fact that it means that there will be an open Senate seat in Florida in 2016. Florida law does not allow candidates to appear on the ballot for more than one office at the same time, and Rubio has said in the past that if he did decide to run for President he would not seek to change that law and would not run for re-election to his Senate seat. There's already a Democratic candidate in the race for that seat as Florida Congressman Patrick Murphy entered the race several weeks ago. Previous speculation that Charlie Crist would seek to run as a Democrat for the seat that he lost in 2010 was put to rest when Crist endorsed Murphy. The prospect of an open seat, though, is likely to bring other Florida Democrats into the race and, of course, the Florida GOP will have to find a candidate of its own. Florida was already going to be a huge battleground in 2016, of course, but the addition of an open Senate seat into the mix will make things very interesting in the Sunshine State and, potentially, could be crucial in the battle to control the Senate after 2016.