Martha Coakley Seems To Be Blowing Another Big Election In Massachusetts
Back in 2010, Massachusetts Attorney General Martha Coakley was seen as the almost inevitable next Senator from Massachusetts. She was, of course, running to replace the late Senator Ted Kennedy, who had died in the summer of 2009, and she had the support of key members of the Kennedy family and, of course, the top names in Massachusetts Democratic politics. In the end, though, she ended up losing the race to Scott Brown, then a Republican State Senator, who used a combination of an unconventional campaign style and public disappointment with the young Obama Administration to become the first Republican Senator from Massachusetts in some three decades. In the post-mortems after the election, though, many Democrats ended up heaping blame on Coakley and her campaign for the loss, especially the many misteps that were made on things as simple as talking to Boston Red Sox fans outside Fenway Park. Notwithstanding that assessment, the party renominated her for Attorney General in 2010, a race she won easily no doubt in part to the fact that Governor Deval Patrick was at the top of the ticket. Then, this year, they gave her the nomination for Governor, and now she seems poised to blow that race as well:
Republican Charlie Baker has opened up a 9-point lead over Democrat Martha Coakley, 45 percent to 36 percent, according to a new Globe poll that depicts a far more comfortable advantage than either candidate for governor has enjoyed in months.

The poll reflects an October surge in independent voters toward Baker's column. It was independents who provided Governor Deval Patrick with his margins of victory in 2006 and 2010.

Baker's standing has improved from last week's poll, which showed the two candidates dead even. It can be attributed largely to the gains he has made in voters' perceptions of who would improve the economy and manage state government, areas that already were tilting his way. At the same time, Baker has offset the deficits he faced on issues such as education and health care, where Coakley still holds an edge, but a diminished one.

"There is just positive movement in every single metric we can ask around Baker," said pollster John Della Volpe, chief executive of SocialSphere Inc., which conducts the weekly poll for the Globe. "The more voters have gotten to know him, the stronger he performs."

Overall, Baker has moved from 38 percent support to 45 percent since late August. Coakley dropped 5 points this week, the poll found, after having held steady throughout much of the fall. Baker's growth, said Della Volpe, has come almost entirely from voters who have made up their minds since the beginning of September. Eleven percent of voters remain undecided.
This poll from the Boston Globe shows a bigger gap between Baker and Coakley than other recent polling, but it appears to be indicative of a shift toward Baker in the closing weeks of the campaign rather than just an anomaly. Coakley has not led in a poll since early October, for example, and Baker currently has a +4.5 point lead in the RealClearPolitics average, an average that has clearly shown Baker rising and Coakley falling with very little time left: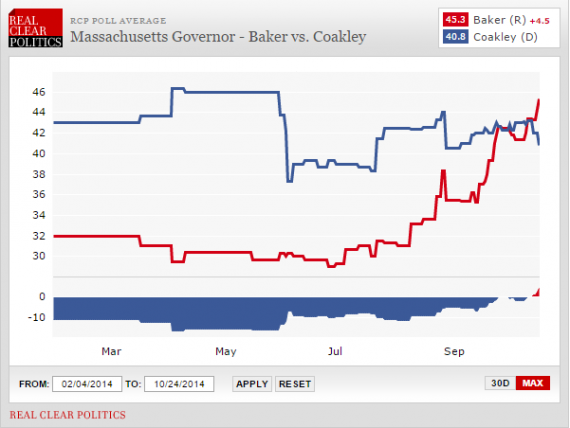 This being Massachusetts it's possible, of course, that Coakley will pull out a win in the end, but much like 2010's race against Scott Brown the numbers are not looking good for her, and it's worth noting that, despite its liberal reputation, Massachusetts has never elected a woman Governor. (The one female Governor the state has had, Jane Swift, assumed office when Paul Celucci resigned to become Ambassador to Canada and did not run for election in her own right).