Deval Patrick Enters Presidential Race
Former Massachusetts Governor Deval Patrick has entered the race for the Democratic Presidential nomination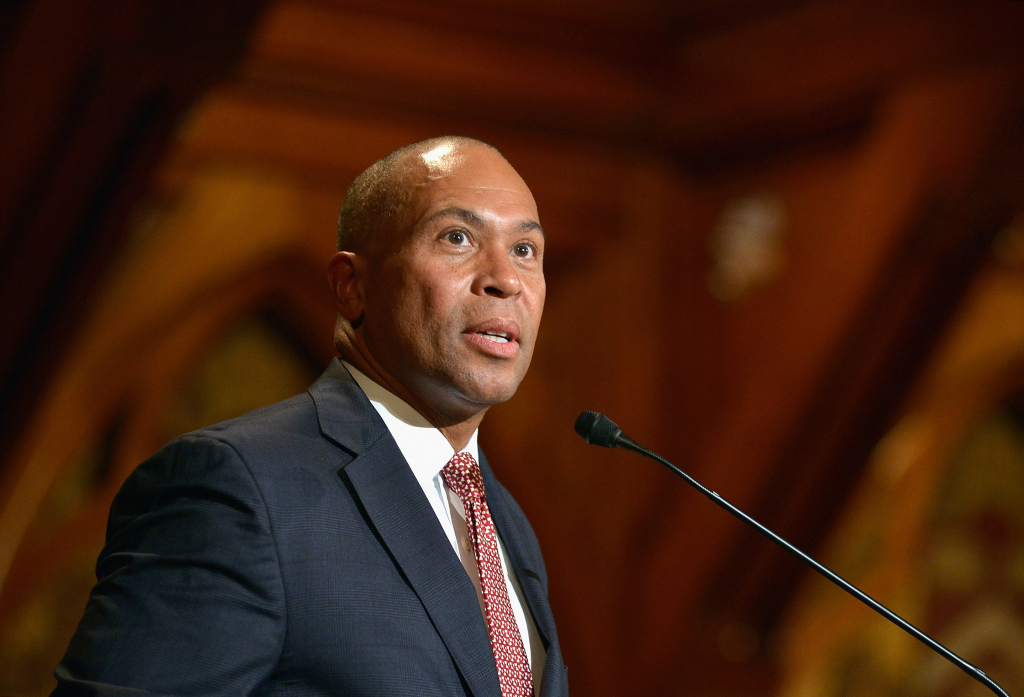 Just days after it was first reported that he was considering entering the race for the Democratic nomination for President, former Massachusetts Governor Deval Patrick has entered the race for President:
Former Massachusetts governor Deval Patrick on Thursday jumped into the Democratic presidential contest, asserting that he wanted to build "a better, more sustainable, more inclusive American Dream" and acknowledging the difficulty his late start creates in achieving that goal.

"I admire and respect the candidates in the Democratic field; they bring a richness of ideas and experience and a depth of character that makes me proud to be a Democrat," he said in a video released Thursday. "But if the character of the candidates is an issue in every election, this time is about the character of the country. This time is about whether the day after the election, America will keep her promises.

"This time is about more than removing an unpopular and divisive leader, as important as that is, but about delivering instead for you."

In a morning interview with CBS, Patrick appeared to knock former vice president Joe Biden as out of touch and Sen. Elizabeth Warren, his home state senator, as too dug in on her ideas.

The campaign, he said, was caught between "nostalgia," the desire to return to what existed before President Trump; and "our big idea or no way."

"Neither of those seizes the moment," he said.

After registering for the ballot in New Hampshirelater Thursday, Patrick plans to head to California, a state that falls early in the primary calendar and has a wealth of delegates.

Patrick on Wednesday was working through a list of people to alert of his decision, according to those with knowledge of his plans, who spoke on the condition of anonymity to discuss the plans before they were announced.

Patrick's decision, forwhich he started laying the groundwork Sunday, couldfurther unsettle the Democratic presidential field less than three months before the contest begins with the Iowa caucuses. He enteredthe race just days after former New York mayor Mike Bloomberg began making his own plans to join the field.

The twin decisions come amid lingering concern, particularly among more-moderate Democrats, about the leading centrist candidate, Biden, as well as the rise on the left of Warren. Bloomberg had initially decided not to run because he thought Biden would be too formidable an opponent. Patrick spent several months in 2018 considering a bid, but ultimately decided not to run, citing "the cruelty of our elections process" and its effect on his family.

Patrick has political strengths and an ability to deliver such soaring oratory that President Barack Obama was accused of taking lines from a 2006 speech of his. He became a two-term governor using an uplifting life story and an aspirational political brand, traits that his allies say could serve him well in a presidential campaign.

Patrick called Biden recently to inform him of his decision, in part because Patrick understands that his candidacy will in some ways be seen as a rejection of Biden, according to a person who spoke recently with Patrick. While Biden has often mentioned his eight-year partnership with "Barack," Patrick also shares a long history with the former president, and their political networks have often intertwined.

On Thursday, Patrickoffered only a cursory view of his issue positions, saying on CBS that he favored a public insurance option over Medicare-for-all and indicating he wanted to "smooth" the tax system rather than invoke a wealth tax. He also noted the late timing of his effort.

"This won't be easy and it shouldn't be," he saidin his video, "but I'm placing my faith in the people who feel left out and left back, who just want a fair shot at a better future not built by somebody better than you, not built for you but built with you."
Here's the video that Patrick released on Twitter coinciding with his announcement:
Deval Patrick is an Illinois native who received both his Bachelor of Arts and Juris Doctor degrees from Harvard University. After graduating from law school, Patrick served as a law clerk to Judge Stephen Reinhardt on the 9th Circuit Court of Appeals. After that, he went to work at the NAACP Legal Defense Fund, the legal wing of the NAACP which was first organized by future Supreme Court Justice Thurgood Marshall, where he worked on death penalty defense and voting rights cases. From the LDF he moved to one of Boston's top law firms where he stayed for several years. In 1994, President Clinton named Patrick as the Assistant Attorney General for the Justice Department's Civil Rights Division where he worked on a wide variety of issues ranging from affirmative action to police misconduct and related issue. After his time in the Justice Department ended in 1997, Patrick went on to serve in a wide variety of roles in corporations such as Texaco and The Coca-Cola Company.
In 2006, of course, Patrick ran for Governor of Massachusetts, where he easily won the Democratic nomination and the General Election. He ran for re-election in 2010 and was similarly, easily re-elected in a race against Republican Charlie Baker, who would somewhat ironically succeed him by winning the election in 2014. During his time in office, Patrick was closely linked to former President Obama, something that gave him some national notoriety. Patrick briefly considered running for President in 2016 before ruling it out as many prominent Democrats did once it became clear that Hillary Clinton would be reprising her 2008 campaign for the Democratic nomination. Since leaving office, Patrick has been back in the private sector and was most recently linked with Bain Capital, the consulting firm founded by former Massachusetts Governor Mitt Romney that became a point in controversy during the 2012 Presidential campaign.
As I noted on Monday when it was first reported that Patrick was considering a late entry into the race for the Democratic nomination, candidates who enter a race like this rarely do well and generally speaking have not gone on to win their party's nomination. We've already seen signs of his in the initial polling taken in the wake of last week's announcement that former New York City Mayor Mike Bloomberg was exploring a late-entry into the Democratic race. The same is likely to be true of Patrick, who is an unknown phenomenon outside of Massachusetts and possibly neighboring New Hampshire. Indeed, the fact that polling has shown that Democratic voters don't believe the current field of candidates needs to be supplemented by the entry of additional candidates suggests that Patrick isn't any more likely to be welcomed into the race than Bloomberg has been.