Massachusetts Democrats Worried About Warren
Elizabeth Warren's Senate campaign stumbled badly this week.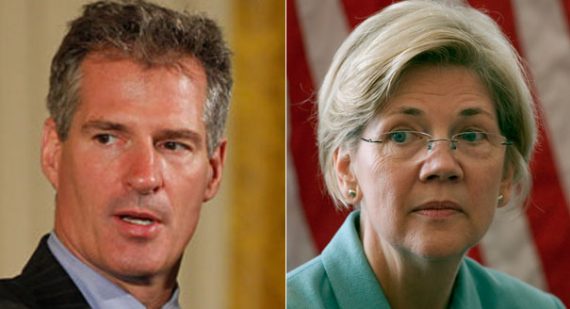 The past week in the Massachusetts Senate race between Elizabeth Warren and Senator Scott Brown has been spent with Warren trying to answer questions from the press regarding her decision to list herself as Native American when she joined the faculty of Harvard Law School. To say that she's bungled the week is to put it mildly and now, as The Boston Herald reports, her fellow Democrats are just a little concerned:
Elizabeth Warren's stumbling efforts to douse the firestorm surrounding her claims of being a Native American minority have raised concerns among local and national Democrats who are questioning her campaign's competence.

"There's nobody watching this that doesn't think she's in big trouble," one well-known Massachusetts Democrat said.

Joe Trippi, a prominent national Democratic consultant, told the Herald that while Warren has time to recover, the campaign should have anticipated this issue would surface.

"The problem is they weren't ready for something they should have been ahead of," Trippi said.

Another nationally known Democratic consultant said while there is no hand-wringing yet in the party, "The fact they weren't prepared for this is a little surprising."

Some national political experts had much stronger words for Warren's conflicting explanations about why she listed herself as a minority in university directories.

"This takes her biography into a bizarre dimension," said Larry Sabato, director of the University of Virginia Center for Politics. "It has derailed the effort to define Warren in a voter-friendly way."

Sabato also said that Warren's claim that she didn't list herself as a minority to gain an employment advantage is not believable.

"This is what happens when candidates don't tell the truth," he said. "It's pretty obvious she was using (the minority listing) for career advancement."
For those of you who haven't been keeping up, here's how the story basically unfolded this week:
After first saying she didn't know anything about reports that Harvard Law had listed her as a minority, Warren's campaign then said she was "proud" of her Native American heritage, citing records showing she was 1⁄32nd Cherokee.

And in a rambling response on Wednesday, Warren went much further, saying her Native American ancestry was always a part of her life story, even though she had never talked about it publicly before.

Warren then recounted how a relative had told her that her Native American heritage was why her grandfather had "high cheekbones like all of the Indians do" — a response that critics have pounced on as perpetuating Native American stereotypes.

"That's kind of racism," Sabato said.
As a preliminary matter, I've got to say that it strikes me as bizarre that Warren would claim Native American heritage based on such a distant relationship, and even more bizarre that Harvard Law School would claim her as such in its reports about "minority hiring." However, I suppose such is what we can expect from people who live in a world of identity politics where people are judged not as individuals but as members of whatever group they may have come from. Apparently it's sufficient for Harvard's purpose if one's Great-Great-Great Grandparent was a member of a minority group for them to be able to check off the "Yea, we hired one of those people" boxes on whatever form they happen to be using to keep track of the same.
But that's only part of the story really. The thing that has kept the story alive in the local Massachusetts press has been the Warren campaign's bungled handling of the episode. Perhaps they didn't want to come out and admit that the "Native American" designation was an effort on Warren's part to increase the odds that HLS would hire her. Given the fact that, as Paul Bedard, notes, it's not exactly common for Ivy League Law Schools to hire graduates of mid-level law schools as Professors it would, I supposed be understandable if that was the motivation. It's also understandable why the campaign wouldn't want to admit that fact, but by bungling the response they've only served to keep the story alive longer than it probably should have been. And, in the meantime, the Brown campaign has been relatively silent about the entire controversy. After all, when your opponent is digging themselves into a hole there's really no need to say much of anything.
None of this is to say that Warren's campaign is toast, of course. The polls remain incredibly close, although that in itself is good news for Brown given that a Republican hasn't won a General Election race for the Senate since Edward Brooke was elected in 1966. Brown, on the other hand, was elected in a Special Election in 2010 in which 800,000 fewer people participated than voted in the 2008 General Election. Given that President Obama will quite obviously win Massachusetts by a wide margin again this coming November, all the advantages should be in Warren's favor. In fact, if I had to make a choice right now I'd say that Warren was likely to defeat Brown. Of course, you could have said the same thing in 2010 but it turned out that Martha Coakley was a singularly bad campaigner. If this week is an indication of how the Warren campaign will be conducting itself as the campaign progresses, then those electoral advantages may end up being completely meaningless.