Massachusetts Teachers Disciplined For Anti-War Protest During School Assembly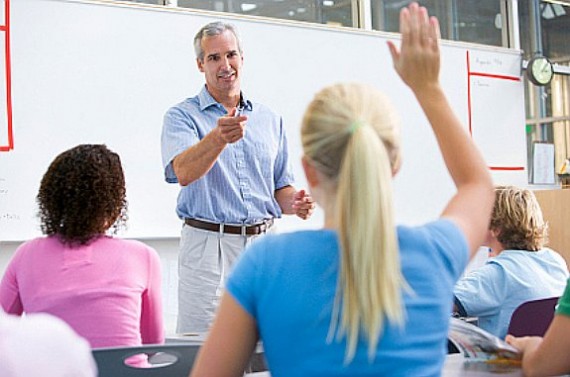 It hasn't gotten much national attention beyond a few conservative blogs, but this story about two Massachusetts students teachers who were disciplined for a silent anti-war protest at a school assembly raises interesting First Amendment issues:
Two Dennis-Yarmouth Regional High School teachers who held an anti-war sign during a senior assembly last week are facing disciplinary action.

D-Y world history teacher Marybeth Verani and English teacher Adeline "Carrie" Koscher have been put on paid administrative leave until the end of the school year June 24, Verani said yesterday.

In addition to the paid leave, Verani said she has been given an unpaid suspension for the first 10 days of school in September. Verani said she did not want to comment on what further discipline Koscher might be facing.

Verani and Koscher conducted a silent protest during the part of the assembly in which school officials recognized graduating seniors entering the military.

Verani and Koscher stood up on the bleachers and displayed an "end war" sign while a school resource officer made opening remarks about six students entering the military. They sat in the audience while the names of the students were being announced and remained seated when the assembly rose to give the students a standing ovation.

(…)

Verani said she and Koscher were not protesting the students set to join the military but what they saw as a recruiting moment involving a school official dressed in military fatigues. She said the students joining the military should have been awarded their plaques at a non-compulsory awards dinner instead of in front of an assembly that all students in the high school were required to attend.

"I wish school officials had shown some leadership in the building on behalf of an honest exchange of ideas and political discussions," Verani said. "What message have they sent to students in the assembly who also chose not to give a standing ovation for militarism, or for students who were too afraid not to stand?"
One can argue that Verani and Koscher's protest was inappropriate in that they should not have chosen an assembly meant to honor Seniors who were entering the military, which seems to be the general sentiment of many students and parents at the school, but does that mean that they should be disciplined for protesting ?
In Tinker v. Des Moines School District, the Supreme Court famously said:
First Amendment rights, applied in light of the special characteristics of the school environment, are available to teachers and students. It can hardly be argued that either students or teachers shed their constitutional rights to freedom of speech or expression at the schoolhouse gate
While subsequent rulings by the Court have established that schools do have some power to regulate speech for sexual content, or the content of student newspapers, or conduct at off campus events, that central principle has never been seriously challenged. When that principle is applied to this situation I can't see how punishing these teachers for what was, after all, a non-disruptive protest is at all acceptable.
You may not agree with their message, but that doesn't mean they should be forbidden from delivering it or that they should be disciplined or filed (as some have suggested) for making it. It's unfortunate that the school district has chosen to give their students such a horrible lesson in what Freedom of Speech is all about.