Massive Oil Discovery Puts Outback Town on World Energy Map
Will this new Australian oil discovery shake up world politics?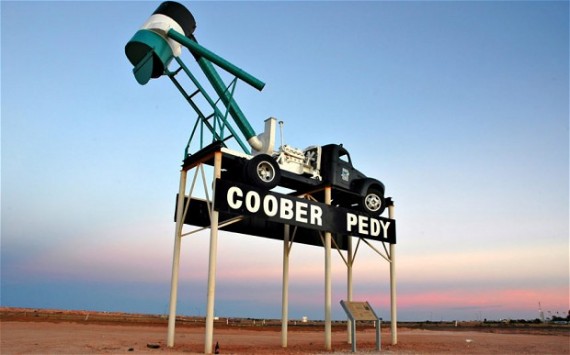 An enormous oil discovery in the remote Austrlian outback town of Coober Pedy is producing quite a stir:
The discovery in central Australia was reported by Linc Energy to the stock exchange and was based on two consultants reports, though it is not yet known how commercially viable it will be to access the oil.

The reports estimated the company's 16 million acres of land in the Arckaringa Basin in South Australia contain between 133 billion and 233 billion barrels of shale oil trapped in the region's rocks.

It is likely however that just 3.5 billion barrels, worth almost $359 billion (£227 billion) at today's oil price, will be able to be recovered.

The find was likened to the Bakken and Eagle Ford shale oil projects in the US, which have resulted in massive outflows and have led to predictions that the US could overtake Saudi Arabia as the world's largest oil producer as soon as this year.
How large is the find? If it's as huge as is being reported and commercially viable, Australia would have more oil than Iran, Iraq, Canada, or Venezuela. It would become one of the top three oil producers.
There are some proclaiming that this discovery will have enormous geopolitical consequences, that, in particular, it will push Saudi Arabia from its present perch. I think that's grossly premature.
Saudi Arabia's importance as an oil producer does not stem merely from the size of its reserves. It's the size of the reserves, the high quality of the oil (and consequent ease of refining), and position as lowest cost producer. It's estimated that a barrel of Saudi crude costs less than $20 to produce. That's half as much as a gallon of on-shore U. S. oil, a third of the cost of a barrel of off-shore U. S. oil, half the price of a barrel of South American oil, and a third of the cost of a barrel of African oil. That's what gives the KSA the power to set world oil prices.
When we know more about the quality and total upstream costs of pumping oil from this newly discovered Australian field, we'll be able to start thinking about geopolitical impact. But there must be a lot of nervous leaders in Middle Eastern countries about now. There is such a thing as a stability premium.