McAuliffe Leading Virginia Governor's Race Between Two Guys Voters Don't Like
Virginia's voters really don't seem to like their choices for Governor.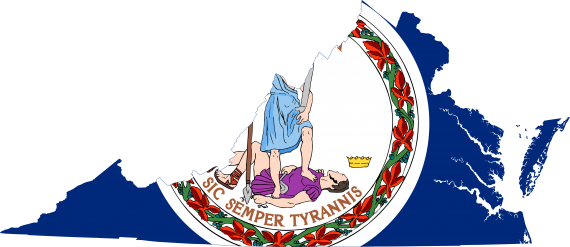 According to a new poll from Public Policy Polling, presumptive Democratic nominee Terry McAuliffe is leading Republican nominee Ken Cuccinelli in a race where the voters don't really seem to like either of the candidates at the top of the ticket:
PPP's first look at the race for Governor of Virginia since January finds that as voters get to know the candidates better…more are becoming undecided. That's not the normal trend, but it's also not normal to have an election where voters dislike both candidates five months out.

That's the case here. Terry McAuliffe is not popular, with 29% of voters holding a favorable opinion of him to 33% with a negative one. But we find that Ken Cuccinelli is even more unpopular, with 44% of voters rating him unfavorably to just 32% with a positive opinion. As a result we find McAuliffe leading Cuccinelli by a 5 point margin, 42/37. McAuliffe also led by 5 points on our January poll, but the share of voters who are undecided has spiked from 13% at the start of the year now up to 21%.

Cuccinelli has a big problem with independent voters. Only 25% have a favorable opinion of him to 51% with a negative one, and he trails McAuliffe by 11 points with them at 39/28. Democrats are also a little bit more sold on McAuliffe with 82% supporting him right now, while 78% of Republicans are committed to Cuccinelli.
The polling in this race has been all over the place of late. After months in which McAuliffe and Cuccinelli were essentially tied, Virginia's Attorney General opened up a lead in a Washington Post poll released at the beginning of this month. Then, a Quinnipiac poll of the state showed McAuliffe leading Cuccinelli by five points, although it's worth noting that was a poll of Registered rather than Likely Voters.  In all of the recent polling, we're still seeing a large number of undecided/uncommitted voters, which indicates that most Virginians still aren't paying much attention to the race right now. That will start changing over the summer to some extent, but it's likely that voters won't be fully engaged with this race until September. Until then, both sides and their proxies are likely to do what they can to define the race in the terms most favorable to them. In the end, as I've said before, the winner of this race will likely end up being the candidate that the voters dislike the least. At the same time, though, a race where the voters don't really like either of the candidates at the top of the ticket is likely to be one with low turnout. Who that ends up helping is anyone's guess, but it probably helps Cuccinelli.
Incidentally, the poll also found that E.W. Jackson, the GOP's controversial nominee for Lt. Governor, isn't having much of an impact on the race at the moment:
Shifting gears to the Lieutenant Governor's race, despite the all national media attention he received last week EW Jackson is still pretty much a blank slate to voters in Virginia. 71% of voters have no opinion about him one way or the other. He is unpopular among folks who are familiar with him as 9% rate him positively to 20% with an unfavorable opinion. In hypothetical match ups with Democrats Aneesh Chopra and Ralph Northam he trails by margins of 36/29 and 35/29 respectively.
Virginia's Democrats head to the polls next Tuesday for their primary. McAuliffe is running for Governor unopposed, so he will win the nomination, but there are contested races for both Lt. Governor and Attorney General. In those races, more than half of Virginia Democrats say they haven't made up their minds yet. Considering that there's been almost no advertising in the major media for either of those races, it's not surprising that most Virginians have no idea who's on the ballot. Indeed, I can honestly say that I really don't know much about any of the candidates in those races even though I do know who's running, and I tend to pay an inordinate amount of attention to politics. I would expect turnout for the Democratic primary to be extremely low.
Getting back to the Governor's race, it's already fairly clear which direction the two sides are going to take. Cuccinelli has already begun the process of trying to recast himself as a Republican in the mold of Bob McDonnell, who is finishing up his four years in office with high job approval numbers, a budget surplus, and a generally solid record  of actually getting things done. At the same time, Republicans are trying to cast McAuliffe as an outsider and a crony capitalist who built the company he once headed mostly on corporate tax breaks and direct government subsidies for a product that nobody seems to want to buy. On the opposite side, Democrats will clearly try to paint Cuccinelli as a far-right social conservative, something that will arguably be easier with Jackson on the ticket as I pointed out last week. Which side succeeds depend on how the race goes, but the one thing that seems exceedingly clear is that the voters really don't like either of these Gubernatorial candidates, and that the winner is likely to be the guy they dislike the least.