McAuliffe Still Leading In Virginia Polls, Cuccinelli Scaling Back Ad Buys?
The Virginia Governor's race may be slipping too far for Republicans to pull off a victory.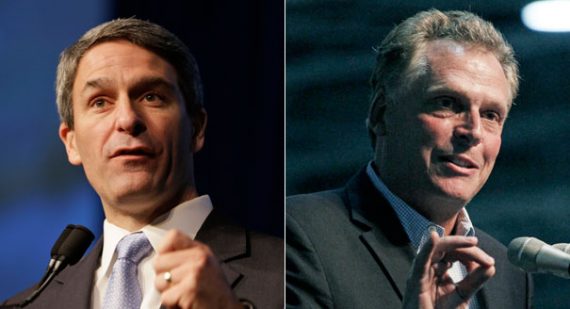 Another new poll out today shows Terry McAuliffe maintaining a consistent lead over Ken Cuccinelli in the Virginia Governor's race:
Virginia gubernatorial hopeful Terry McAuliffe has widened his lead over his Republican challenger Ken Cuccinelli in a new poll that puts him up 8 points.

The Democrat led the Virginia attorney general 47 percent to 39 percent in a Quinnipiac poll of likely voters out Thursday. In September, Quinnipiac found McAuliffe leading 44 percent to 41 percent.

Libertarian candidate Robert Sarvis got 8 percent of the support.

McAuliffe continues to have big leads among women and minorities, while Cuccinelli leads by slimmer margins among men and white voters.

Asked which candidate would do a better job on a variety of issues, McAuliffe led Cuccinelli in the voters' mind on issues concerning women, abortion, energy and the environment, health care, education, government ethics and the economy. Cucinelli led on taxes.
With these new numbers, McAuliffe's lead over Cuccinelli in the RealClearPolitics poll average is now at +6.3 points in a head-to-head matchup with Cuccinelli, and a +6.7 point lead when Libertarian candidate Robert Sarvis is included in polling. Additionally, McAuliffe's numbers have been consistently trending upward over the past six weeks, while Cuccinelli's have been relatively flat at the same level they were at for much of the summer. Sarvis's numbers have also trended upwards, but at a much slower pace than McAuliffe. It's important to note, though, that this doesn't mean the race is over, though. Based on the RCP averages, more than 15% of voters remain undecided in a McAuliffe-Cuccinelli race. That number slips down to just under 10% if Sarvis is included in the polling. It's still possible, therefore, that Cuccinelli could find a way to make up for lost ground, especially if he can find a way to attract a sizable number of those undecided voters and/or some portion of the people saying that they are supporting Sarvis. Granted, this seems unlikely at the moment given Cuccinelli's high negatives, especially among female voters, but it's not mathematically impossible. Additionally, it's worth noting that much of what happens on Election Day depends upon turnout. The more turnout matches what Virginia saw in 2008 and 2012, the better for McAuliffe, the more it matches 2009 and 2011, the better for Cuccinelli.
Rosy scenarios aside, it's rather obvious that the Cuccinelli campaign is troubled, and it's beginning to show itself financially:

Ken Cuccinelli is getting crushed on the Virginia airwaves, and it's probably only going to get worse – a major factor thwarting the Republican's hopes of a comeback in a governor's race that's been slipping away.

The left has spent $7.5 million more on television than the right up to this point, according to sources tracking the air war. The totals are $20.2 million from Democrats and affiliated outside groups to $12.7 million from the Republicans and their allies.

The attorney general is himself a relatively weak fundraiser who never adequately cultivated the major donors he needed in the business community. He's also running against former Democratic National Committee chairman Terry McAuliffe, one of the most prolific fundraisers in modern political history.

A string of polls showing Cuccinelli trailing — including a POLITICO poll conducted over the weekend that had him down by 9 points — has only made it harder to raise cash, while deterring some outside groups from spending as much as they might have in the year's marquee contest.

The result is that Cuccinelli's campaign has been making smaller and smaller ad buys over the past three weeks. He spent $1.2 million on broadcast in the final week of September, $716,000 last week and reserved $685,000 for this week.

His campaign did not dispute that it has been cutting the size of their buys.

"Terry McAuliffe became famous for one thing and one thing only: raising dough," said communications director Richard Cullen. "We never planned a campaign where we would be competing with him dollar for dollar, but there's no question we will have the resources necessary to win on Nov. 5."

McAuliffe has already reserved about $2 million in airtime over the final four weeks, while Cuccinelli has not reserved any time past this week. The Democrats, for instance, claimed $700,000 of choice broadcast airtime for the final week of the race in the state's four largest markets, according to the Virginia Public Access Project. Cuccinelli operatives note that they have placed their buys on a week-to-week basis since April.
Cuccinelli is getting assistance from outside groups such as the Republican Governor's Association, but he's clearly getting beaten on the airwaves, especially up here in Northern Virginia. Whether this is a sign that donations are starting to slack off is unclear, but it certainly doesn't seem like a good sign.
Meanwhile, there was a kerfuffle in the race yesterday when it was reported that Democratic nominee Terry McAuliffe was tied to a medical fraud case arising out of Rhode Island, and that he had allegedly lied to Federal investigators about his role in the matter. The McAuliffe campaign denied that report immediately and quite vociferously and, ultimately, the Associated Press, which was the original source for the report, was forced to retract its claims before the evening was over. While it does appear that McAuliffe may have been one of the investors in the firm in question in the Rhode Island case, it's unclear that he had any knowledge about what was going on. At this point, it's unclear that this story will have any real impact on the race, although the Cuccinelli campaign was quick to jump upon it.   Additionally, given the fact that the claims about McAuliffe lying to law enforcement has been retracted, and quickly at that, though, one has to imagine that the impact of this report will be very small indeed unless it really does turn out that there's something there that would harm McAuliffe.
At the moment, then, this is clearly Terry McAuliffe's race and, absent some kind of major story that turns things around for Cuccinelli soon, it's going to be difficult for him to keep the Governor's mansion in Republican hands in November.