McConnell Not Willing to Raise Taxes to Avoid Fiscal Cliff
Obama thinks he has a mandate to raise taxes on high earners. Republicans think they have a mandate to stop him.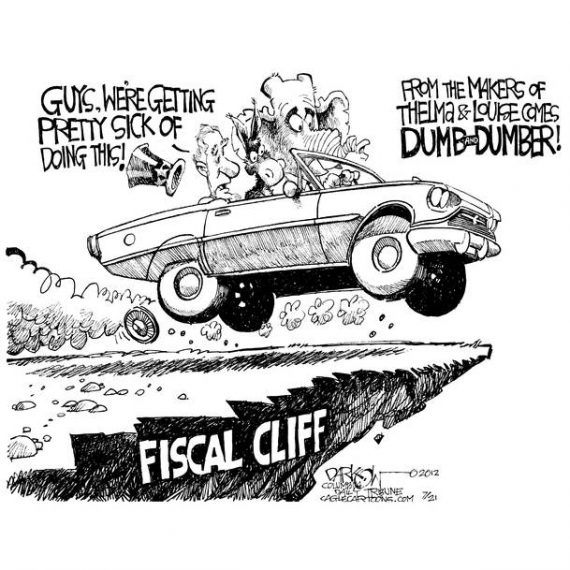 Senate Minority Leader Mitch McConnell insists that he will not agree to higher taxes to avoid the fiscal cliff.
WSJ ("Mitch McConnell: 'We Have a Voter Mandate Not to Raise Taxes'"):
"Let me put it very clearly," says the five-term Republican senator from Kentucky. "I am not willing to raise taxes to turn off the sequester. Period." On Jan. 1, Washington faces both a huge tax increase and an automatic spending cut known as the "sequester," which could tip the economy back into recession. A newly emboldened President Obama is likely to take his soak-the-rich case straight to the people, I remind the senator. The political pressure to capitulate could become intense.

"Look, he may think it would be helpful to his presidency to continue to divide and demonize us," says Mr. McConnell. "But my answer will still be short and firm: No. We won't agree to any tax increases that will hurt the economy."

This isn't to say that next week, when the lame-duck congressional session begins to negotiate some kind of budget solution, taxes are off the table. Mr. McConnell is a realist. Republicans are willing to be "flexible" on raising revenues but, he hastens to add, only "in the context of broad-based, comprehensive tax reform." He's open to prying more out of the rich by closing tax loopholes. But he and his caucus of 45 Republicans want lower, not higher, rates.

Two years ago, Mr. McConnell notes, Mr. Obama agreed to extend all the Bush-era tax cuts for two years. The president's explanation for doing so was that raising taxes would harm the economy. "That logic still stands," the senator says. "The economy's actually growing slower now than it was then."

[…]

So how should the president prevent another gridlocked negotiation that ends in a fiscal-cliff leap? The smart way forward, Mr. McConnell says, "is pretty simple. Let's extend the current rates for another year for everyone—a bridge—and get busy working on the comprehensive tax reform that we need to do. There's bipartisan support for that."

[…]

"Until we adjust the entitlement programs to fit the demographics of today's America, you can't fix the problem. You can't tax your way out of it. You can't cut health-care providers as a way out of it. But Democrats laughed at those ideas even when we offered a quarter-trillion of higher revenues largely taken from high-income people."

[…]

What kind of a deal would Mr. McConnell accept? The senator's top priority is long-term entitlement reform. "Changing the eligibility for entitlements is the only thing that can possibly fix the country long term." He wants means-testing for programs like Medicare. "Warren Buffett's always complaining about not paying enough in taxes," he says. "What really irritates me is I'm paying for his Medicare."

The senator will also press for the Medicaid reforms, such as block-granting money to the states, that are part of Rep. Paul Ryan's budget. But Mr. McConnell doubts that Democrats would ever go for the Ryan idea for Medicare premium support, allowing seniors to shop around for their preferred health-insurance plan.

The $16 trillion question: How much is Mr. McConnell willing to give on taxes in exchange for those entitlement reforms? "The country doesn't need a tax increase; we have a spending problem. But they control a big part of the government and they insist on taxes. I'd be willing to pay the ransom [of higher taxes] if I thought we were going to get the hostage out." By that he means every dollar of taxes would have to be matched by a dollar of entitlement savings.

[…]

But don't Messrs. Obama and Reid think they've just been given a mandate to raise those tax rates? "Yes, well, we Republicans in the House and Senate think we have a voter mandate not to raise taxes."
Now, this is a perfectly sensible starting point for negotiations. It would be foolish to concede the main issue in a newspaper interview before the other side agrees to give something up, too. While President Obama reasonably thinks he has a mandate to raise taxes on high earners, since it was after all one of the main points of contention in a campaign he just won, McConnell is right, too, that the Republicans have just as much claim to a mandate to fight such tax increases from their electorates.
But McConnell is not negotiating from a position of strength here. To be sure, the Republicans aren't without leverage, controlling as they do the House and enough seats in the Senate to wage a filibuster. There's a wee problem, though: Obama doesn't need their votes to raise taxes. The Bush tax cuts expire, in their entirety, on January 1 unless and alternate deal is put in place.
Obama would ostensibly prefer to make the Bush tax cuts on income under $250,000 permanent, while reverting to the Clinton era rates for earnings above that threshold. But he might be just as happy to go back to the Clinton rates, period, if he can blame hiking rates on the middle class on Republicans.
For that matter, the poison pill of sequestration is an impending reality, too. Recall that it was put into the debt ceiling deal precisely to force compromise down the road. The massive cuts in defense and entitlements were designed to be so objectionable to both sides that allowing them to go into effect would be unthinkable. But, in fact, they were unable to reach a deal by the original deadline.
There's been a lot of talk from the far right of the Republican base that going off the fiscal cliff wouldn't be such a bad thing, since it would in fact massively cut spending. I haven't heard the same thing coming from the Democrats. But I wonder if they wouldn't be happy with an automatic tax increase and huge cuts in defense–again, especially if they can blame Republicans.
In terms of what's good for the country, though, McConnell is right on one thing, at least: we need comprehensive tax and entitlement reform, not simply willy nilly cuts at the margins. It might be possible to get some means testing, modest increases in the age threshold, and a radical reduction in corporate welfare and other tax loopholes in exchange for a token increase in the top marginal rate. Rather than targeting $250,000, a number that even many Democrats on the coasts consider merely middle class, why not just make the number $1 million instead? At that level, almost everyone agrees that we're talking about extraordinarily wealthy people and it gets all of the super wealthy–the Warren Buffetts of the world.
That's an awfully ambitious deal, though, and we're running out of time. In theory, it would make sense to kick the can down the road—passing a law extending the Bush tax cuts and avoiding sequestration for six months—to give some breathing room. But the recent history would seem to indicate that we won't get serious about negotiations until the deadline approaches. So, the question remains: do both sides want to avoid the fiscal cliff enough to make major concessions on core issues? If I had to bet, I'd say no.