McConville Hearings Highlight Military as Family Business
All three children of the next head of the Army are following in his footsteps.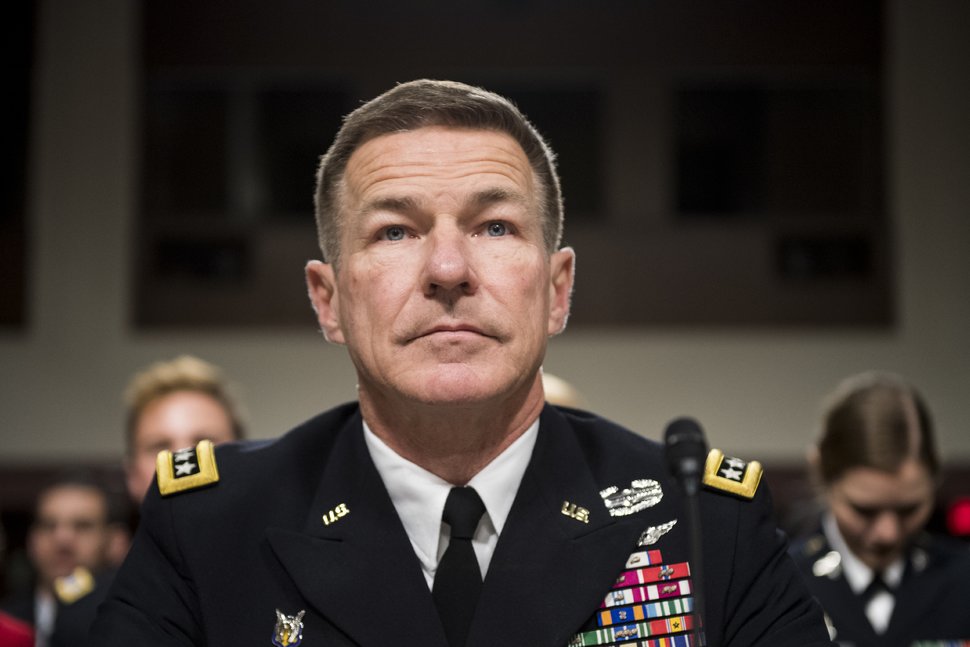 Paul D. Shinkman, Senior National Security Writer for US News & World Report, points to an interesting tidbit from the confirmation hearings for the Army's next Chief of Staff.
MEMBERS OF THE SENATE Armed Services Committee expressed almost unanimous acclaim for Army Gen. James McConville as he testified before them Thursday to become that service branch's top officer, lauding a career so eminent that the committee chairman, Sen. Jim Inhofe, began the hearing by saying, "I can't imagine there's any opposition."

McConville's tenure was exemplified in stacks of badges and ribbons adorning his crisp service dress that glittered under the lights of the Senate chamber, but it wasn't that particular uniform that caught the attention of the Oklahoma Republican and others on the dais.


"Who can vote against a guy, a distinguished general, who has two sons, a daughter – all three captains in the U.S. Army? I say, no one," Inhofe said.


Indeed McConville, a Massachusetts native and West Point graduate, sat before a phalanx of Army uniforms worn by his three children and son-in-law, a sergeant. Among them, they have multiple combat and overseas tours, and tenures at graduate schools and elite military training facilities. Next to them was his wife Maria, who, though wearing a dress on Thursday, had previously served as an Army captain as well.

— "A Photo of a General's Family Highlights Civil-Military Concerns"
That's awesome, right?
But the McConville family's presence on Thursday also represented what some suggest is a growing and troubling trend in the military regarding the demographics of those who choose to serve.


Since transitioning to an "all volunteer force" in the aftermath of the Vietnam War draft, Americans now serving in the U.S. military comprise less than 1 percent of the population. The number of U.S. military veterans continues to plummet from almost half the population in 1970 to 16 percent as of 2014, according to Pew Research.


And according to Pew's most recent data, from 2011, uniformed service members are increasingly likely to come from a military family, more so than members of the general public. Seventy percent of veterans have an aunt or uncle with military experience, half have parents who served and 43 percent have siblings who did. Those numbers each fall by roughly 10 percent for Americans who never served in the military.
The biggest gap Pew identified was among veterans who have children in the military: 21 percent versus less than 10 percent among civilians.
I'm not sure comparable research is available but would my strong guess would be the offspring of farmers, plumbers, musicians, college professors, dentists—you name it—are more likely to go into the family business. I'd bet good money that it's true of policemen and firefighters, who are more directly comparable to soldiers.
So, what's the problem?
Military leaders have expressed concern in the past of the negative effects of too few Americans joining the military – or believing they should:

"The downside to having a professional army is you become a little insular and caste-like," Stanley McChrystal, a former four-star general and commander of the war in Afghanistan, told U.S. News in January. He's dedicated much of his career since retirement to promoting service opportunities among young people – in the military or through organizations like AmeriCorps and the Peace Corps – and regularly touts troubling statistics, including that only 30 percent of young people currently qualify to enter the military due factors like their health or prior criminal records.
I've been studying and writing about related issues for quite a long time now. See, for example, my 2005 debate with Phil Carter in the defunct Legal Times on the virtues of reinstating the draft and my 2011 essay in The American Conservative pushing back on the notion that professionalization of military service is particularly problematic. I'm just not persuaded that the McConville family's tendency to dress alike represents a threat to the Republic.
Is it problematic that a goodly portion of our youth are obese and otherwise unhealthy? You betcha. But I'd put their ineligibility to enlist low on the reasons why.
Still, I do agree with critics on one issue:
Jim Mattis, the former defense secretary and four-star Marine general, co-edited a book on the subject, and routinely expressed concern about the "civ-mil divide" in public and private.


That concern was raised on Twitter in response to a photo of the McConville family.


"Is it OK to be cheering and depressed at the same time? This is awesome, and yet, 100 percent mil/civ divide in a single photo," one user wrote on Twitter in response to a picture of McConville and his family. "We're eating our own, recruiting is getting more and more insular."


Another offered, "military service has become 'the family business for some,' and 'that thing that other people do' for others."
I don't mind that the McConville clan followed their parents into serving in the military. Hell, I followed my own father, who retired as an Army first sergeant. But I do find it worrisome that, as serving becomes seen as something other people do, we'll stop caring about those dying in our wars—or even seeing them as our wars.
Still, as I've pointed out numerous times, including in a harsh book review for The National Interest back in 2013, the opposite has been the case thus far.
[T]here's simply no evidence that the fact that "somebody else" is doing the fighting and dying has made us less sensitive to the loss of American sons and daughters. Far from it. We're demonstrably much more sensitive to military casualties than we were during the most recent draft era and, indeed, any previous point in American history.
It's true that the general public seems to be more-or-less obvious to the fact that we still have American troops fighting in Afghanistan, Syria, and dozens of other places. But that's mostly because the death toll has slowed to a trickle. When troops were dying on a routine basis in Iraq and Afghanistan's early years, the public paid rapt attention—with the name of every single dead American treated as a tragedy in a way never seen in Korea or Vietnam, where draftees died by the tens of thousands.
My far more real concern about the fact that such a small percentage of the population has served or has any direct connection with those who have is that it turns soldiers and veterans into mythical figures whose patriotism and wisdom must be bowed to. Indeed, less concerned that the general and his children showed up in the same uniform than that the head of the Senate Armed Services Committee—charged with evaluating McConville's fitness to lead the Army—felt the need to suck up to them.