'Medicare for All' Gains Second Senate Backer
Kamala Harris has joined Bernie Sanders' call for creation of a single-payer healthcare system.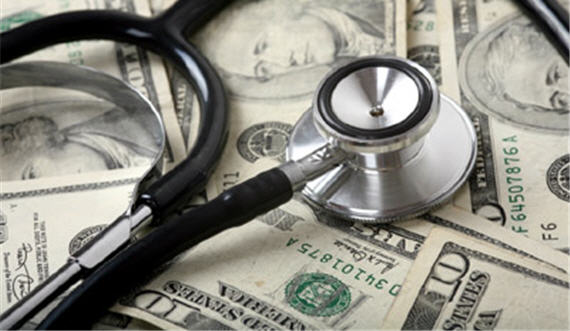 Kamala Harris, the junior Senator from California, has backed Bernie Sanders' call for creation of a single-payer healthcare system via expansion of Medicare.
The Mercury News:
U.S. Sen. Kamala Harris announced Wednesday that she intends to support a congressional effort to expand Medicare to all Americans.

"I intend to co-sponsor the Medicaid-for-All bill," California's junior senator told several hundred people at a town hall at Oakland's Beebe Memorial Cathedral, referring to Vermont Sen. Bernie Sanders' Medicare-for-All proposal.

The bill, which Sanders plans to introduce next month, is essentially single-payer health care. It would expand the federal Medicare program, which mostly covers people age 65 and older, to all Americans. (Medicaid, which Harris mistakenly referred to, is a joint federal and state program that provides health coverage to the poor.)

Harris, who previously had said she supported the concept of single-payer health care but hadn't come out in favor of any specific bill, is the first senator after Sanders to publicly endorse his plan. She said she was backing the bill "because it's the right thing to do."

"Health care should be a right, not a privilege," she said. "This should not be a partisan issue. It shouldn't even be a bipartisan issue. It should be a nonpartisan issue."

She also argued that a single-payer system care would make fiscal sense.

"It is so much better that people have a meaningful access to affordable health care at every stage of life — from birth onward," she said. "The alternative is that taxpayers are paying huge amounts of money for them to get health care in an emergency room."

Sanders thanked Harris in a tweet. "Let's make health care a right, not a privilege," he said.
Aside from the pedantic point that a service provided by individuals can't be a "right," I'm in agreement that universal coverage is fiscally prudent and good public policy. We've long known that the American healthcare system is simultaneously the most expensive among those in OECD nations and yet provides the worst outcomes. And, given that it's a popular, existing program, I've long thought that lowering the Medicare eligibility age–and bringing those in less efficient government programs like Medicaid under its umbrella–was the logical solution. But, of course, it's politically unthinkable right now.
Following the link to the description of Sanders' plan, it's clear he at least recognizes that:
Sanders acknowledges that it will take some time to move to a single-payer system. That's why he says he'll introduce a bill next month that expands the eligibility of Medicare to people between the ages of 55 and 64.

"That's an interesting idea and one of the proposals that I will be bringing forth shortly, which I don't think Republicans will support, will be to lower the age for Medicare eligibility to 55 years of age," said Sanders. "That is one way to phase it in."
Aside from partisanship, there's legitimate fear in the public about what the transition would look like:
Retired Middlebury College political science professor Eric Davis says the people that Sanders needs to win over in this public policy debate are individuals who have relatively good employer sponsored health care policies. Davis says this group of consumers needs to see the benefits of Sanders' plan.

"That what he's proposing would be A) better, B) less expensive and C) would lead to better health outcomes without D) restricting their choice of doctors and providers," said Davis.
As the old joke goes, pick two.
There's little doubt that universal coverage under Medicare would provide better overall outcomes than our current system, which leaves many uninsured and incentivizes other to delay treatment until diseases get to advanced stages. It would almost certainly be cheaper on a per-capita basis, as well, since Medicare caps payouts better than private insurance—let alone billing at the "no insurance" rate. But, at least during the transition, people shifting off of private insurance to Medicare would have more restricted choice, since many providers don't take Medicare patients—precisely because of those payout caps. Presumably, once Medicare became universal, few providers, indeed, could afford to opt out.
What neither of the linked stories covers is how much all of this would cost. A May 2016 Urban Institute study estimated that it would cost the federal government $32 trillion over 10 years–largely because it would mean absorbing costs currently borne by state and local governments and employers. A June 2016 Tax Policy Center study estimated that Sanders' plan would "add $18 trillion to the national debt over a decade"—and that's accounting for the $15.3 trillion they estimate his proposed tax hikes would bring in.  (The figures also include Sander's desire to make college tuition free, but that only accounts for $807 billion over the period.)
Of course, those figures have to be offset by what the private insurance-based system costs individuals and businesses. If an individual is paying $800 a month for insurance, another $200 in deductibles and co-pays, and his employer is kicking in $500 in subsidies, that's $1500. That's a lot of maneuver room for offsetting taxes.  But the TPC study factors in Sanders' preferred tax hikes.