Michele Bachmann's McCarthyite Crusade Against Huma Abedin And Other Muslims
Michele Bachmann and several other Members of Congress are engaging in the despicable tactics of Joe McCarthy.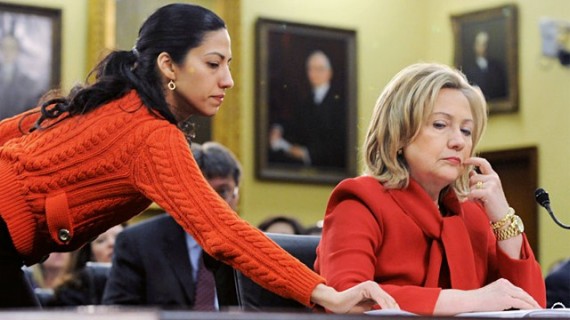 Michelle Bachmann and several of her fellow Republican Members of Congress have spent the last week or so engaged in a witch hunt against supposed Muslim infiltration of the U.S. Government, focusing their ire on Huma Abedin, Hillary Clinton's long-time aide and the wife of former Congressman Anthony Weiner:
Last week five Republican members of the House of Representatives, including former presidential candidate Michele Bachmann, made claims that Abedin's family has ties to Egypt's Muslim Brotherhood and questioned whether she is part of a nefarious conspiracy to harm the United States by influencing U.S. foreign policy with her high-level position at the State Department.

"The Departments Deputy, Chief of Staff, Huma Abedin, has three family members – her late father, her mother and her brother – connected to Muslim Brotherhood operatives and /or organizations. Her position affords her routine access to the Secretary and to policy making," according to the the June 13thletter, signed by Reps. Bachmann, R-Minn., Trent Franks,  R-Ariz., Louie Gohmert,  R-Texas, Thomas Rooney, R-Fla., and Lynn Westmoreland, R-GA.

The letter was sent to Harold Geisel, the Deputy Inspector General at the Department of State, while similar copies  were sent to the Departments of Homeland Security, Justice, Defense and the Office of the Director of National Intelligence.

The lawmakers point to a report by the Center for Security Policy, a conservative think tank, which makes the allegations about Abedin's family ties and calls on the Deputy Inspector General of the Department of State to begin an investigation into the possibility that Abedin and other American officials are using their influence to promote the cause of the Muslim Brotherhood within the U.S. government.
I've embedded the letter below so you can judge it for yourself, but the McCarthyism here is rather apparent. Then, as now, a person's connections to other people, including in this case someone who has been dead since 1993, are being used to accuse them of being an infiltrator and an enemy of the United States. The fact that Abedin was born in the United States doesn't even matter, although, of course, the people who Joe McCarthy sought to destroy were all American citizens as well so that doesn't really shield anyone from having their reputation smeared. There is absolutely no evidence that Abedin herself has any connections to Muslim extremists. Indeed, even the organizations that her family members have been allegedly connected to in the past don't really constitute the kind of extremism that Bachmann and the other Members of Congress are accusing her of in their letter. It's also worth noting that Abedin had to obtain a Security Clearance to get her current position as Hillary Clinton's right hand woman, and that would have included a thorough background check. The idea that the people at the State Department who are responsible for such things would have missed anything serious, or would have let it slide for political reasons is, quite simply, absurd.
Yesterday, Senator John McCain took to the floor of the Senate to criticize the Members of Congress who sent the letter in no uncertain terms:
In an unusually direct speech aimed at members of his own party, Sen. John McCain (R-Ariz.) took to the floor of the Senate on Wednesday to defend a longtime aide and confidant of Secretary of State Hillary Rodham Clinton.

Huma Abedin, a Muslim and the deputy chief of staff and aide to Clinton, has been accused by former presidential candidate Michele Bachmann (Minn.) and four other House Republicans of being connected to a conspiracy theory that the Muslim Brotherhood is trying to infiltrate the highest levels of the U.S. government.

(…)

"Rarely do I come to the floor of this institution to discuss particular individuals," McCain said at the beginning of his remarks. "But I understand how painful and injurious it is when a person's character, reputation and patriotism are attacked without concern for fact or fairness."

McCain called Abedin a friend and a devoted public servant, and denounced what he called "sinister" accusations. The charges "are nothing less than an unwarranted and unfounded attack on an honorable woman, a dedicated American and a loyal public servant," McCain said. "These attacks on Huma have no logic, no basis and no merit. And they need to stop now."

The Arizona senator chastised his fellow Republicans for distorting what it means to be an American.

"This is about who we are as a nation, and who we still aspire to be. . . . When anyone, not least a member of Congress, launches specious and degrading attacks against fellow Americans on the basis of nothing more than fear of who they are and ignorance of what they stand for, it defames the spirit of our nation, and we all grow poorer because of it."
McCain didn't mention Bachmann or the others by name, but it was clear who he was talking about. Moreover, it's rare for a Member of Congress to so directly criticize a fellow Member on the floor. McCain was joined by Ed Rollins, who had been the manager of Bachmann's Presidential campaign. Rollins was particularly harsh:
As a  member  of Congress, with a seat on the House Intelligence Committee, Mrs. Bachmann you know better. Shame on you, Michele! You should stand on the floor of the House and apologize to Huma Abedin and to Secretary Clinton and to the millions of hard working,loyal, Muslim Americans for your wild and unsubstantiated charges. As a devoted Christian, you need to ask forgiveness for this grievous lack of judgment and reckless behavior.
The odds that Bachmann will actually apologize are, of course, non-existent. She and her fellow Members, which include such luminaries of paranoia as Louie Gohmert, who last year was alleging that terrorists were giving birth to babies who could claim American citizen and then return years later to commit acts of terrorism, are of a piece with anti-Muslim extremists like Pamela Gellar, Robert Spencer, and Frank Gaffney. For these people, anything Muslim is seen as a security threat, even something as innocuous as an Islamic Community Center in lower Manhattan or a Michigan High School scheduling football practice at night so it doesn't conflict with Ramadan. It is hate, pure and simple, and whether they actually believe it or not or are just saying stuff like this for financial and political advantage doesn't really matter. They're lying, and in the purpose they are smearing someone who has been working in public service for years now despite the fact that there's no evidence to distrust her. It's McCarthyism with a 21st Century twist.
The first time this came up an Army Attorney named Joseph Welch posed a question to Joe McCarthy:
We could ask the same question today of Congresswoman Bachmann and her cohorts. Of course, the answer is no. These people have no decency, they have no shame, they don't care who they destroy.
Here's the Bachmann Letter:
Michele Bachmann Letter To State Department Inspector General