Michele Bachmann's Odd Views On Slavery And The Civil War
Michele Bachmann's view of history is based in a world view that would be foreign to most Americans.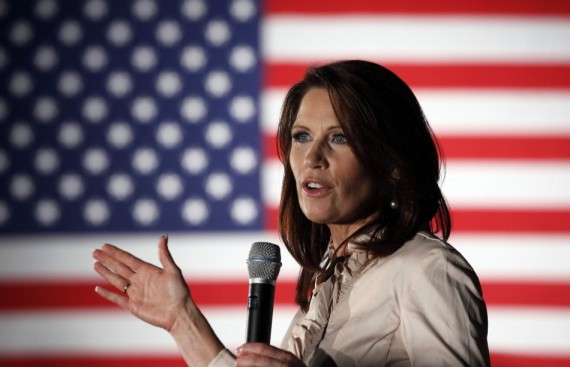 In the middle of a 3,000 word piece in The New Yorker, Ryan Lizza expands on a topic that has come up before, the odd historical view of slavery and the Confederacy that Michele Bachmann seems to have:
Bachmann's comment about slavery was not a gaffe. It is, as she would say, a world view. In "Christianity and the Constitution," the book she worked on with Eidsmoe, her law-school mentor, he argues that John Jay, Alexander Hamilton, and John Adams "expressed their abhorrence for the institution" and explains that "many Christians opposed slavery even though they owned slaves." They didn't free their slaves, he writes, because of their benevolence. "It might be very difficult for a freed slave to make a living in that economy; under such circumstances setting slaves free was both inhumane and irresponsible."

While looking over Bachmann's State Senate campaign Web site, I stumbled upon a list of book recommendations. The third book on the list, which appeared just before the Declaration of Independence and George Washington's Farewell Address, is a 1997 biography of Robert E. Lee by J. Steven Wilkins.

Wilkins is the leading proponent of the theory that the South was an orthodox Christian nation unjustly attacked by the godless North. This revisionist take on the Civil War, known as the "theological war" thesis, had little resonance outside a small group of Southern historians until the mid-twentieth century, when Rushdoony and others began to popularize it in evangelical circles. In the book, Wilkins condemns "the radical abolitionists of New England" and writes that "most southerners strove to treat their slaves with respect and provide them with a sufficiency of goods for a comfortable, though—by modern standards—spare existence."

African slaves brought to America, he argues, were essentially lucky: "Africa, like any other pagan country, was permeated by the cruelty and barbarism typical of unbelieving cultures." Echoing Eidsmoe, Wilkins also approvingly cites Lee's insistence that abolition could not come until "the sanctifying effects of Christianity" had time "to work in the black race and fit its people for freedom."
Consider what Wilkins wrote about race relations in the South before the Civil War:
Slavery, as it operated in the pervasively Christian society which was the old South, was not an adversarial relationship founded upon racial animosity. In fact, it bred on the whole, not contempt, but, over time, mutual respect. This produced a mutual esteem of the sort that always results when men give themselves to a common cause. The credit for this startling reality must go to the Christian faith. . . . The unity and companionship that existed between the races in the South prior to the war was the fruit of a common faith.
This is reminiscent of the kind of justification for slavery that we hear in the infamous Cornerstone Speech by Alexander Stephens, who would go on to become Vice-President of the Confederacy:
The new constitution has put at rest, forever, all the agitating questions relating to our peculiar institution African slavery as it exists amongst us the proper status of the negro in our form of civilization. This was the immediate cause of the late rupture and present revolution. Jefferson in his forecast, had anticipated this, as the "rock upon which the old Union would split." He was right. What was conjecture with him, is now a realized fact. But whether he fully comprehended the great truth upon which that rock stood and stands, may be doubted. The prevailing ideas entertained by him and most of the leading statesmen at the time of the formation of the old constitution, were that the enslavement of the African was in violation of the laws of nature; that it was wrong in principle, socially, morally, and politically. It was an evil they knew not well how to deal with, but the general opinion of the men of that day was that, somehow or other in the order of Providence, the institution would be evanescent and pass away. This idea, though not incorporated in the constitution, was the prevailing idea at that time. The constitution, it is true, secured every essential guarantee to the institution while it should last, and hence no argument can be justly urged against the constitutional guarantees thus secured, because of the common sentiment of the day. Those ideas, however, were fundamentally wrong. They rested upon the assumption of the equality of races. This was an error. It was a sandy foundation, and the government built upon it fell when the "storm came and the wind blew."

Our new government is founded upon exactly the opposite idea; its foundations are laid, its corner- stone rests, upon the great truth that the negro is not equal to the white man; that slavery subordination to the superior race is his natural and normal condition. This, our new government, is the first, in the history of the world, based upon this great physical, philosophical, and moral truth. This truth has been slow in the process of its development, like all other truths in the various departments of science. It has been so even amongst us. Many who hear me, perhaps, can recollect well, that this truth was not generally admitted, even within their day. The errors of the past generation still clung to many as late as twenty years ago. Those at the North, who still cling to these errors, with a zeal above knowledge, we justly denominate fanatics. All fanaticism springs from an aberration of the mind from a defect in reasoning. It is a species of insanity.
Adam Serwer comments:
Wilkins' utopian perspective on slavery is a staple of pro-Confederate, Lost Cause mythology, belied by all the contemporary accounts of actual slaves. It is central to not just to defending slavery as an institution and Americas' failure to eradicate it until the 1860s but to justifying the post-slavery violence of Reconstruction and Jim Crow, not as the white supremacy reasserting itself, but as a reaction to the lawlessness of former slaves whose primitive nature made them ill-suited to freedom.
Lizza's entire piece is worth a read, not just for its humorous moments (Bachmann apparently calls her campaign plane the "Barbie Jet"), but also it makes something very clear about Bachmann that I don't think many people understand about her. The historical "mistakes" that Bachmann makes on issues like slavery aren't evidence of ignorance, given her educational achievements assuming she's ignorant is a vast understatement in my opinion. Instead, what we're seeing is evidence of a world view that is very different from what most Americans encounter in their daily lives:
Bachmann belongs to a generation of Christian conservatives whose views have been shaped by institutions, tracts, and leaders not commonly known to secular Americans, or even to most Christians. Her campaign is going to be a conversation about a set of beliefs more extreme than those of any American politician of her stature, including Sarah Palin, to whom she is inevitably compared. Bachmann said in 2004 that being gay is "personal enslavement," and that, if same-sex marriage were legalized, "little children will be forced to learn that homosexuality is normal and natural and that perhaps they should try it." Speaking about gay-rights activists, that same year, she said, "It is our children that is the prize for this community." She believes that evolution is a theory that has "never been proven," and that intelligent design should be taught in schools.
The fact that someone like this is within a hair's breath of being the frontrunner for the GOP nomination should concern everyone.