Michelle Obama Shouldn't Be Vice President
Especially for Joe Biden.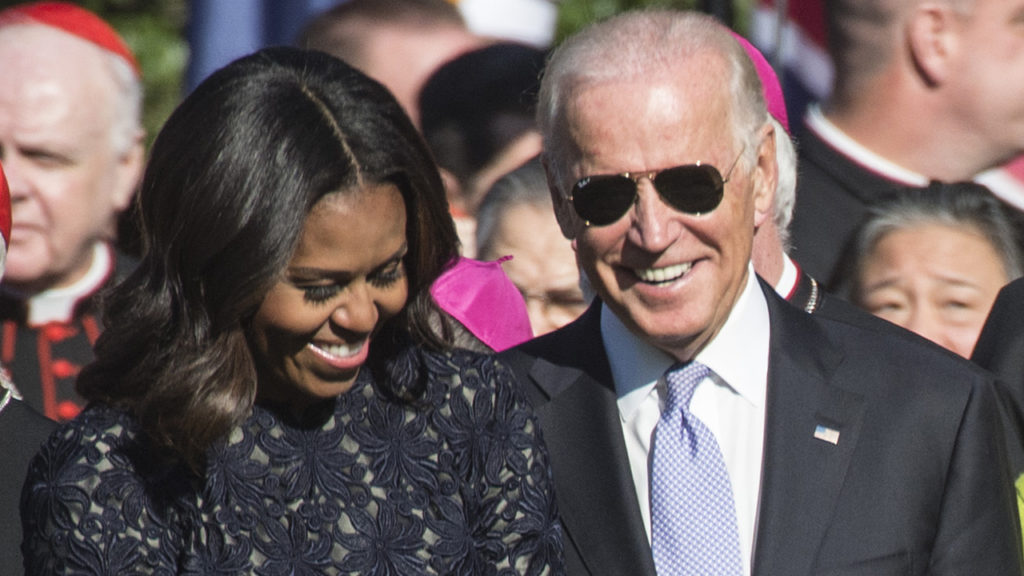 Presumptive Democratic nominee Joe Biden has pledged to choose a woman as his running mate. Many are hoping he chooses the popular former First Lady.
POLITICO's Mark Caputo ("Democrats dream of Biden's perfect running mate: An Obama"):
With the Democratic primary settled, the Rev. Al Sharpton says he now includes a political consideration in his daily prayers: God, please let Michelle Obama be Joe Biden's running mate.

Sharpton's decision to implore a higher power is perhaps unique among Democrats, but the strong sentiment is commonplace among party leaders, operatives, rank-and-file voters — and it's led many to hold out hope she'll be Biden's vice presidential pick.

"When former Vice President Biden said he would choose a woman, she's considered by most Americans of all races and all economic backgrounds to be the ultimate woman," Sharpton told POLITICO. "Look at her book sales. It's the first time I've seen someone write a book that can fill arenas. She has packed more arenas than Donald Trump."

Of the roughly dozen or so names Biden is seriously considering, Obama isn't one of them. She has made clear that she would rather focus on her work to register and turn out voters through her new organization "When We All Vote."

""I'll say it here directly: I have no intention of running for office, ever," she wrote in her best-selling memoir, "Becoming," released in 2018.
Her refusals haven't stopped Democrats from asking her to reconsider.

[…]

Still, none of that hasn't gotten in the way of Democrats dreaming of a restoration of sorts. While discussing Biden's potential veep picks, Michigan Democratic Party Chair Lavora Barnes recently told a reporter she didn't want to name a preference. But when asked about Michelle Obama, she stopped for a beat.

"Oh my God," she said, almost gasping. "That would be amazing."
The idea of an Biden-Obama ticket is as much rooted in warm fuzzy nostalgia for the last Democratic administration as it is a product of the cold, hard data of polling.

In terms of popularity, no one else in the party is in the league of Michelle Obama, who last year overtook actress and philanthropist Angelina Jolie for the mantle of "most admired woman" in a global survey conducted by YouGov. Barack Obama was the world's second-most admired man behind Bill Gates.

With so much star power and party goodwill behind the Obama brand, it's little wonder there's so much longing for the return of an Obama in a Democratic Party still reeling from Donald Trump's 2016 victory and searching for the perfect candidate.

Valerie Jarrett, a friend and adviser to both Obamas, acknowledged the buzz around the former first lady but said running for and holding political office — whether it's for vice president of president — isn't her style.

"She really kind of transcends politics," Jarrett said. "Obviously, she supports Vice President Biden but doesn't see herself as a political figure."

Her aversion to politicking and office-seeking are so strong, Jarrett said, that she might not even formally endorse Biden, though she will support him and campaign to defeat Trump.

"It's about more than winning the election. You have to govern. And if your heart isn't in what it takes to do the work of being the vice president, then you shouldn't do it. You shouldn't do it just to win," Jarrett said. "She could potentially help a lot more people using her current platform rather than joining a political office."
For his part, Biden is saying the right things.
Pittsburgh's KDKA ("'I'd Take Her In A Heartbeat': Joe Biden Says He Would Pick Michelle Obama To Be His Vice President"):
Joe Biden says he would take Michelle Obama to be his running mate for the 2020 presidential election.

The presumptive Democratic presidential nominee told KDKA's Jon Delano that the former first lady would be a strong addition as VP if he thought she would accept the nomination.

"I'd take her in a heartbeat," Biden said on Monday. "She's brilliant. She knows the way around. She is a really fine woman. The Obamas are great friends."

"I don't think she has any desire to live near the White House again," Biden added.

Biden did say it is still early in the process of selecting a vice president.

"In terms of who to pick, we're just beginning the process," Biden told KDKA. "We'll shortly name the committee to review this and begin to look through the backgrounds of the various potential nominees. And that's just getting underway."
Michelle Obama is popular. She's likable. By all accounts, she's a smart lady. But, no, she shouldn't be Biden's running mate.
Jarrett is right that the role requires someone enthusiastic about running and Obama does not have the proverbial "fire in the belly." But, frankly, that's the least of my concerns.
Michelle Obama is simply not qualified to be President of the United States.
Aside from the largely ceremonial role as President of the Senate, the Vice President's main function is to be ready to go if the President dies in office or otherwise becomes incapable of serving. That has happened a shocking number of times in American history, although not in a serious way since John Kennedy was murdered in 1963.
But Joe Biden will turn 78 a couple of weeks after Election Day. He's had serious health issues. He needs a VP who's ready on day one.
Michelle Obama is not such a person. She has no political experience or executive experience to speak of. Yes, she had a bird's eye view of the presidency as First Lady. But that's not the same thing, by a long shot, as having had to make those decisions and bear the consequences of them herself.
To be sure, she is every bit as qualified as Donald Trump was when he took office. And she's likely to throw herself into learning about public policy and to surround herself with and listen to people with real expertise.
But there are too many qualified officeholders out there for Biden to choose from. There are plenty of Democratic women who have run states or large cities. And, certainly, there are some qualified Democratic women in the Senate.
My preference at this juncture would be Amy Klobuchar or Kamala Harris. Neither pick would generate anything like the enthusiasm that Michelle Obama would. But either would be capable of assuming the presidency. That should always be the first consideration. That's doubly true when the campaign is going to be a contrast with Donald Trump. And triply true when the ticket is headed up by a man who will be in his 80s before his first term ends.