Mike Huckabee Will Not Be President
Nora Caplan-Bricker contends that, "Mike Huckabee Could Be President---If Only He Wanted It."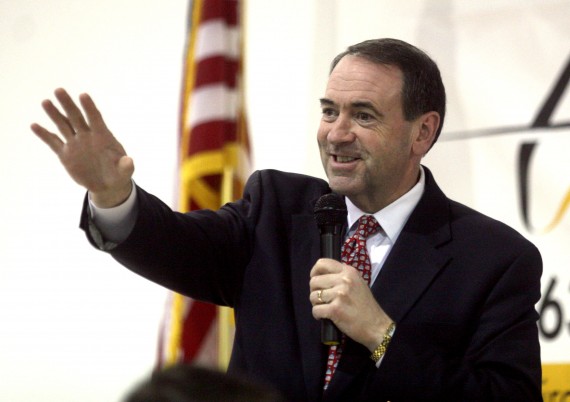 Nora Caplan-Bricker contends that, "Mike Huckabee Could Be President—If Only He Wanted It." She provides little evidence of the former, while concentrating on the latter.
Six years as a right-wing media host have not corroded the folksy charisma and self-deprecating wit that were hallmarks of his political persona. The man can charm.

There are Republican kingmakers prepared to bank on just that. When Huckabee ran for president in 2008, the former Arkansas governor and Southern Baptist preacher beat expectations by winning the Iowa caucuses and finishing second in the overall delegate count. He passed on another run two years ago, when race-watchers thought the nomination was within his reach. But the 2016 election might present his best opening yet. Chris Christie is tarred by Bridgegate (etc., etc.). Scott Walker could wind up similarly tarnished by a slow-motion scandal of his own, involving public workers dispatched on campaign tasks. Ted Cruz and Rand Paul are … Ted Cruz and Rand Paul. Meanwhile, early indicators suggest an appetite for Huckabee and his brand of conservative populism: This winter, at least four polls put him at the head of the primary pack—two of them even before Christie's reputation tanked. The GOP strategists who told me they are urging Huckabee to run recalled how as governor he once earned more than 30 percent of the African American vote in Arkansas, where he also defended social services for immigrants. Huckabee, in this analysis, is the candidate who could bring back the party's big tent. They hope to convince him to make another go.

Which might prove tempting for Huckabee, if not for the actual campaigning part. At a safe remove from filing deadlines, he has been happily granting interviews to reporters (including this one) to discuss his options. The process of running for office, though, is something "I actually dread," he has said. And he's not exactly clearing his schedule. This spring, he is slated to launch an ambitious, conservative-leaning news site called the Huckabee Post. A "major publisher" just bought his twelfth book. Other arms of Huckabee's octopodian brand include animated American history DVDs and an annual guided tour of Israel, which for a base price of $4,999 offers travelers a "spiritual" experience and "special musical guests," according to mikehuckabee.com.

"I'd hate to walk away from any of it," Huckabee says.
So, basically, Huckabee is charming and has name recognition with the Republican base. It's a start, I guess, but a long way from there to winning the nomination, much less beating the Democratic nominee, whom most presume will be Hillary Clinton, in the general election.
Caplan-Bricker reminds us that Huckabee won Iowa and finished second in the delegate count in 2008. She neglects to mention that the winner of the Iowa Caucuses almost never goes on to win the Republican nomination; John McCain, who won the nomination easily that year, came in fourth. And Huckabee only amassed so many delegates because he remained in the race as a spoiler long after Mitt Romney and others dropped out, conceding that McCain's nomination was inevitable.
What's particularly interesting to me is the notion that Huckabee would be the "big tent" candidate. Certainly, that's not the impression I had of him six years ago was that he was kind of a kook. He was the Christian Right's stalking horse in a campaign otherwise dominated by two moderate candidates from outside the social conservative wing, McCain and Romney.  At the time of his concession, I observed,

He's a personable fellow who went a long way with very little money, a weak organization, and zero Establishment support. But there was no time in this race when it was plausible that he'd be the nominee. He won Iowa as the "anybody but Mitt Romney" candidate in a contest McCain, Giuliani, and others skipped. He didn't win again until garbage time, when he was running as "the conservative alternative" to a man who had all but sewn up the nomination.

Huckabee will not win the nomination in 2012. Or 2016. Or 2020. He'd easily win a Senate seat from Arkansas if he changes his mind. But he's not going to be elected president.
Huckabee has done nothing to cause me to rethink that assessment. He's the guy who blamed the Shady Hook massacre on "taking God out of schools" and claims Barack Obama grew up in Kenya. It's going to take a might weak field, indeed, for Huckabee to win it.
And, as Caplan-Bricker points out in the piece, that assumes he's got the fire in the belly to run at all. It seems that he's gotten quite accustomed to making the big bucks at Fox.