Mike Krzyzewski Breaks Bob Knight's Record
Bob Knight coached Mike Krzyzewski at West Point. Now, Coach K has broken his mentor's record for all-time victories as a head coach.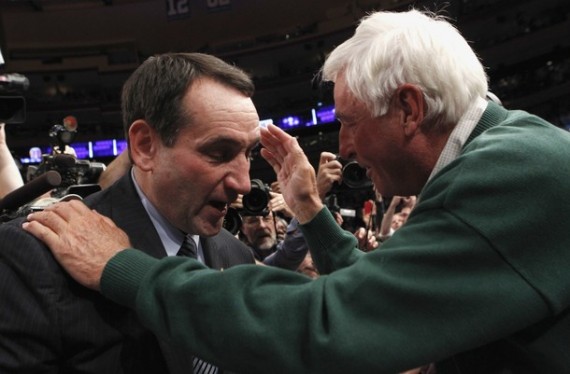 Bob Knight coached Mike Krzyzewski at West Point. Now, Coach K has broken his mentor's record for all-time victories as a head coach.
ESPN ("Mike Krzyzewski sets Division I men's basketball wins record"):
Cheek to cheek, Mike Krzyzewski and Bob Knight hugged, a player and his coach celebrating a big win — one it's safe to say might never happen again in college basketball.

The man known simply as "Coach K" became Division I's winningest coach when No. 6 Duke beat Michigan State 74-69 on Tuesday night in the State Farm Champions Classic.

The Blue Devils gave Krzyzewski his 903rd win, breaking the tie with Knight, Krzyzewski's college coach at Army and his mentor throughout his professional career.
With Knight sitting across the court at the ESPN broadcast table, and with several former players in the stands — many able to attend because of the ongoing NBA lockout — Krzyzewski moved to the top of the list in front of a sellout crowd of 19,979 at Madison Square Garden.

Krzyzewski went right across the court to hug Knight when the game ended. Krzyzewski, tears in his eyes, broke away, and Knight pulled him back, hands on his shoulders, then there was one final slap of the shoulder.

"I just told Coach I love him," Krzyzewski said. "I wouldn't be in this position without him. It's a moment shared. I know he's very proud, and I'm very proud to have been somebody who's worked under him and studied him and tried to be like him.

"I'm not sure how many people tell him they love him but I love him for what he's done for me and I thanked him. He said 'Boy, you've done pretty good for a kid who couldn't shoot.' I think that means he loves me too. At least that's how I'm taking that."
Both have extraordinary accomplishments:
Krzyzewski moved to the top of the list in his 37th season, all but five at Duke. He also coached at West Point, his alma mater where Knight molded a point guard into a coach for the ages.

Knight won his 902 games in 42 seasons, six at Army, 29 at Indiana and seven at Texas Tech. Krzyzewski has four national championships while Knight has three.
Krzyzewski and Knight both led the United States to an Olympic gold medal, Knight in 1984 and Krzyzewski in 2008. Coach K will have a chance at a second gold when he leads the team of NBA players again in London next summer.

Another number they both had in common was high graduation rates throughout their careers.
Knight released the following statement:
After reading about Roger Banister and the Four Minute Mile, I thought it would be neat to be the first coach to win 900 games. Once I reached that, I was hoping Mike would be the first person to surpass it. I also think it is neat for a coach and his former player to have the opportunity to win this many games while each one was coaching at nearly the same time. He made great contributions to our Army team, as a player and has been a great example as a coach of how to do things the right way. There is no one I respect more for the way he went about coaching and following the rules than Mike. The history of college basketball has had no better coach than Mike Krzyzewski.
Krzyzewski's record will almost surely never be broken. He's only 62 and could well coach several more years. He could easily shatter the 1000 win barrier. Dean Smith and Adolph Rupp retired with 879 and 876 wins, respectively, for 3rd and 4th place on the current list (each was #1 when they hung up their whistle). The next men on the list, Jim Boeheim and Jim Calhoun, are still active but older than Krzyzewski and with far fewer wins (859 and 857, respectively).
Reuters photo.