Mike Lee for the Supreme Court?
President Trump is reportedly considering the 47-year-old Utah Senator to replace Anthony Kennedy.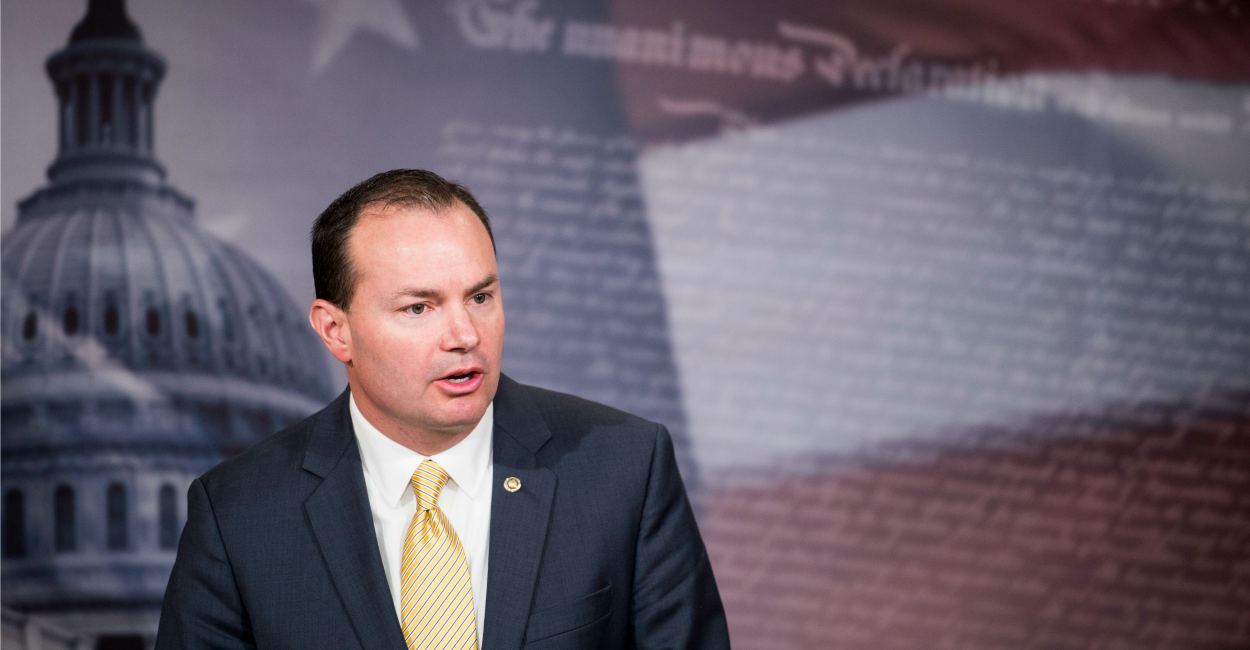 Jennifer Jacobs for Bloomberg ("Trump Weighing Senator Mike Lee for Supreme Court Vacancy, Sources Say"):
President Donald Trump has asked advisers their opinions about nominating Utah Senator Mike Lee to replace Justice Anthony Kennedy on the Supreme Court, according to three people familiar with the matter.

It remains early in the selection process for a nomination that will be a crucial part of Trump's legacy, choosing a justice who is likely to serve on the court for decades and cement its ideological balance to the most conservative in generations.

Trump hasn't settled on a favorite yet for the nomination, two of the people said. And even as the president mulls the 47-year-old Lee as a potential choice, the search for Kennedy's successor remains wide open.

Trump thinks Lee would be easily confirmed by the Senate, but the president has expressed concern about keeping his Senate seat in Republican hands, one person said. All of the people spoke on condition of anonymity to describe private deliberations.

He has been assured the seat will remain safely Republican, the person said. Trump complained that he was told the same about the Alabama Senate seat held by Attorney General Jeff Sessions, who wound up replaced by Democrat Doug Jones.

Trump is actively considering other candidates. Brett Kavanaugh, a judge on the D.C. Circuit Court of Appeals, is said to be another top contender.

Lee has publicly denounced the Supreme Court's landmark 1973 Roe v. Wade abortion rights ruling, which could complicate his confirmation. Many of the other potential nominees, most of whom are judges, haven't taken as clear a position on reversing the precedent.

Lee was on a list of possible Supreme Court nominees that Trump released during his presidential campaign, even though he declined to endorse the real estate mogul for election and said he voted for independent candidate and fellow Utahan Evan McMullin instead as "a protest vote."
That Lee is not a Trump loyalist—indeed, has been an active opponent—almost surely means that he won't be selected.
This trial balloon, assuming that's what it is, does give us an opportunity to reflect on the qualifications and attributes we should expect in a Supreme Court Justice in a way that we haven't seen the ill-fated Harriet Meyers nomination over a dozen years ago. Very longtime readers will recall that, despite having twice voted for George W. Bush to be President, I opposed confirming Miers on the grounds she was too mediocre for the post.
My starting position on Lee would be the same. A quick scan of his resume via Wikipedia reveals that he has both an undergraduate and law degree from Brigham Young, a perfectly fine but not top-tier university. Given his Mormon roots, though, that's hardly surprising and there's something to be said for having someone on the court who went to neither Harvard nor Yale, fine institutions though they are.  He followed that with very fine if not top-tier clerkships: "Lee began his career as a clerk for the U.S. District Court for the District of Utah before serving as a clerk for future Supreme Court Justice Samuel Alito, who was then a judge on the Third Circuit Court of Appeals."
His career since then is, again, fine:
He then entered private practice with the Sidley Austin law firm in Washington D.C. In 2002, Lee returned to his home state to work as an Assistant United States Attorney for the District of Utah, a position he held until 2005. Subsequently, he joined the administration of Utah Governor Jon Huntsman, serving as the general counsel in the office of the governor from 2005 to 2006. Lee then reentered private practice in Washington D.C., with Howrey LLP.

In 2010, at the beginning of the Tea Party movement, Lee entered the party caucus process to challenge incumbent three term Republican Senator Bob Bennett. Lee went on to defeat Bennett and business owner Tim Bridgewater during the nominating process at the Utah Republican Party Convention, receiving 1,854 votes in the final round. The two highest caucus performers were then put before primary voters, with Lee winning with 51% of the vote. He then defeated Democratic candidate Sam Granato in the general election with 61% of the vote to Granato's 32% . . .
As a legal mind, then, Lee's CV looks very Harriet Miers-like:  perfectly well-qualified by training and experience but not top-drawer. And the country deserves a top legal mind to serve a one-ninth of our Supreme Court.
Still, aside from the fact that, as a woman, Miers was something of a trail-blazer, Lee's experience is certainly a level or two up from hers. And I like the fact that he has experience in the judiciary, as an Assistant US Attorney, an advisor to a governor, time in private practice, and in the U.S. Senate. I think having a Supreme Court with people whose entire life experience has been as judges and/or Executive appointees is limiting. And, perhaps, opening up the experiential scale requires sacrificing evidence of brilliance as a legal thinker.
Leaving aside his Tea Party roots—I find them a red flag but have the general view that relatively mainstream ideological positions aren't disqualifying—the fact that he has not only been outspoken on abortion and other issues that will come before him on the Court is problematic. To be sure, there was a time, pre-Bork, that we knew a lot more about the political views of SCOTUS picks. But that was a generation ago and no longer the norm.
Again, I think it extremely unlikely Trump will ultimately appoint someone who backed an opponent in the general election. And I'd ultimately prefer a more traditional pick along the lines of a John Roberts or Neil Gorsuch. But I'd have an open mind about Lee were he the nominee.