Mike Pompeo's Path To Foggy Bottom Becomes Clearer
For better or worse, Mike Pompeo will be confirmed as the 70th Secretary of State by the end of this week.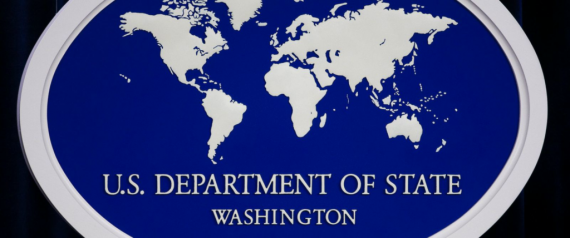 C.I.A. Director Mike Pompeo's path to becoming the 70th Secretary of State became clearer last night after passing a hurdle in the Senate Foreign Relations Committee:
WASHINGTON — The Senate Foreign Relations Committee, in a late pivot on Monday evening, approved the confirmation of Mike Pompeo to be the next secretary of state, after Senator Rand Paul, Republican of Kentucky, bowed to pressure from President Trump and dropped his opposition.

For days, the committee appeared ready to deliver a historic rebuke. Since it began considering nominees in the late 19th century, the Senate Foreign Relations Committee has never given a nominee for secretary of state anything but a favorable vote, according to the Senate historian. It has been almost 30 years since any cabinet nominee was reported to the full Senate with an unfavorable recommendation.

But minutes before the committee convened, Mr. Paul, an ardent opponent of interventionist foreign policy, declared his support for Mr. Pompeo, the C.I.A. director, to lead the State Department, securing approval from the committee.

"After calling continuously for weeks for Director Pompeo to support President Trump's belief that the Iraq war was a mistake, and that it is time to leave Afghanistan, today I received confirmation that Director Pompeo agrees with President Trump," Mr. Paul wrote. "President Trump believes that Iraq was a mistake, that regime change has destabilized the region and that we must end our involvement with Afghanistan. Having received assurances from President Trump and Director Pompeo that he agrees with the president on these important issues, I have decided to support his nomination."

Mr. Trump told reporters last week that Mr. Paul has "never let us down" and that "he's a good man."

With two moderate Democrats signaling their support for Mr. Pompeo earlier on Monday, the confirmation of the United States' top diplomat by the full Senate this week was all but secured anyway.

Senator Mitch McConnell, Republican of Kentucky and the majority leader, intends to move the full chamber to begin debate on Mr. Pompeo's nomination as soon as Wednesday, with a final vote expected before senators leave Friday for a weeklong recess.

But supporters of Mr. Pompeo feared that he would become the country's 70th secretary of state with a bruised standing on the world stage after a Foreign Relations Committee rebuke.

"I understand the climate we are in. I understand the polarization we have as a nation," Senator Bob Corker of Tennessee, the committee's chairman, said Monday. But Mr. Corker touted Mr. Pompeo as one of the most qualified secretaries of state in history, ticking through his résumé.

Even Monday, it took a "present" vote by Senator Chris Coons, Democrat of Delaware, to allow the nomination to move forward after Senator Johnny Isakson, Republican of Georgia and a Pompeo supporter, did not show because he was delivering a eulogy out of town.
Senator Paul's last-minute vote shift, which came just hours before the Pompeo nomination had received the support of two more red state Democrats that essentially guaranteed that he would be confirmed on the floor regardless of what happened in the committee. Last week, Senator Heidi Heitkamp of North Dakota announced that she would be supporting Pompeo's confirmation and she was joined yesterday by Joe Manchin of West Virginia and Joe Donnelly of Indiana. It's no mistake that these three Democrats would come in line behind the nomination, of course, given that all three of them are up for reelection in deeply red states that President Trump won by overwhelming margins in 2016 and are considered among some of the most vulnerable Democratic Senators in the country. Whatever their motivation, though, the fact that they have come out in favor of Pompeo's nomination essentially means that he will be easily confirmed by the end of this week.
Generally speaking, the Senate has been quite deferential in confirming a President's choice for Secretary of State. Among the most recently serving Secretaries of State, for example, Colin Powell (unanimously confirmed via unrecorded voice vote), Condoleeza Rice, Hillary Clinton, and John Kerry all cleared the Senate Foreign Relations Committee on unanimous or near-unanimous votes and were confirmed on the Senate floor in votes that included only a handful of votes in opposition. That changed significantly last year when Rex Tillerson's nomination was approved on a largely party-line vote of 56-43 that saw just four Democrats cross the line to vote yes. The vote later this week appears as if it will be equally close, although it is probable that other red state Democrats who are up for re-election this year such as Claire McCaskill of Missouri and Jon Tester of Montana could end up casting a vote in favor of Pompeo, especially now that it is apparent that he'll be confirmed regardless of what they do.
As I've said in the past, I'm not enthusiastic about the idea of Mike Pompeo as Secretary of State to say the very least for several reasons. His rhetoric while serving as a Congressman from Kansas raise several concerns about the type of advice he will be providing to the President as do his ties to anti-Muslim organizations here in the United States including persons such as Pamela Geller, who has been at the center of anti-Muslim hate speech for more than a decade now. Given those ties, it's difficult to see how he can credibly maintain a good relationship with the Muslim world. Additionally, his position with respect to the nuclear deal with Iran, a view that reinforces that taken by Trump's new National Security Adviser John Bolton that would seem to make it more likely that Trump would take the foolish step of pulling the United States out of that agreement and thus potentially precipitating a crisis in the Middle East. Ideally, the President would select someone who can no only competently represent the United States abroad but also provide the President with advice that may often conflict with the President's own positions, and to advise him against action that may be detrimental to American interests. These are hardly ideal circumstances, though, and it's clear that Pompeo will be confirmed in any case. I guess the best we can do is hope that he knows what he's doing.