Mississippi Republican Refuses To Let Female Reporter Cover His Campaign
Citing the so-called "Billy Graham Rule," a Republican candidate for Governor in Mississippi is refusing to let a female reporter accompany him on a campaign ride-along.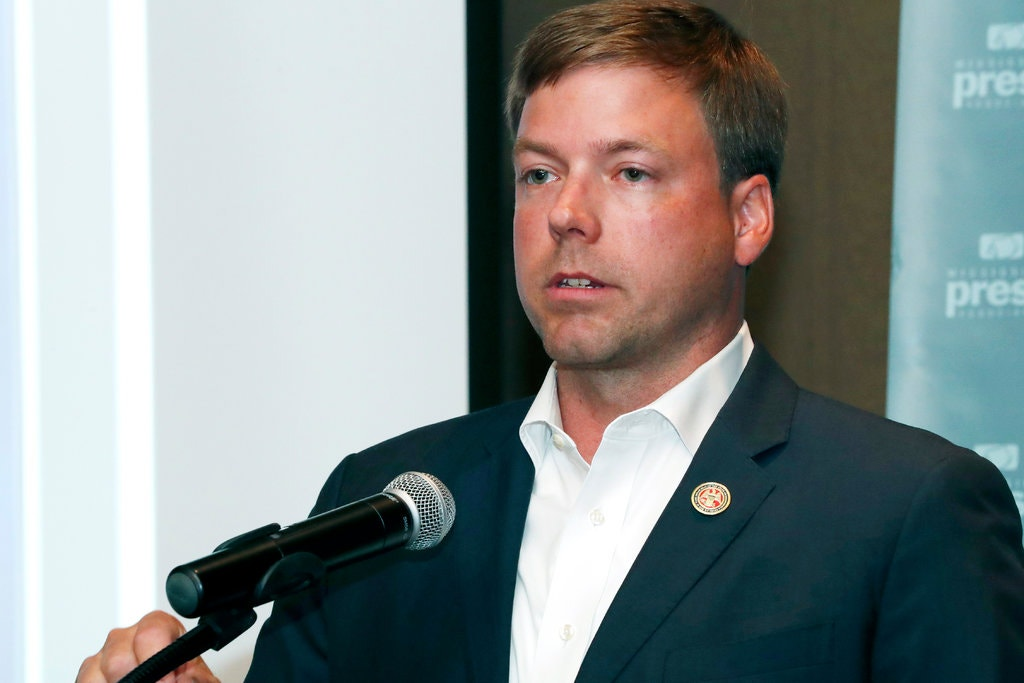 A Republican politician in Mississippi is attempting to bar women from his press entourage, claiming that he is doing so in order to abide by his religious principles:
Robert Foster, a state representative in Mississippi who is running for governor, blocked a female reporter from shadowing him on a campaign trip "to avoid any situation that may evoke suspicion or compromise" his marriage.

The reporter, Larrison Campbell of the news site Mississippi Today, wrote in an article published on Tuesday night that Mr. Foster's campaign manager, Colton Robison, had told her that a male colleague would need to accompany her for a "ride-along" on a 15-hour campaign trip around the state.

Mr. Robison said that the campaign "believed the optics of the candidate with a woman, even a working reporter, could be used in a smear campaign to insinuate an extramarital affair," Ms. Campbell wrote.

In blocking the reporter, Mr. Foster, 36, a Republican, invoked the "Billy Graham rule," which refers to the Christian evangelist's refusal to spend time alone with any woman who was not his wife.

The practice has drawn renewed attention in recent years, especially after the resurfacing of a 2002 comment by Vice President Mike Pence that he would not eat alone with any woman other than his wife.

That led to a fierce debate among Americans, with some arguing that such limitations on interactions are necessary in the workplace, and others saying that they are unfair to women in professional settings and reduce them to sex objects.

Ms. Campbell, 40, wrote in her article on Tuesday that she and her editor had decided that the request was sexist and "an unnecessary use of resources" given her experience. She has interviewed Mr. Foster numerous times and broke the story of his candidacy. Mr. Robison would also have been present during the trip. But the campaign would not budge, she wrote.

After the article was published, Mr. Foster responded on Twitterthat he and his wife had committed to following the Billy Graham rule before he announced his candidacy.

"I'm sorry Ms. Campbell doesn't share these views, but my decision was out of respect of my wife," he wrote.

In an email, Mr. Foster indicated he would grant Mississippi Today additional interviews, as long as they were conducted according to his rules.

"We just want it to be in an appropriate and professional setting that wouldn't provide opportunities for us to be alone," he wrote.

The controversy has raised the freshman lawmaker's profile, and his posts have garnered many supportive comments, along with criticism.

On social media and in interviews on Wednesday and Thursday, Mr. Foster criticized "the liberal press" and painted himself as an uncompromising man of principle. Mississippi Today reported that his campaign was boosting his social media posts and had sent out a fund-raising email asserting that he was being attacked for his Christian faith.

He and Ms. Campbell appeared on CNN's morning show "New Day"on Thursday. He noted that they would have been traveling in his vehicle during the ride-along.

"This is my truck, and in my truck we go by my rules," he said.

"Perception is reality in this world and I don't want to give anybody the opinion that I'm doing something that I should not be doing," he added.

Ms. Campbell repeated her belief that she had been unfairly stopped from doing her job.

"Why does it appear improper for a man to be with a woman?" she asked. "I mean, why wouldn't, like, a gay affair be construed if you were with a man? Unless, at the end of day, what you're saying here is, a woman is a sexual object first and a reporter second."
Foster also appeared this morning on CNN's Smerconish:
To be fair, Foster is not saying that Campbell can't cover his campaign events. Presumably, she'd be allowed to do that since he would not be alone with her. He is, however, treating her in a sexist and discriminatory manner because of her gender and, apparently, because of his own belief that he might be unable to control himself if they were alone together for an extended period of time. The ironic part of this is that Campbell is a lesbian who is married to a woman so the idea that she'd even be interested in or attracted to him is somewhat ridiculous. Campbell also raises a good point when she asks why the same rule shouldn't apply to a male reporter given that some people might assume that Foster was involved with him, especially if this reporter were a gay male.
I suppose that Foster is free to make whatever rules he wishes regarding how he deals with reporters, but that doesn't mean that the decision he's making here is based on a view of relationships between men and women that view women as nothing more than "temptresses" who will cause men to stray. It's the same outdated philosophy that leads to dress codes in public schools that require girls to cover-up clothes are clearly not inappropriate simply out of fears that they will cause teenage boys to be distracted. It's unfair because it places the entire burden in male-female interaction on women and girls and because it is rooted in a view of men that sees all men as potential sexual predators who are only restrained if the women are dressed blandly and kept as far away from them as possible.
As noted, all of this is rooted in the so-called "Billy Graham Rule," which gained notoriety shortly after Mike Pence became Vice-President because he apparently has the same policy. Under this "rule," men simply refuse to be alone with a woman who isn't their wife whether it is in a social or business setting. The alleged justification for the rule is to "honor" one's spouse or significant other by not raising the implication of potential bad behavior. In the wake of the MeToo movement, it has also been said that a reason for the rule is to prevent men from being wrongfully accused of inappropriate behavior.
What's surprising, though, is that public opinion appears to be on Fosters's side:
While many have criticized the practice as sexist, the attitude behind it is common among Americans: A 2017 poll conducted by Morning Consult for The New York Times found that many men and women are wary of a range of one-on-one situations.

Around a quarter said that private work meetings with colleagues of the opposite sex are inappropriate, while nearly two-thirds believed that extra caution should be taken around members of the opposite sex at work, the poll found.

And a majority of women — and nearly half of men — said it was unacceptable to have dinner or drinks alone with someone of the opposite sex other than their spouse.
As Monica Hesse notes in The Washington Post, though, the so-called rule actually demeans women while also unfairly discriminating against them:
[T]here's not a single inch of moral high ground achieved via the Billy Graham rule, which purports to honor marriage vows. In similar fashion, Vice President Pence once said he would not dine alone with a woman to whom he wasn't married. But rules like these don't honor your wife. They just presume that your marriage vows are so flimsy that you can't be trusted to uphold them unless a babysitter monitors you. It's rather like a thief sanctimoniously announcing that he brings a parole officer every time he goes to the bank to make sure he doesn't rob it. Good for you, dude, for knowing your own limitations — but it doesn't make you better than the rest of us, who manage to regularly not steal things even when we're completely alone.

Or, as writer Jeremy White offered: "[The rule] presumes either: A) you can't be trusted or B) women can't be trusted. Everyone invoking that rule should be prepared to answer which is true."

At other points, Foster's camp seemed to imply that the issue wasn't about his marriage vows but about optics. "We're really concerned about bad publicity," Campbell said Foster's campaign director told her. The director mentioned the possibility of a rival campaign taking photographs of the pair together, which would put Foster in a "compromising position."

There's so much wrong with this logic that it's difficult to know where to start.

It implies that a man and woman together are necessarily engaging in compromising activities. Even if they are in public. Even if one of them, like Campbell, is gay. Even if one of them is a candidate on the campaign trail and the other is holding a notebook and wearing a press badge, and they're making the rounds of public events and rubber chicken dinners. (Truly, if this is what Foster considers being caught in flagrante, I feel deeply sad about his sex life.) It implies that Campbell is a love interest before she's a journalist, even when she's specifically there as a journalist.

This logic further implies that Foster's silly, specious perception of a "compromised position" is more important than the actual compromised position that his policy creates for Campbell. She has been assigned a job that she is now unable to do. Her news outlet must decide whether to short its readers on coverage of a gubernatorial candidate on a matter of principle or capitulate to the candidate's insulting demands. (They rightly chose the former and skipped the assignment).

The most harmful aspect of the Graham/Pence rule is this: It keeps women out of the room. It says that men can forward their careers via mentoring sessions, golf games and brainstorming lunches, but women cannot. Are we to gather that, because of this rule, Foster would also never employ a female chief of staff, attorney or accountant and never visit a female doctor, dentist or physical therapist, since all of those roles would necessitate occasional alone time?

These might be acceptable, if dispiriting, choices for a private citizen to make in his own life, but a governor making them has cascading effects for hundreds of thousands of people within his bureaucracy. The Graham/Pence rule prevents women from climbing to the top of their careers because the men who have the power to help them get there won't even let them in the room.
Hesse concludes her column with this barb directed at Foster that made me chuckle:
The only upside of Foster continuing to dig this hole was that, by the end of the day, it was difficult to imagine any woman wanting to spend 15 hours in a car with him. Not alone, not with a chaperone, not for work, not for fun. He can't be in a car with a woman doing her job? Fine. Leave him in the dust, by the side of the road.
Hesse is, of course, absolutely correct in her assessment of Foster's actions and of the so-called "Billy Graham" Rule. Not only is it rooted in outdated and discriminatory views of the relationship between men and women, it also results in women being treated unfairly for reasons they have no control over. In my own career, there have been plenty of times where I was required to work late with a female colleague and I would not have even thought once about refusing to do so because of my co-worker's gender. In all such situations, we were both professionals, both adults, and both capable of focusing on the job rather than on the things that people like Billy Graham, Mike Pence, and Robert Foster are worried about. At its root, the rule is an archaic and discriminatory rule that fails to recognize reality. If Foster can't control himself, that's his problem, not Ms. Campbell's. His temptations should not be the reason that she isn't able to do the same job as her male colleagues.
Robert Foster is a sexist who doesn't want to be alone with women because he's afraid he'll be tempted to break his marriage vows. This is his problem, not Larrison Campbell's. The good news is that Foster is in a distant third place in the race for the GOP Gubernatorial nomination. At the very least this is unlikely to get him any increased support from Mississippi women