Mississippi to Remove Confederate Symbol from its Flag
The Magnolia State is the last in the nation to have the stars and bars on its state banner.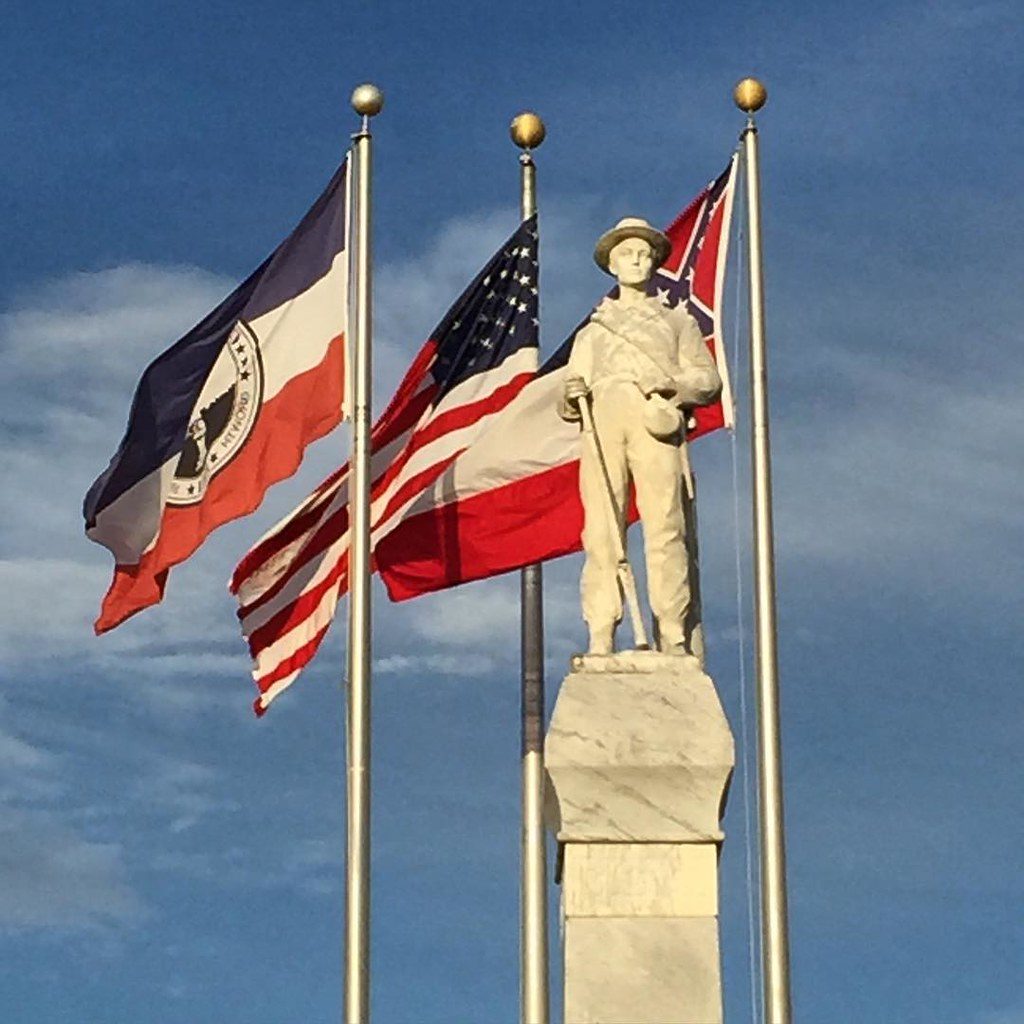 The Magnolia State is about to abandon its 126-year-old flag, which prominently features the Confederate battle flag, under the latest wave of public pressure.
WaPo ("Mississippi lawmakers pass resolution paving way to remove Confederate symbol from state flag"):
Amid ongoing national protests against racial injustice, Mississippi state lawmakers have paved the way for legislation to remove the Confederate symbol from the state flag.

On Saturday, the Republican-led House of Representatives and the Senate voted by a two-thirds majority to clear the path for a vote on a measure that would remove the current flag and replace it with a new design free of Confederate iconography.

After the votes were announced in each chamber, applause broke out. Earlier in the day, Gov. Tate Reeves (R) indicated that he will sign a bill to change the flag if one reaches his desk, a shift from his previous position that voters should decide whether to change the flag via referendum.
This move is obviously well overdue. The unofficial of my longtime home state, Alabama, was "Thank God for Mississippi." As embarrassing as our standing in almost every measure of progress and prosperity might have been, we could almost always count on our neighbor to the west to be just a little bit worse.
Even Mississippi, however, has come to realize that literally waving the Confederate flag as the symbol of the state is holding it back.
Lawmakers on Saturday delivered impassioned speeches for and against abandoning the Confederate symbol, which has endured previous challenges and continued to draw ardent defenders who see it as an important piece of the state's past. Many described the day in historic terms, invoking the Founding Fathers, their own family histories and future generations in explaining their votes.

Rep. Edward Blackmon Jr. (D), who is black, said that he had overcome the feelings he had seeing the flag growing up but that it represents a painful history. He said his children and now his grandchildren have had questions about what it represents and called for a flag that would stir pride in all of the state's residents — nearly 40 percent of whom are black.

"It ought to be something that we all feel a sense of pride that when we see it, we know that that's about us," he said. "Not just some of us."

House Speaker Pro Tempore Jason White (R) also argued forcefully against keeping the flag, saying that "whether we like it or not," it had come to be viewed as a symbol of hate.

"By changing our flag, we don't abandon our founding principles," he said. "We embrace them more fully by doing what is right. We're not moving further away from our Founding Fathers' visions. We're moving closer to them. We're not destroying our heritage; we're fulfilling it."
That's exactly right.
Several legislators continued to argue that the fate of the flag should be left to voters.

Sen. Chris McDaniel (R), one of the most vocal opponents of the measure, described attempts to change it as part of an effort to challenge the founding values of the country, warning that the American flag was next. He said voters should be allowed to decide, adding: "I don't see how that makes me a racist. I don't see how that makes me a terrible human being."
I don't know McDaniel, much less whether he's racist or a terrible human being. But he's wrong.
While I don't have Confederate ancestors, I'm a Southerner. For quite a while, I saw the flag as a symbol of Southern pride, associating it more with Lynyrd Skynyrd than with slavery. If the vast majority of Southerners saw it, as the slogan had it, as about "heritage, not hate," then people ought accept that.
I was ultimately persuaded by a fairly simple argument by Hardy Jackson, a historian of the South at Jacksonville State: a big part of the culture is supposed to be "Southern hospitality." If a third of your community sees your symbol of pride as an insult, it's just damn impolite to wave it in their face.
Mississippi is the blackest state in the union, with 36.33 percent of its citizens of African descent. One imagines that the overwhelming number of them see their state's flag as a reminder of slavery, Jim Crow, and white supremacy.
Not giving a damn about that does in fact make you a terrible human being.
Another report, from Mississippi Today (""), contains this quote:
"I think it was a historic moment in our state and it was the right thing to do," said House Speaker Philip Gunn, who in the summer of 2015 surprised his Republican House majority caucus when he announced his support for changing the flag.

"The bottom line is the image of our state hangs in the balance," Gunn said. "We talk about the business impact, the economic impact. All those things are real, but the bottom line is this is just the right thing to do."
Exactly.
Actually changing the flag will take a while:
The resolution states a commission would be created to redesign the state flag. The commission would recommend a new design by Sept. 14, and voters would approve or reject that design on Nov. 3.

The design "would not include the Confederate battle flag but shall include the words 'In God We Trust'," the resolution stated. Should voters reject that design, the commission would present a new option during the 2021 legislative session, according to the resolution.
One could argue that adopting a flag in 2020 with "In God We Trust" is problematic, both on First Amendment grounds and as an insult to non-believers. But the slogan has been the official motto of the United States since 1956 and the courts have consistently ruled that, as a motto, it has no coercive power and amounts to mere secular deism.
Regardless, both houses of the Republican-dominated Mississippi legislature will almost certainly vote today, by overwhelming margins, to change the flag. Hopefully, a year from now, a new one will be flying across the state.