Mitch McConnell Leading In Kentucky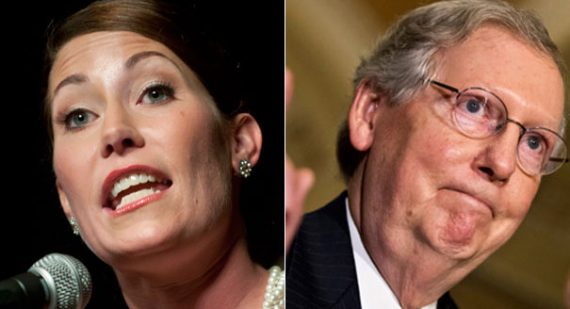 Outside of the seats that Democrats are attempting to defend from a Republican takeover bid that continues to look like it will happen, the one Senate race that is likely to get the most attention over the next nine weeks is the race between Senate Minority Leader Mitch McConnell and Kentucky Secretary of State Alison Lundergan Grimes. At least from the outside, it has appeared that Grimes might have a chance of knocking off the top ranking Republican and, perhaps, in doing so, prevent the GOP from gaining a Senate majority. At the same time, though, every analyst who has looked at the race has warned about the dangers of underestimating Mitch McConnell, who may well know Kentucky politics better than anyone, and who has come back from close challenges before. Based on the polling at this point, it would appear that those people are correct:
Republican U.S. Sen. Mitch McConnell has put a little more distance between him and his Democratic opponent, Alison Lundergan Grimes, but the race remains within the margin of error, according to the latest Bluegrass Poll.

The poll, conducted by SurveyUSA for The Courier-Journal and three other news outlets, found that McConnell holds a 46 percent to 42 percent lead among likely voters over Grimes. Libertarian David Patterson gets 5 percent of the vote, and 8 percent remain undecided.

It's the third consecutive Bluegrass Poll that has found McConnell improving his chances for re-election in November. Before that, the poll found Grimes ahead by 4 points in a survey conducted in January and February.

"It's becoming more clear the closer we get to the election that voters want a proven leader like Senator McConnell who delivers for Kentucky rather than an inexperienced liberal who is just another vote for the Obama agenda," Allison Moore, a spokeswoman for McConnell, said in a statement.

But the Grimes camp said it was pleased with the campaign's position two months before the November election.

"After facing a barrage of more than $30 million in spending from Mitch McConnell and his allies, our campaign remains well within the margin of error against the 30-year Washington incumbent," Charly Norton, a spokeswoman for Grimes, said in a statement.

Jennifer Duffy, a senior editor at the nonpartisan Cook Political Report in Washington, D.C., said the poll is not good news for Grimes and shows that she's had "a rough summer," during which the McConnell campaign attacked her for not addressing the coal issue with Senate Majority Leader Harry Reid and she had problems answering some policy questions.

"Grimes is down 4 points and that hill is steep, but it's not impossible," she said.
The poll was conducted before Friday's news regarding the resignation of McConnell's campaign manager, but as I noted at that time it seems unlikely that Jesse Benton leaving the race is going to have much of an impact.
As things stand now, McConnell seems to be in good shape heading into the final two months of the campaign. He currently has a 2.5 point lead in the RealClearPolitics polling average, but that number reflects the fact that Grimes had been leading in polling conducted during and immediately after McConnell's bitter Republican primary fight with Matt Bevin. In addition to this poll, the Senator has posted leads of five points and four points respectively in polling done in early August and July, and the RCP Chart shows that the race is moving in his direction.
Obviously, anything can happen over the next several months, particularly once the debates begin. However, at the moment I would say that McConnell is likely to pull out a win here, and in the end it isn't going to matter whether it's close or not.