About That Poll Showing Alison Lundergan Grimes Leading Mitch McConnell
Could Alison Lundergran Grimes be surging? Maybe, but we'll need more evidence to be sure.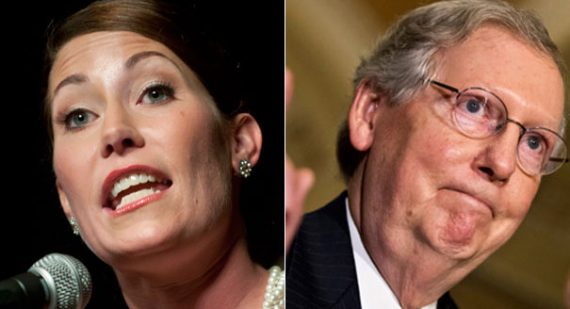 In the comment thread of my post yesterday about the tenuous nature of any majority the GOP may win in November, several people made note of a new poll that purports to show that Alison Lundergan Grimes has a small lead over Mitch McConnell in Kentucky:
After two polls in his favor, Senate Minority Leader Mitch McConnell has slipped behind Democratic challenger Alison Lundergan Grimes in his re-election bid, according to the latest Bluegrass Poll.

Grimes, Kentucky's secretary of state, now leads the five-term senator 46 percent to 44 percent among likely voters, the survey found. Libertarian candidate David Patterson had 3 percent support in the poll, while 7 percent of likely voters said they were undecided.

While Grimes' advantage is within the poll's margin of error, it represents a 6-point swing to the Democrat since the survey was last conducted in late August.

The latest poll — conducted Sept. 30 to Oct. 2 by SurveyUSA for The Courier-Journal, Louisville's WHAS-TV, The Lexington Herald Leader and Lexington's WKYT-TV — was dismissed by McConnell's campaign.

"After fourteen straight public polls all showing Sen. McConnell with a clear lead, this Bluegrass Poll is obviously an outlier," spokeswoman Allison Moore said in a statement. "We're very comfortable with where this race stands and are confident Sen. McConnell will be re-elected in November."

But Grimes campaign manager Jonathan Hurst said the survey "reflects the overwhelming grassroots enthusiasm Alison and our campaign see everyday across the commonwealth."

An internal Grimes survey last week by pollster Mark Mellman also showed Grimes with a two-point lead.

Larry Sabato, director of the University of Virginia's Center for Politics, said the Bluegrass Poll results either are an anomaly or the first sign of a Grimes trend.

"You've got a lot of Kentuckians who say, 'I don't want a Democrat who's going to back Obama but I'm sick and tired of McConnell,' " he said. "The question is: How does it balance out on Election Day?"

University of Kentucky political scientist Stephen Voss cautioned that the 6-point swing to Grimes may not be real.

"I would take these results with a grain of salt, given that they deviate from everything we've seen recently," Voss said, referring to a number of other polls showing McConnell leading Grimes.

The Bluegrass Poll asked the opinions of 730 registered Kentucky voters, 632 of whom it determined to be likely voters in the Nov. 4 election. The latter group's responses were used to break down the Senate race, with a margin of error of plus or minus 4 percentage points.
While the Louisville Courier-Journal, for whom this poll was conducted, emphasizes the shift in the race as represented by previous polling that it has conducted in the race, the result jumps out even more when you look at all of the polling that has been done in Kentucky for the past four months. Specifically, while the race has remained close, with McConnell generally polling within or just outside the margin of error, the trend during that time period has clearly been in the Senator Minority Leader's favor. The last poll to show Grimes leading was one conducted by Magellan Strategies that gave her a three point lead. Before that, the only other polls that put Grimes in the lead were two other polls from the Courier-Journal, conducted in May and January respectively. There was also a Rasmussen poll in January that had the race tied. All of these polls, though, were conducted in the middle of or just after a hard-fought Republican primary fight between McDonnell and Matt Bevin, so its not surprising that McConnell's numbers might have been down during that period.  It's also worth noting that SurveyUSA ranked near the middle in Nate Silver's pollster rankings in the wake of the 2012 Presidential election, and has often been the source of poll results that tended to differ significantly from the norm. While this isn't necessarily evidence that this poll is flawed, it's certainly another reason why it should be taken with a grain of salt.
The other point this poll raises is that it points out that paying attention to individual polls is not the best way to get picture of what is happening in a particular race. Even if these polls are accurate, they are at best snapshots in time. What is important to look at are the trends, not only within that individual poll, but among all of the polls that have been conducted in an individual race. This is why the sites that do polling averages, such as RealClearPolitics, are the best source to consult when you want to track the course of a race. There are some problems with averaging polls with different methodologies, of course, but as long as the average is calculated using generally liable pollsters rather than throwing in results from pollsters with spotty or unknown reliability, then you'll get a pretty good picture of what's happening.
Presently, the RealClearPolitics polling average continues to give McConnell a 4.2 point lead, and the chart continues to indicate that the momentum is on his side: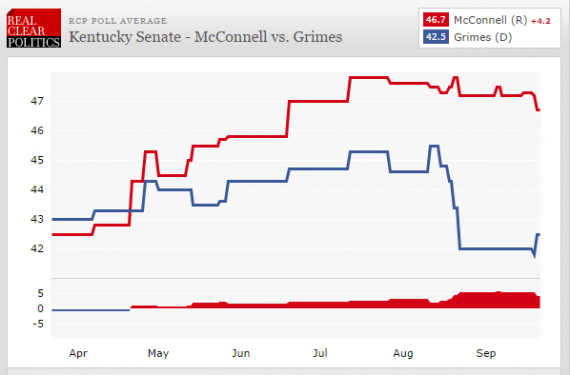 That small uptick you see for Grimes and down tick for McConnell, is solely due to the impact of this one poll on the average. Otherwise, the direction of the race up until now is clear and its hard to say that this new poll indicates anything at all until we get additional polling data. Either those other polls will also show that the race is closing, or they will be consistent with the other polls that have showed McConnell heading to a close but comfortable victory. If I had to guess at this point, I would guess that this poll will prove to be an outlier, but that's something we won't know for at least a week or so depending on how many other polls are in the field. Given that, many of the pronouncements I've seen in the media, including this morning on Morning Joe where the poll was greeted as news of some significant development in the race, are really just so much nonsense.