Alison Lundergan Grimes Really Doesn't Want To Admit She Voted For Obama
Sometimes, being evasive in answering a question just makes a politician look silly. This is one of those times.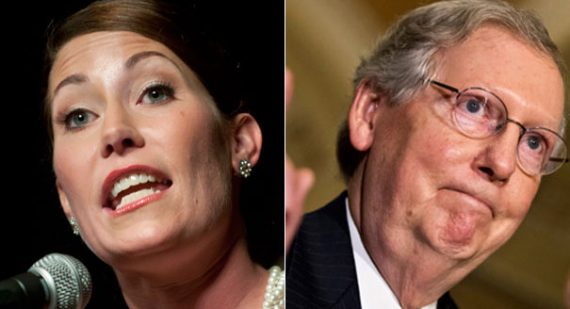 During a meeting late this week with the Editorial Board of the Louisville Courier-Journal, Alison Lundergan Grimes did everything she could to not answer the question of whether or not she voted for President Obama:
Alison Lundergan Grimes (D), who is trying to unseat Senate Minority Leader Mitch McConnell (R) this fall, appeared before the Louisville Courier-Journal editorial board on Thursday to make her pitch for their endorsement. The life-long Democrat, whose father represented Kentucky for the party in the state House and who herself has been on the ballot in the state on the Democratic ticket, was asked a simple question. Did she vote for President Obama in 2008 and 2012?

And she didn't answer. Repeatedly.

(…)

Obama is far more unpopular in Kentucky than he is in the rest of the country. Polling last month had his approval rating in the state at about 30 percent, the sort of numbers that wouldn't earn him a victory in the state if he were to run again, not that he won it in 2008 or 2012.

Grimes tries to pivot off of the board's question (for some reason!) by linking herself to Hillary Clinton. There's not a lot of good data on Clinton's approval in Kentucky, but at least the state voted for her husband twice. If you have to be a type of Democrat in Kentucky, be a "Clinton Democrat" as Grimes puts it. Fine.
Here's the video of the full segment of the interview that focused on this question:

Not surprisingly, Grimes is taking heat for her evasive response to what seems like a ridiculously convoluted attempt to answer a simple question:
U.S. Senate candidate Alison Lundergan Grimes found herself under attack from the right, left and the middle on Friday following an editorial board interview with The Courier-Journal in which she four times refused to say if she voted for President Barack Obama.

Video of Grimes trying to not answer the question went viral, garnering hundreds of thousands of hits on various websites that posted it and she had numerous commentators questioning whether she is a viable candidate because of it.

On MSNBC's Morning Joe, adjectives like "ridiculous" and "cringe-worthy" and "amateur" were used.

"And Kentuckians expect her to cast a tough vote on anything?" asked NBC political reporter Chuck Todd on the show. "I think she disqualified herself."

Even the liberal Daily Kos website took shots at Grimes.

"No one is impressed by that. Kentucky people think she is a Democrat and assume she voted for Obama," the website wrote

"Either she did or did not. If she did not, she should say so. Here she just looks cowardly," Kos wrote. "And this does nothing to increase turnout. Pathetic on her part."

The Washington Post called it "40 painful seconds."
It's not surprising that Grimes would want to dance around this issue, of course. As Philip Bump notes in the Washington Post piece quoted at the top of this post, President Obama's job approval in Kentucky is among the lowest of any state in the country and the Grimes campaign has not exactly eagerly attached itself to the Obama Administration as this campaign has gone forward. On some issues in fact, such as coal, the candidate has taken a position precisely opposite from that taken by the President and his Administration. So far, the President has not been in the state to campaign for Grimes, and it seems incredibly unlikely that he will be there any time in the closing weeks of the campaign. Instead, we're seeing Grimes bring in surrogates like Bill Clinton, who is of course a politician and campaigner par excellence who is popular in the South in ways that Barack Obama will never be. We may also see Hillary Clinton pop into the state in the closing weeks, although that's a dicier situation given that she is obviously already on track to throw her hat in the ring for President, though. When it comes to President Obama, though, we're not likely to see Grimes embracing the Administration at any time in the closing days of the campaign, especially given how close the race is.
That being said, there are clearly better ways that Grimes could have answered this question and while this is a minor mistake she's in a position right now where she can ill afford to make any mistakes at all if she's going to have any chance of pulling off an upset win.