Could Kentucky And Georgia Spoil GOP Hopes Of Taking Control Of The Senate?
Mitch McConnell's hopes to become Senate Majority Leader could hinge on what happens in his own state and in Georgia.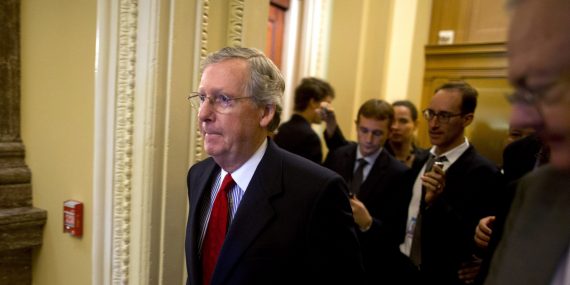 At first glance, 2014 should be a good year for Senate Minority Leader Mitch McConnell. Even with the partial elimination of the filibuster for nominations, he is presently the head of a largely united minority caucus in the Senate that gives him a great degree of power over shaping legislation. He doesn't really have any serious challengers for the leader's position among Senate Republicans. And, most importantly, the current Senate math argues strongly that the GOP has a very good chance of taking control of the Senate in November. Look at things more closely, though, and you'll see that he's in a somewhat precarious position. In the immediate future, he's facing a primary challenge from Tea Party champion Matt Bevin, who is receiving support from organizations like FreedomWorks and Senate Conservatives Fund. Further down the line, even if he beats Bevin as most observers believe he will, he's facing a General Election challenge from Kentucky's Democratic Secretary of State Alison Lundergan Grimes who, according to the latest poll, is leading McConnell by a very slim margin:
Democrat Alison Lundergan Grimes holds a slim 4-point advantage over U.S. Senate Minority Leader Mitch McConnell in a new Herald-Leader/WKYT Bluegrass Poll, with many voters saying they disapprove of McConnell but don't yet know Grimes nine months from Election Day.

While Grimes leads the poll 46 percent to 42 percent, which is within the poll's margin of error of plus or minus 3 percentage points, data reveals that her relatively strong starting position is more about voters' disapproval of McConnell than solid support for Grimes.

"This new poll confirms that Kentucky's U.S. Senate seat is up for grabs, and that the contest here will be one of the most exciting in the country," said Stephen Voss, a political science professor at the University of Kentucky. "The voters are evenly divided right now, and so many of them are still making up their minds that the contest could swing in any direction."

The poll, conducted by SurveyUSA and in partnership with The Courier-Journal and WHAS-TV in Louisville, interviewed 1,082 registered Kentucky voters using automated phone calls and cellphone surveys, including 404 registered Republicans for a closer look at the GOP primary.

In the primary, McConnell leads Louisville businessman Matt Bevin 55 percent to 29 percent. That portion of the poll has a margin of error of plus or minus 4.9 percentage points.

While McConnell appears positioned to easily win the Republican primary, he'll be in the fight of his political life to win a sixth term as Kentucky's senior senator.

In an especially troubling sign for McConnell, his job-approval rating was two points below the approval rating poll respondents gave President Barack Obama, who remains deeply unpopular in the state.

Only 32 percent approved of McConnell, compared with 34 percent for Obama. Both men received a disapproval rating from 60 percent of voters.

With women and young voters, McConnell trails Grimes badly, losing women 49 percent to 37 percent and the 18-to-34 demographic 43 percent to 34 percent.

Among voters who identified themselves as politically "moderate," another key demographic, 55 percent said they had an unfavorable view of McConnell, compared with 15 percent for Grimes..
Obviously, it's still very early in the race and there's a lot that could happen over the next nine months. For one thing, while voters in Kentucky are obviously familiar with Grimes given that she's run statewide before, she apparently hasn't faced a truly tough statewide race before and that's exactly what McConnell and the outside groups that are likely to support him in the General Election are likely to give her. Moreover, McConnell enters the race with one of the largest campaign war chests of any Senate incumbent out there and while he'll have to spend some of it dealing with Bevin it's pretty clear that he's going to have a lot of money to spend in a state where the media markets, though numerous, aren't nearly as expensive as they might be in a state like Texas or Florida. A lot of that money is likely to be spent on advertising that will try to define Grimes as out of step with Kentucky's voters and, if it succeeds, then McConnell's negative numbers might not be as big a deal as they seem to be right now.
The bigger question, though, is what impact a tough race for McConnell might mean for the GOP's chances of taking control of the Senate. As a preliminary matter, while the numbers are in favor of Republicans this year in that there are a lot of Democratic incumbents or seats that will be open this year that are currently held by Democrats in states that tend to lean Republican (i.e., Montana, South Dakota, Alaska, West Virginia, Arkansas, Louisiana, and North Carolina), the numbers are such that there's very little margin for error for the GOP if they want to be in the majority come January 2015. Right now, the GOP would have to win six of those seven "red" states in order to end the night with an ultra-slim 51-49 majority. Sweeping all seven or picking up a seat in one of the blue/purple states where recent polling suggests the possibility of a GOP victory, such as Colorado or Michigan, would give the party a slightly more comfortable 52-48 majority. If McConnell loses, though, then winning six out of seven of those "red" state races means a 50-50 tie in a leadership vote that would be broken by Vice-President Biden (and, yes, the Vice-President is permitted to break ties in leadership votes) and the Democrats would retain control unless Republicans were able to somehow persuade Independent Angus King or Democrat Joe Manchin to switch to the GOP side of the aisle. The second manner in which a tight race for McConnell could have an impact beyond Kentucky is the extent to which it causes outside dollars, particularly from the GOP's Senate Campaign Committee, to be spent in Kentucky to protect McConnell. The more money that gets spent there, the less will be available to be spent in states where the party might have a chance to pick up seats.
By the way, Kentucky isn't the only state where the GOP might have to worry about defending a seat. Down in Georgia, there's an open seat thanks to the impending retirement of Senator Saxby Chambliss. Five Republicans, including three sitting Congressmen and the former Georgia Secretary of State, are currently fighting it out in that race and headed toward a primary on May 20th and, if necessary, a runoff in July if nobody gets above 50% of the vote. On the Democratic side, Michelle Nunn, the daughter of former Senator Sam Nunn seems to be headed toward an easy victory in the primary and, according to some recent polling, she is highly competitive with each of the GOP candidates likely to win the nomination in the end. As with the Kentucky race, a loss in Georgia would have a serious impact on the odds of a GOP Senate takeover and a competitive race would likely divert resources from races against potentially vulnerable Democrats.
Once again, all the usual caveats about early polling apply here, but as much as it's worth keeping an eye on the seven red states where the GOP's Senate hopes reside, it's going to be necessary to keep an eye on Kentucky and Georgia as potential spoilers.