Mitt Romney Is Still The Inevitable Nominee
Mitt Romney has stumbled this week, and may pay for it tomorrow, but he's still the only candidate with a realistic chance to win the Republican nomination.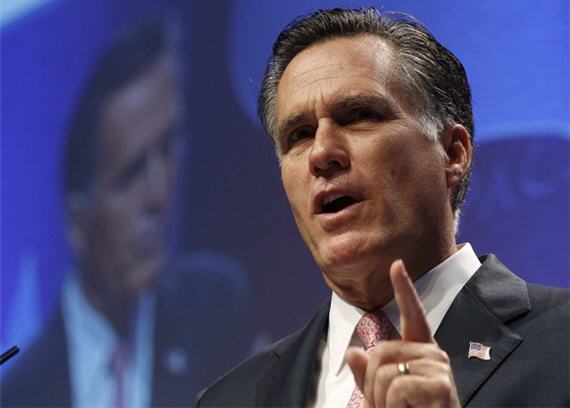 Nate Silver argues that the Romney campaign's current political strategy, which he likens to football's "prevent defense," is yielding too much ground to his opponents and, potentially, endangering his status as the national Republican frontrunner:
Some of this, I suspect, is because voters in both parties seem to have developed a resistance to falling in line when the news media expects them to. There were numerous reversals of momentum in the 2008 Democratic primaries, some of which seemed to represent an open rebellion by voters against the news media's expectations of how they might behave. Even candidates as strong as George W. Bush in 2000 — who may have been the best non-incumbent primary candidate ever, with exceptionally strong fund-raising totals and polling numbers — have encountered a few bumps along the road.

Where I think things become potentially dangerous for Mr. Romney is when he plays into this tendency by playing prevent defense, and behaving as though the nomination is his to lose. If Mr. Romney exhibited this tendency during Monday night's debate, it may have been much worse during Thursday night's debate in North Charleston.

At one point on Thursday, while delivering a somewhat rambling answer about his tax returns, Mr. Romney explicitly invoked the idea that he wanted to be careful about his disclosures so as to minimize the potential general election fall-out. That's a perfectly rational strategy for a politician, but it just isn't good politics to say it out loud in the context of an intraparty debate. (Mr. Romney has had these sort of problems before.)

Republican voters generally do like Mr. Romney, but they don't like him so much that they're ready to treat him as the presumptive nominee — particularly when voters in states representing 99 percent of the American population have not cast ballots yet.
Seth Mandel agrees, but argues that the "prevent defense" analogy is probably being too kind to the ineptness that Romney's campaign has displayed this week:
This is a sensible analogy, but probably too kind to Romney's latest debate performances. Romney's mind doesn't seem to be on the play clock, but rather the alarm clock. These debates have been the campaign equivalent of Romney waking up to find that it's not time for the general election yet, and hitting the snooze button. Part of this stems from the fact that Romney is usually on his game when the subject is Barack Obama, but seems to have lost interest in the reality show spectacles the debates have become.

But it's time for him to realize that some of the questions that have been tripping him up lately are of general-election concern, and his answers now will show up again later. Romney's proclivity to stumble over questions at first and then prepare better answers to them in the future would make for good practice-60 years ago. But now, every moment is watched by many and recorded for those who didn't watch. (The DNC already has an ad up this morning based on Romney's unsteady response to a question about releasing his tax returns last night.)
One could argue that this has been a problem for the Romney campaign from the beginning. Nearly from the day the race started, they have taken the strategy of looking beyond the Republican opposition and concentrating almost exclusively on the President and the General Election. Given Romney's lead in the polls for much of the race and the fact that many of the challengers that rose in the polls to try to take him down were clearly never going to last long, it's not an entirely bad strategy. The more Romney looks like the inevitable nominee, the more likely it is that voters and donors will come to see him as the inevitable nominee.
The problem for the Romney campaign is that, at some point, yielding ground to your opponents on the theory that they aren't really a threat only works for so long. For one thing, it's clear that many Republicans still aren't completely sold on Romney as the party's nominee, to the point where they're willing to back a completely unelectable bomb thrower like Newt Gingrich instead. For another, the more ground Romney yields to Gingrich, the Gingrich wants to take the next time. It may be totally insane, but Gingrich obviously thinks that he can win this nomination and he's not going to let up on his attacks on Gingrich as long as they continue working. For Romney to ignore them, or to think that he can deal with issues like that tax returns after he becomes the presumptive nominee is foolish at this point.
Romney has been letting Gingrich score points against him on issues like Bain and the tax returns, thinking that he can afford to give up a little bit of ground now and concentrate on the long game, but that may not be the best strategy at this point. Inside of one week, he's gone from the candidate who was on the verge of ending this race in South Carolina after winning Iowa and New Hampshire to the candidate who didn't win Iowa, might lose South Carolina, and only won the state everyone expected him to win. That's potentially a huge blow to the inevitability argument.
Despite all of this, though, Reid Wilson argues that Romney is still the one with all the advantages in this race:
So far, Romney has collected an estimated 14 delegates, thanks to his performances in Iowa and New Hampshire, while Gingrich has just two. South Carolina will award 28 delegates, likely split between the four remaining candidates. The first real delegate prize comes on Jan. 31, when the winner of the Florida primary collects all 50 of the state's delegates.

Gingrich campaigned in Florida briefly last week. Romney has competed in Florida before, and a super PAC that backs his campaign is helping to give him a jump. Reports filed with the Federal Election Commission show Restore Our Future, the pro-Romney super PAC, spent about $300,000 on mailings and $1.5 million on television in Florida this week alone; the filings suggest the television time is dedicated to negative ads focused on Gingrich.

Gingrich gets his chance to share the stage with Romney twice, first on Monday at a debate cosponsored by National Journal, NBC News, and the Tampa Bay Times and then again on Thursday at a CNN/Republican Party of Florida debate in Jacksonville. He will have to hope that once again, strong debate performances will overcome the rush of negative advertisements that has already begun.

After Florida, Gingrich's outlook becomes even more bleak. The February calendar presents Romney with the opportunity to do to Gingrich what Barack Obama did to Hillary Clinton in 2008. Caucuses in Nevada, Colorado, and Minnesota will benefit a more organized campaign, giving Romney and Rep. Ron Paul a boost over Gingrich. The two primaries that month, in Arizona and Michigan, will take place on Romney-friendly turf; Arizona has a sizable Mormon electorate, while Michigan is Romney's home state. By the end of February, Romney is likely to have the majority of the 274 delegates awarded to that point. Paul's focus on caucus states means Gingrich may not even be in second place by the end of the month.

Then comes Super Tuesday, when 10 states will allocate a total of 407 delegates. With few debates left on the horizon, Gingrich won't have the time, the exposure, or the money to build the type of national campaign Romney has already started to build
Not to mention the fact that Gingrich won't even be able to compete for Virginia's 49 delegates, meaning that 'll only be competing for a share of 358 delegates in 9 states, some of them in states he's not likely to be able to come anywhere close to Romney in the total totals. Moreover, despite all the hype about the new Republican delegate allocation rules requiring proportional primaries before April 1st, the actual impact of that rule will be minimal at best since most states holding primaries in February and March allocate primaries by Congressional District and are therefore exempt from the RNC rule. In order to survive in this kind of environment, Gingrich is going to need more money and a better organization than he has right now.
While it's likely that a Gingrich win in South Carolina, even by a slim margin, would bring in renewed support and donations, there's also likely to be a strong counter-reaction from the rest of the Republican Party. Already today, the Romney campaign has unveiled an endorsement from Virginia's popular Governor Bob McDonnell, just the latest in a string of endorsements that Romney has received from current and former Republican elected officials. A Gingrich victory tomorrow, or a very strong second place showing, is likely to bring more big endorsements out of the woodwork from states like Florida, Michigan, Nevada, Ohio, Pennsylvania.  Assuming the Florida numbers hold up, he's likely to score a solid victory in Florida at the end of the month and then, as Wilson notes above, we move into a period in February that looks very favorable to Romney and very difficult for Gingrich.
There's one final point in Romney's favor that doesn't necessarily concern the Republican primaries, but goes to the question of whether Republicans really want to win in November. When you look at all of the recent polls, it becomes very clear that Newt Gingrich's negatives are very, very high:
Not every poll releases their full results, so here are the most recent favorability results I could find for Obama, Romney, and Newt.

Fox News, 1/12-1/14:
Obama, fav/unfav, 51%/46%, +5
Romney, fav/unfav, 45%/38%, +7
Gingrich, fav/unfav, 27%/56%, -29

CBS/NYT, 1/12-1/17:
Obama, fav/unfav, 38%/45%, -7
Romney, fav/unfav, 21%/35%, -14
Gingrich, fav/unfav, 17%/49%, -32

PPP, 1/13-1/17:
Obama, app/dis, 47%/50%, -3
Romney, fav/unfav, 35%/53%, -18
Gingrich, fav/unfav, 26%/60%, -34
Americans aren't in love with Mitt Romney, or President Obama for that matter, but they really, really don't like Newt Gingrich. Would Republicans really be foolish enough to hand their party to him? In the end, I'm guessing not.
So, yes, Romney has stumbled this week and he needs to get off the prevent defense and deal with the challenge coming up behind him, but he's still looking pretty good for the long haul and he's still the only plausible person on the stage to be the Republican nominee.