Mitt Romney Said To Be Top Contender For Secretary Of State
Mitt Romney and Donald Trump became bitter rivals for the soul of the GOP in 2016, but Romney appears to be at the top of Trump's list for the nation's top diplomat.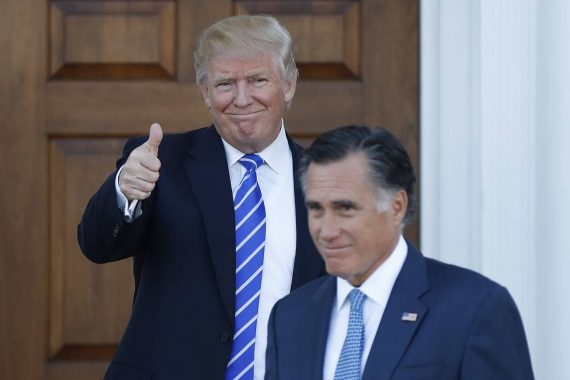 It's likely that it won't be until some point after the Thanksgiving holiday that we hear about this one given that Mitt Romney is said to be spending the time mulling the decision over with family and friends while Trump is spending the holiday weekend at his Florida home in Palm Springs, but The Wall Street Journal is reporting that Mitt Romney is now at the top of the list to be President-Elect Trump's Secretary Of State:
President-elect Donald Trump is leaning toward asking former Massachusetts Gov. Mitt Romney to be his secretary of state, according to people familiar with the deliberations.

(…)

Delaying Mr. Trump's decision about secretary of state is an internal tug of war between supporters of Mr. Romney, and those urging the selection of former New York Mayor Rudy Giuliani. A third group is pressing the president-elect to keep searching for candidates.

The New York businessman views Mr. Romney as the prototypical choice to be the nation's top diplomat, and a group of advisers inside the transition are pushing him to select the 2012 Republican presidential nominee. Two people said Mr. Trump is inclined to select Mr. Romney.

A Michigan native, Mr. Romney was the son of prominent auto executive and later Michigan Gov. George Romney. Before turning to politics, Mr. Romney founded Bain Capital, a private-equity firm, and rescued the financially troubled 2002 Winter Olympics in Salt Lake City, during which he interacted with an array of world leaders. He was elected governor of Massachusetts that same year.

Messrs. Trump and Romney were very critical of each other during the 2016 campaign, but both men appear to be ready to put that behind them. Vice President-elect Mike Pence greeted Mr. Romney personally outside the Bedminster, N.J., golf club where Mr. Trump was interviewing prospective appointees over the weekend. On Sunday, Mr. Pence said the session between Mr. Trump and Mr. Romney was "a very substantive meeting."

But another faction is still pushing for Mr. Giuliani, who was one of Mr. Trump's earliest supporters and has openly campaigned for the job. Mr. Giuliani, after leaving the mayor's office, created a security consulting firm that has contracts with some foreign governments, including Qatar and Colombia.

Former House Speaker Newt Gingrich, speaking to reporters after meeting with Mr. Trump on Monday, said "there are huge advantages to Rudy Giuliani frankly, I think that, if you want someone who is going to go out and be a very tough negotiator for America and represent American interest in the way that Trump campaigned, I think that probably Rudy is a better pick and has the right temperament."

A spokeswoman for Mr. Romney didn't return messages seeking comment. Jason Miller, a spokesman for Mr. Trump, said "absolutely no decision has been made" on secretary of state.
Romney's named first emerged on the Secretary of State list late last week when it was announced that he would be traveling to meet with Trump at a New Jersey golf resort that Trump owns and has often used as a weekend retreat from Manhattan. That meeting took place on Saturday and, outside of the obligatory photo op of the two men outside the home where Trump was staying, there haven't been any details about the substance of the talks between Romney and Trump. One imagines, though, that there had to be at least some discussion about what became a bitter rivalry between the two men that developed between the two men over the course of the 2016 campaign and how they could possibly work together with that kind of history. In many respects, this rivalry was even more intense than that between Barack Obama and Hillary Clinton at the conclusion at the 2008 campaign. Additionally, while I continue to have my doubts about Trump, it strikes me that Romney has a sense of duty to his country that would allow him to put past slights behind him and serve his country if he was asked to do so, especially since he may well be concerned about who else Trump would be inclined to name if he didn't accept the position.
Possible alternative Secretary of State candidates for Trump have included, according to reports, former New York City Mayor Rudy Giuliani, retired General David Petraeus, and former United Nations Ambassador John Bolton .As I said when Romney's name first surfaced last week and, of the four possibilities that have been suggested to date, he and Petraeus seem like they would be the best selections we could expect from Trump at this point. Giuliani seems to clearly be ill-suited to the role of nation's top diplomat and has seemingly disqualified himself from being selected due to his open lobbying of Trump in the media and apparent leaking of internal discussion among the transition team. Bolton, on the other hand, was a name mentioned immediately after Trump was elected but who appears to have been passed over as the President-Elect has narrowed down his decision making process. Finally Petraeus clearly has the experience but his guilty plea on leaking classified information could prove to be a stumbling block in the nomination process notwithstanding his record. No doubt, there are people on the right with more diplomatic experience than Trump, but many of those people not only refused to endorse Trump in the General Election but openly stated that they wouldn't be voting for him at all. That may be a bridge too far even for a Trump who seems to be using the search for a Secretary of State to show that he can reach across divides and put behind grudges. That seemingly leaves Romney standing alone, as unlikely as it sounds.