Secretary Of State Mitt Romney?
Team of Rivals?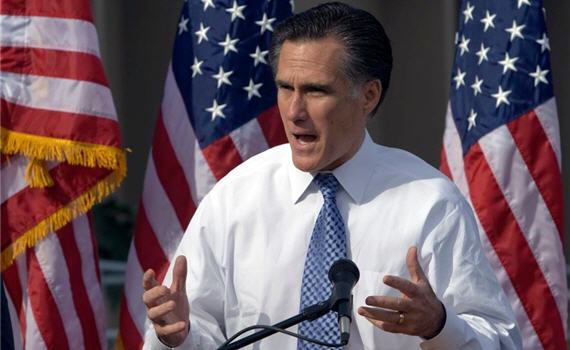 Another name has emerged in the search for Donald Trump's successor to John Kerry at the State Department, Mitt Romney:
Former Republican presidential nominee Mitt Romney will meet with Donald Trump this weekend to discuss the secretary of state position, a source close to the president-elect with direct knowledge of his thinking told NBC News.

In March, the former Massachusetts governor called Trump "a phony" and "a fraud" when discussing the then-candidate. Trump, who endorsed Romney in 2012, has called him a loser, adding that Romney begged for his endorsement and "would've dropped to his knees" for it. He has also said that he "choked like a dog" during his 2012 presidential campaign against President Barack Obama.

During the primaries, Romney campaigned with Ohio Gov. John Kasichin the Buckeye State. Last week after the election, however, Romney called Trump to congratulate him on his surprise win.
At first, it was only announced yesterday that Trump would be meeting with Romney this weekend, a development that in itself isn't entirely surprising given the fact that Trump has spent this week taking meetings with a number of people who were rivals and critics during the campaign, including Texas Senator Ted Cruz, who was reportedly briefly considered as a candidate for Attorney General. Later in the day, though, NBC News was the first to report the news that Romney was under consideration for the position of Secretary of State, arguably among the three or four most important positions in a Presidential Cabinet. This part of the news was surprising given the fact that Trump and Romney haven't exactly spent the last year or so saying the best things about each other. Trump, you will recall, called Romney weak and a 'choker' for losing what he claimed was an easily winnable race against President Obama in 2012, Romney, on the other hand, gave a scathing speech in March of this year in which he denounced Trump in no uncertain terms. Subsequent reports but Romney and members of his inner circle close to the groups of Republicans searching for a way to stop Trump from winning the nomination, or to challenge him via an independent candidacy in the General Election. Romney was reportedly also largely responsible for many top Republican fundraisers sitting out the Presidential election. Given the fact that Trump has a reputation for holding grudges, the fact that he'd even meet with Romney is surprising. The idea that he'd consider him for a Cabinet position that would work closely with the President on a near daily basis is surprising. And yet, there it is.
Of course, the fact that Romney is 'being considered' for the position at Foggy Bottom doesn't mean that Romney will be offered the position, or that he would accept it if he was. In addition to Romney, other names have been floated for the position, including John Bolton, Rudy Giuliani, South Carolina Governor Nikki Haley, who seems like she would be an odd choice for such a position, and retired General David Petraeus. Of these, though, it seems clear that only Petraeus and Romney appear to be qualified for the position, and Petraeus's previous conviction for violations of laws related to his treatment of classified information could pose a problem if he were nominated. As for Romney, while he lacks foreign policy experience the rest of his resume suggests that he'd be well-qualified for this job, especially if he were surrounded by the right group of aides. Would Romney accept the offer after everything he said about Trump? It's been suggested that his sense of duty would likely lead him to accept the position. If that were the case, it would be among the smarter choices Trump could make for an important member of his inner circle.