Secretary Of State Rudy Giuliani?
A surprising name is emerging as the likely pick for the nation's top diplomatic position.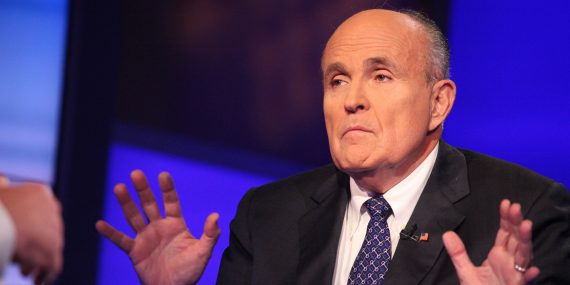 President-Elect Trump's choice for Secretary of State, perhaps the most important position in the Cabinet along with Secretary of Defense, is reportedly narrowing down to a list that includes a seemingly unlikely choice, former New York Mayor Rudy Giuliani:
WASHINGTON—Former New York Mayor Rudy Giuliani is the leading candidate to be President-elect Donald Trump's nominee for secretary of state, people familiar with the matter said, a move that would elevate a well-known national figure to become the U.S.'s chief diplomat.

Mr. Trump's aides have also considered former U.S. Ambassador to the United Nations John Bolton as a possible candidate, but the close relationship between Messrs. Giuliani and Trump was a major consideration, the people said.

Asked at The Wall Street Journal CEO Council meeting in Washington on Monday evening if his title would soon be "Secretary," Mr. Giuliani responded, "One never knows."

Mr. Giuliani also said that Mr. Bolton would be a good choice for secretary of state. He was then asked if there was a better choice than Mr. Bolton and he replied, "Maybe me, I don't know."

For Mr. Trump, it is a choice between a longtime friend and ally in New York, Mr. Giuliani, and a hawkish conservative diplomat, Mr. Bolton, who called last year for the U.S. to bomb Iran. A final decision could be several weeks away, these people said, and other candidates could still emerge.

Deliberations over personnel in the new administration are expected to quicken on Tuesday when the transition team's newly installed chairman, Vice President-elect Mike Pence, arrives at Mr. Trump's New York headquarters. Mr. Pence, the governor of Indiana, spent Monday in Florida, where he was the keynote speaker for the Republican Governors Association.

Mr. Pence also will continue his outreach to the Washington establishment later in the week when he meets with Vice President Joe Biden and others on Capitol Hill, said Marc Short, a spokesman for Mr. Pence.

Mr. Bolton and Trump campaign spokeswoman Hope Hicks declined to comment. Mr. Giuliani didn't respond to requests seeking comment that were submitted to the transition team.

After spending most of the past week in meetings, the president-elect could travel later in the week to thank supporters for his victory, campaign manager Kellyanne Conway said on Monday. She also said there could be more "clarity on the senior team and the cabinet" in the near future.

Mr. Trump's pick for the State Department will be integral to his effort to reshape U.S. foreign policy. He has called for an overhaul of the way the U.S. interacts with allies and adversaries, arguing that other North Atlantic Treaty Organization nations should shoulder more of the world's burdens and the White House should forge a new relationship with Russia to resolve tensions in the Middle East.

President Barack Obama on Monday warned of a potential backlash from U.S. allies if Mr. Trump tries to undo some of his top foreign-policy achievements, specifically the deal to restrain Iran's nuclear program and an international climate-change agreement.

Mr. Obama said backing out of the Iran nuclear deal could force the U.S. to adopt sanctions against its allies in Europe, as well as Russia and China, because they are part of the agreement. Retreating on the climate-change deal could alienate the U.S. from more than 200 nations that signed onto it to cut CO 2 emissions, he said. Mr. Obama, who left for Europe on Monday, is expected to tell many of those leaders that he hopes Mr. Trump will abide by those agreements. "It becomes more difficult, I think, to undo something that's working than to undo something that isn't working," Mr. Obama said at a press conference.

Mr. Trump has given no indication that he is going to change his opposition to both deals.
At first blush, Giuliani seems like a rather odd choice for the position of America's Chief Diplomat. He has no professional experience in the area, for example, and other than providing opinions on foreign policy on Fox News Channel and elsewhere, hasn't really expressed much outward interest in the area in the past. Based on his resume as an attorney in private practice and as U.S. Attorney in New York City, of course, one would have assumed that Giuliani would be among the top picks for Attorney General, and in the days after the election is name was immediately put at the top of the list for that position. Giuliani himself seemed to admit as much in comments immediately after the nomination, which only served to further fuel speculation that he would be selected as the nation's top law enforcement officer. Despite the fact that his open disdain for civil liberties, one would think that Giuliani would be a better pick for that position than Secretary of State. However, in recent days Giuliani himself, who is close to Trump and the people in charge of the transition has said that he won't be Attorney General and the speculation has shifted to him being in another position in the Cabinet. In that regard, the next most logical position for Giuliani would seem to be Secretary of the Department of Homeland Security, a position that could arguably benefit from Giuliani's anti-terror experience, but that's apparently too low down the totem pole for Giuliani, who has apparently been lobbying for his consideration as Secretary of State and may have been responsible for leaking the news that he and John Bolton are among the top candidates to fill the top spot at Foggy Bottom.
Whether or not Giuliani's ambition match's Trump's ultimate choice remains to be seen, of course, but in some sense he would be a better choice than the other name Trump is allegedly considering, former United Nations Ambassador John Bolton. Where Giuliani is something of an enigma when it comes to foreign policy, Bolton's positions are far too clear, and the idea of him serving is America's top diplomat should be troublesome to all Americans. Bolton has been described in the past as a 'neo-conservative on steroids,' and his foreign policy ideas have all to frequently seemed to default to aggression and military action rather than diplomacy throughout his career. He was advocating invasion of Iraq long before the Bush Administration took that step in 2003, and has spent the better part of the past fifteen years or so advocating for military action against Iran to stop that nation's nuclear program, is seemingly second only to Israeli Prime Minister Benjamin Netanyahu in the frequency of his predictions that Iran was only 'months' away from developing a functional nuclear weapon, and has advocated ramp ups in military action in Iraq and Syria that would seemingly inevitably have to involve massive numbers of American ground troops in order to succeed. He supported expanded military action in Libya. And, during the Bush Administration, supported policies such as enhanced interrogation of terror suspects. Finally, Bolton opposes the nuclear agreement with Iran, which is problematic given the fact that he would be one of the primary people responsible for ensuring that the plan continues to work. Given all of that, it's no surprise that Bolton was enthusiastically endorsed by the editors at National Review.  Given all of this, one could arguably say that Giuliani's inexperience would be far preferable to someone with Bolton's record.
There have been other names mentioned for Secretary of State, of course. In the immediate days after the election, former House Speaker and 2012 Presidential candidate Newt Gingrich emerged as a top contender for the position. However, Gingrich immediately sought to tamp down speculation on this idea and has suggested that if Giuliani wants to be Secretary of State he expects that he'd likely get the job. Also apparently being considered for the position is Tennesee Senator Bob Corker, head of the Senate Foreign Relations Committee. Because of this position, Corker would seem to be well-qualified for the position of Secretary of State and the fact that he generally lacks the bombastic radicalism of someone like John Bolton would arguably be a big plus in his favor. This is the future Trump Administration we're talking about, though, and it appears that actual experience doesn't matter as much as the question of how loyal someone is to Donald Trump. In that regard, Giuliani and Gingrich have been among Trump's most enthusiastic supporters so one would expect it would be one of them. With Giuliani apparently having said he's not interested, that leaves the bizarre choice of Rudy Giuliani for a position that he clearly doesn't seem to prepared to fill.