Mitt Romney's Bizarre Take On Obama's Afghanistan Decision
Mitt Romney's statements about the planned early draw down in Afghanistan make no sense whatsoever.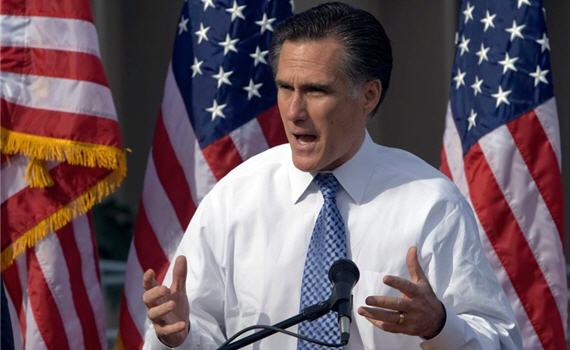 Shortly after Secretary of Defense Leon Pannetta announced the other day that the United States would be winding down its combat role in Afghanistan at least six months earlier than originally planned, Mitt Romney came out with a statement criticizing the move:
LAS VEGAS — Republican presidential candidate Mitt Romney on Wednesday night blasted President Obama and his administration for "putting in jeopardy" the nation's military mission by signaling it hopes to end its combat mission in Afghanistan by the middle of 2013.

Appearing at a campaign rally here shortly after landing in Nevada, Romney said Defense Secretary Leon E. Panetta's statement Wednesday that U.S. forces would transition from a combat mission in Afghanistan next year "makes absolutely no sense."

"He announced that so the Taliban hears it, the Pakistanis hear it, the Afghan leaders hear it," Romney said. "Why in the world do you go to the people that you're fighting with and tell them the day you're pulling out your troops? It makes absolutely no sense. [Obama's] naivete is putting in jeopardy the mission of the United States of America and our commitments to freedom. He is wrong. We need new leadership in Washington."
Spencer Ackermann points out the logical flaws in Romney's statement:
It's not just Obama that's announcing the accelerated schedule. It's NATO. NATO wants this war wrapped up. The alliance will provide substance for how it concludes its combat mission by 2013 at the May summit in Chicago. That means all 28 heads of state and government are going to sign on to a plan to turn the Afghanistan war over to the Afghans next year. (Not that they're actually going to leave, entirely, which is a big asterisk.) Right in time for people to start paying attention to a presidential election.

And what's Romney going to do? Say that as president, he's going to convince NATO — and Karzai! — not to hew to a 2013 (or 2014!) timetable for ending combat? That he'd keep the U.S. fighting in Afghanistan beyond that point? How's he going to sell that in Brussels and the NATO capitols? How's he gonna sell that in Kabul? How's he gonna sell that in Kansas?

Remember, a major part of Romney's foreign policy critique of Obama is that Obama callously mistreats and neglects U.S. allies. The allies, however, want the 2013 timetable. Romney surely had to bash the change in the timetable; that's all in the game. But Mitt doesn't seem to have thought through the angles here. Or, alternatively, he's banking on Obama to bail President Romney out of the Afghanistan war while posturing as an opponent of the incumbent's policy — much as Obama banked on President Bush to bail him out of the Iraq war with the SOFA accord while doing the same.
Daniel Larison tries to find some logic in Romney's position, but ultimately isn't able to for the simple reason that there isn't any. Much as Republicans refused to acknowledge the reality that the Bush Administration had negotiated a Status Of Forces Agreement with Iraq that called for American forces to be completely out of Iraq by December 31, 2011 and that the Iraqi government was unwilling to enter into a new SOFA with the United States to extend the time that our forces would be there, they are refusing to recognize reality here. The 2014 deadline was set in stone quite some time ago, and the withdrawal is going to be in full effect if and when President Romney takes office in 2013. Surely, Romney doesn't really believe he can reverse course on this does he? Actually, I don't think he does. This is just another talking point for the GOP in its mostly ham-handed attack on President Obama's foreign policy.
Which brings us to the other part of Ackerman's argument. The same Mitt Romney who has accused the President of abandoning our allies is now criticizing him for supporting a decision that all of NATO supports. Does he really believe that his first task as President would be to reverse a decision that everyone else in the Afghan coalition agrees to, and that they'll just go along with it? Again, this assumes that Romney has actually thought through what he's saying here. What we actually have in this statement isn't a coherent statement of an alternative Afghanistan strategy so much as it is yet another opportunity to bash the President for making what, in the end, seems to be the only reasonable, responsible decision that can be made about a war that has already gone on far longer than it needs to.
As Larison notes, these two positions that Romney is taking are completely contradictory, but does anyone think Republicans are either going to notice or care? Of course they won't. Outside of Ron Paul, there isn't a candidate left in the race who is going to disagree with what Romney's saying here and he's unlikely to get called on it, if at all, until he's face-to-face with the President in a General Election Debate. At that point, he's going to mostly look like an idiot for making an argument that makes no sense at all in favor of continuing a war that the vast majority of Americans wish had ended years ago.