U.S. Combat Role In Afghanistan To End As Early As Mid-2013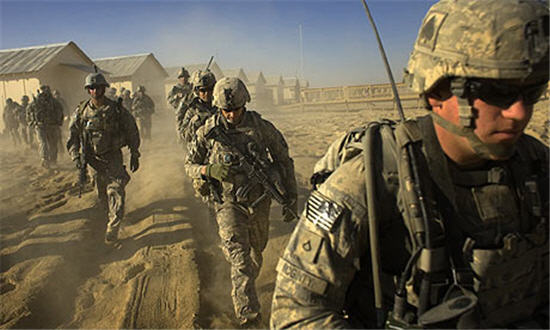 Secretary of Defense Leon Panetta announced this afternoon that the timetable for U.S. withdrawal from Afghanistan is being accelerated:
BRUSSELS — In a major milestone toward ending a decade of war in Afghanistan, Defense Secretary Leon E. Panetta said on Wednesday that American forces would step back from a combat role there as early as mid-2013, more than a year before all American troops are scheduled to come home.

Mr. Panetta cast the decision as an orderly step in a withdrawal process long planned by the United States and its allies, but his comments were the first time that the United States had put a date on stepping back from its central role in the war. The defense secretary's words reflected the Obama administration's eagerness to bring to a close the second of two grinding ground wars it inherited from the Bush administration.

Promising the end of the American combat mission in Afghanistan next year would also give Mr. Obama a certain applause line in his re-election stump speech this fall.

Mr. Panetta said no decisions had been made about the number of American troops to be withdrawn in 2013, and he made clear that substantial fighting lies ahead. "It doesn't mean that we're not going to be combat-ready; we will be, because we always have to be in order to defend ourselves," he told reporters on his plane on his way to a NATO meeting in Brussels, where Afghanistan is to be a central focus.

The United States has some 90,000 troops in Afghanistan, but 22,000 of them are due home by this fall. There has been no schedule set for the pace of the withdrawal of the 68,000 American troops who will remain, only that all are to be out by the end of 2014.

Mr. Panetta offered no details of what stepping back from combat would mean, saying only that the troops would move into an "advise-and-assist" role to Afghanistan's security forces. Such definitions are typically murky, particularly in a country like Afghanistan, where American forces are spread widely among small bases across the desert, farmland and mountains, and where the native security forces have a mixed record of success at best.

The defense secretary offered the withdrawal of the United States from Iraq as a model. American troops there eventually pulled back to large bases and left the bulk of the fighting to the Iraqis.
This isn't necessarily a surprise, of course. The President had previously announced that American forces would be out of the country by 2014, and there has been pressure from other participants in the NATO mission such as France to bring the mission to an end as soon as possible. Moreover, the war itself remains as unpopular here at home as it has been for a long time. Add into this the increasing tensions with Pakistan ever since the raid that got Osama bin Laden and last year's mistaken drone strike that killed Pakistani soldiers, and this is probably the wisest decision at this point.