Mitt Romney's Silly Attempt to Take Credit For Saving The Auto Industry
Mitt Romney is being rightfully ridiculed for trying to take credit for saving General Motors and Chrysler.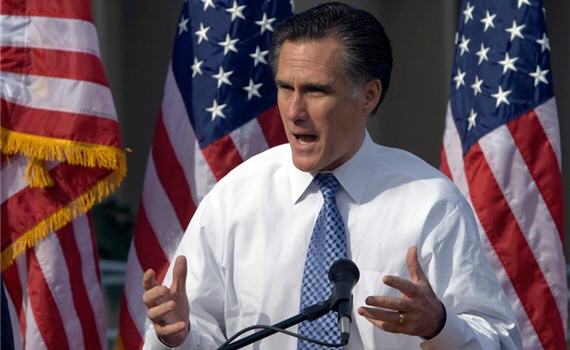 Mitt Romney is making some news this week for seeming to take credit for something that President Obama probably thinks he deserves credit for:
LANSING, Mich. — Mitt Romney often finds himself on the defensive in Rust Belt states for having been against the auto industry bailout, which many credit with saving the industry. Now, he is taking a new tack on the sensitive issue: he's taking credit for the industry's rebound.

Though Mr. Romney's closest aides acknowledge that he is politically vulnerable over his opposition to the government bailout — immortalized in a New York Times op-ed in 2008 titled "Let Detroit Go Bankrupt" — Mr. Romney on Monday told WEWS-TV in Cleveland that he deserved some praise for the auto industry's recovery. (In fact, that headline was written by the paper, not Mr. Romney,  who originally submitted the piece as, "The Way Forward for the Auto Industry.")

"I'll take a lot of credit for the fact that this industry's come back," Mr. Romney told the local news station after a campaign event in Euclid, Ohio.

In opposing the bailout, Mr. Romney instead lobbied for a process of "managed bankruptcy," which he said would have allowed the car companies to restructure and emerge stronger than before.

"My own view is that the auto companies needed to go through bankruptcy before government help," Mr. Romney said. "And frankly, that's finally what the president did. He finally took them through bankruptcy."

The federal government eventually did help the companies restructure through bankruptcy, but only after providing billions of dollars in loans.
Here's the video:
It is perhaps not surprising that Romeny would try to undercut the Administration's claim to have saved the auto industry given the fact that it's likely to be an important campaign issue in states like Michigan, Ohio, Indiana, and Wisconsin. Now, on some level, I do see the point that Romney is trying to make here. He had been arguing against a bailout since the first round of auto bailout money was given out by President Bush even though Congress had explicitly rejected a bill that would have bailed out General Motors and Chrysler (Bush used TARP money which, you will recall, was originally only supposed to go to financial institutions to prevent the supposed collapse that was imminent in October of that year) In a now-famous Op-Ed published in The New York Times, Romney proposed a different path:
It is not wrong to ask for government help, but the automakers should come up with a win-win proposition. I believe the federal government should invest substantially more in basic research — on new energy sources, fuel-economy technology, materials science and the like — that will ultimately benefit the automotive industry, along with many others. I believe Washington should raise energy research spending to $20 billion a year, from the $4 billion that is spent today. The research could be done at universities, at research labs and even through public-private collaboration. The federal government should also rectify the imbedded tax penalties that favor foreign carmakers.

But don't ask Washington to give shareholders and bondholders a free pass — they bet on management and they lost.

The American auto industry is vital to our national interest as an employer and as a hub for manufacturing. A managed bankruptcy may be the only path to the fundamental restructuring the industry needs. It would permit the companies to shed excess labor, pension and real estate costs. The federal government should provide guarantees for post-bankruptcy financing and assure car buyers that their warranties are not at risk.

In a managed bankruptcy, the federal government would propel newly competitive and viable automakers, rather than seal their fate with a bailout check.
In the end, that kind of "managed bankruptcy" is essentially what happened. Of course, because the financial condition of both auto companies was far more precarious by the late spring of 2009 than it had been in the winter of 2008, the bankruptcy itself was far more complicated and ended up being far too inappropriately politicized than it should have been. There really isn't any reason why both companies could not have gone into that "managed bankruptcy" in December of 2008 or January or 2009. The outcome likely would have been fairly similar. Indeed, maybe Chrysler could have ended up surviving as of an independent entity rather than the subsidiary of an Italian car maker that is today. Romney wasn't the only one suggesting that route at the time but, instead, in a final act of craven political cowardice, George W. Bush decided to waste taxpayer dollars on a bailout that didn't work after all.
With all that said, however, it's rather ridiculous for Romney to be taking credit for any of this. He wasn't part of the government or the auto industry at the time, all he really was was a failed Presidential candidate who had written an Op-Ed piece. He largely deserves the ridicule he's getting for these comments that he's getting in the news and from the blogosphere, then.
This is what I was referring to at the end of my earlier post when I talked about Romney's tendency to stick his foot in his mouth. These comments are laughably silly, and now they're on video for every to play and play over again and, of course, for people like Jon Stewart to mock:
If this is how the rest of the campaign is going to go, Romney is going to have a problem.
Update: And now the Obama campaign is out with a video mocking Romney: