Modest GDP Growth In Third Quarter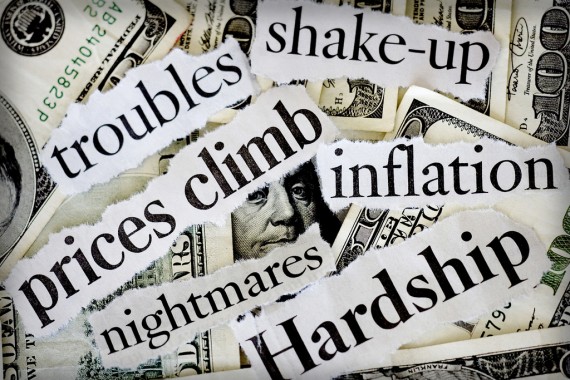 Compared to what we saw during the first half of the year, it looks like the economy showed some signs of life in the just-concluded 3rd Quarter:
Economic growth in the United States picked up modestly in the third quarter, the Commerce Department said Thursday, and economists generally expect that it will continue at nearly the same pace through the end of the year.

Total output grew at an annual rate of 2.5 percent from July to September, almost double the 1.3 percent rate in the second quarter, the department reported.

The growth, however, is still paltry — not brisk enough to recover the ground lost in the economic bust, lower unemployment, or even dispel fears of a second recession. But the report offered a small helping of reassurance.

"It ain't brilliant, but at least it's heading in the right direction," said Ian Shepherdson, the chief United States economist for High Frequency Economics, a data analysis firm. "I want to see 4 percent, but given that people were talking about a new recession, I'll take 2.5 or 3, thanks very much."

The consensus forecast of economists for the fourth quarter is a 2 percent growth rate. Still, the economy is full of mixed signals. Real income is declining, but so is the number of people filing for unemployment. The stock market has rallied but consumer confidence has plummeted to levels last seen in 2008.

And the economy may be growing, but Americans cannot feel it.

"For most people, they're unable to really make a distinction between a recession and just 2 percent growth, which means the economy is growing so weakly it can't hire enough people to make a dent in unemployment," said Bernard Baumohl, the chief economist for the Economic Outlook Group.

The gross domestic product report showed an uptick in consumer spending, fueled by purchases of durable goods like large appliances, and a larger increase in businesses investing in construction, equipment and software.

Some of the shocks that rattled the economy at the beginning of the year, like a spike in gasoline prices and the earthquake in Japan, which disrupted the global supply chain, were fading away, economists said. But other risks still loom, from Europe's debt crisis to the possibility that President Obama's proposal for renewed stimulus measures, including a payroll tax cut, could fail to get through Congress.

"The better growth performance in the third quarter doesn't mean that the economy can't 'double-dip' back into recession," wrote Nigel Gault, an economist with HIS Global Insight, ahead of the report. "But it suggests that it has more momentum than there seemed to be just a month or two ago, and underscores that the primary recession risks are from external shocks, with Europe the biggest wild card."
In that regard, financial markets are likely to be buoyed today by the news that Europe's leaders have apparently reached a framework agreement a avert a sovereign debt crisis:
BRUSSELS — European leaders, in a significant step toward resolving the euro zone financial crisis, early Thursday morning obtained an agreement from banks to take a 50 percent loss on the face value of their Greek debt.

The agreement on Greek debt was crucial to assembling a comprehensive package to protect the euro, which has been keeping jittery markets on edge.

The accord was reached just before 4 a.m. after difficult bargaining. The severe reduction would bring Greek debt down by 2020 to 120 percent of that nation's gross domestic product, a figure still enormous but more sustainable for an economy driven into recession by austerity measures.

The leaders agreed on Wednesday on a plan to force the Continent's banks to raise new capital to insulate them from potential sovereign debt defaults. But there was little detail on how the Europeans would enlarge their bailout fund to achieve their goal of $1.4 trillion to better protect Italy and Spain.

After all the buildup to this summit meeting, failure here would have been a disaster. While the plan to require banks to raise new capital was generally approved without difficulty — banks will be forced to raise about $150 billion to protect themselves against losses on loans to shaky countries like Greece and Portugal — the negotiations over the Greek debt were difficult.

"The results will be a source of huge relief to the world at large, which was waiting for a decision," President Nicolas Sarkozy of France said.

Chancellor Angela Merkel of Germany said: "I believe we were able to live up to expectations, that we did the right thing for the euro zone, and this brings us one step farther along the road to a good and sensible solution."

In the face of considerable pressure from Europe's leaders, the banks had been resisting requests that they voluntarily accept a loss of about 50 percent on their Greek loans, far more than the 21 percent agreed to previously. But after months of denying that Greece would have to restructure its large debt, which was trading at 40 percent of face value, European leaders forced the much larger reduction, known as a "haircut," on the banks, while the International Monetary Fund promised more aid to Greece.

Germany had taken a tougher stance than France with the banks. Mrs. Merkel was willing to think about imposing an involuntary write-down on the private sector, but Mr. Sarkozy remained worried about the consequences on the markets and the banking system.

In a statement, Charles Dallara, managing director of the Institute of International Finance, which represents the major banks, said he welcomed the deal. He called it "a comprehensive package of measures to stabilize Europe, to strengthen the European banking system and to support Greece's reform effort."
If this deal actually goes through, then we may avert, for now, the European shock that would cause problems on this side of the Atlantic. That said, though, there's not all that much encouraging about this GDP report. It's better than what we've seen for most of the year, but it's nowwhere near what we need for a real recovery that will get people back to work. Right now, forecasters are expecting a somewhat slower 2% growth rate for the final quarter of the year. So, we'd avoid recession, but that's about it.
Not much to write home about here, folks.