Money Can't Buy Elections After All
During the just concluded election season, eleven self-funded candidates spent a total of $ 286 million trying to win elections. Only two of them actually won.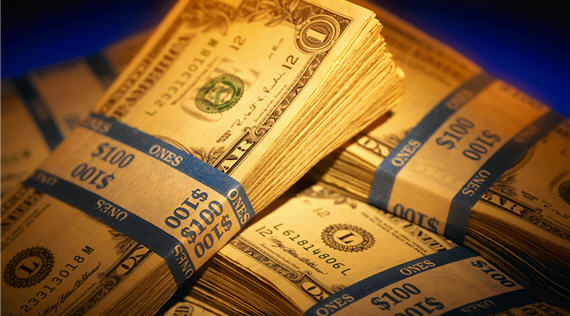 One of the lessons from Tuesday's elections is the nearly complete failure of self-funded candidates to use their money to get themselves elected:
Wealthy future candidates, take note: It turns out that most of the time, money really can't buy you political happiness.

Tuesday's midterms featured an unusually large crop of moguls who sought to ease their way into power by pouring millions of their own dollars into their campaigns. In most cases, they failed spectacularly.

The most obvious – and jaw-dropping – example came in the California gubernatorial race, where Republican Meg Whitman spent $175 million of her eBay fortune to lose badly to former Democratic governor Jerry Brown. That works out to about $57 for each of the roughly 3 million votes she won.

As GOP consultant Alex Castellanos quipped on CNN: "I could have lost that race for only $80 million."

Although Whitman shattered all previous records, she was hardly alone. Other rich losers this year included former wrestling executive Linda McMahon, who gave or loaned her Connecticut Senate campaign $47 million; former Hewlett-Packard chief executive Carly Fiorina, who tapped into personal accounts for $5.5 million; and GOP businessman John Raese, who used $4.7 million of his own money in losing the Senate race in West Virginia.

These are not isolated cases. The Center for Responsive Politics calculates tha
out of 58 candidates who used $500,000 or more of their money on federal races in 2010, fewer than one in five won. Eight of the top 10 self-funders this cycle lost, with only GOP Senate challenger Ron Johnson of Wisconsin ($8.2 million) and House candidate Scott Rigell of Virginia ($2.4 million) emerging victorious.

The results continue a long tradition of ambitious but failed bids for political office by self-financing tycoons from Ross Perot to Steve Forbes, who frequently have difficulty translating their financial advantages into votes. Since 1990, only five of the top 20 self-financed candidates have won, according to the center's data.

"Self-financing candidates generally do poorly, and Election 2010 is certainly no exception," center spokesman David Levinthal said.
In fact, this year, of the top ten self-financed candidates running in Federal elections, only two ended up winning their races: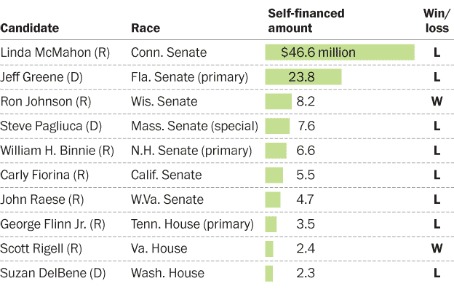 This list, of course, doesn't include Meg Whitman's failed bid for Governor of California, which cost her $ 175 million dollars, or nearly three times as much as Ross Perot spent in 1992 in his Presidential run. There are other examples of the truism that money doesn't buy elections sprinkled throughout American history, including John Connolly, who raised and spent more money than any other candidate running for the Republican Presidential nomination in 1980 and won only a single delegate, and Rudy Giuliani, who raised and spent $ 59 million in the 2008 GOP primaries but won only a single delegate before dropping out before Super Tuesday.
The lesson, as Jonathan Capehart notes, is really quite simple:
Money only buys candidates the ability to get their message out. If that message neither resonates with nor is to the liking of voters, they will not vote for you. People want their voices heard. No amount of money will muffle them.
That's worth remembering every time you hear someone talk about restricting political donations.