Moore Seeks Court Action to Stop Certification of Vote
Roy Moore continues to think that he is special.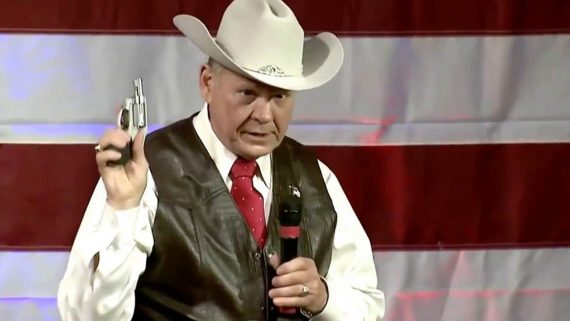 Today the state of Alabama is scheduled to certify the results of the December 12th special election.  This action would confirm that Doug Jones, the Democratic candidate, will be officially declared the winner of the Senate seat vacated by Jeff Sessions and currently held by appointee Luther Strange.
Roy Moore, his opponent, has other plans.  According the NYT, Roy Moore Sues to Block Certification of Alabama Senate Election Results.
In a complaint filed in the circuit court here in Alabama's capital, Mr. Moore's campaign argued that such fraud had tainted the Dec. 12 special election, which Mr. Moore lost to Doug Jones by fewer than 22,000 votes, and that the Alabama authorities had inadequately investigated claims of misconduct.

If the election is prematurely certified, Mr. Moore's lawyers wrote, he will "suffer irreparable harm" and be "denied his full right as a candidate to a fair election."

John H. Merrill, the Alabama secretary of state, has dismissed complaints, from Democratic and Republican critics, of election fraud. In an interview on Dec. 15, Mr. Merrill, a Republican who voted for Mr. Moore, flatly declared: "I have not seen any irregularities or any inconsistencies that are outside the norm."

In a text message early Thursday, Mr. Merrill said he did not intend to postpone the certification proceedings that would ultimately allow Mr. Jones to take office.
In fact, Moore is asking for a new election.
What his evidence might be is unclear, although NPR stated this morning that part of the argument is predicated on the notion that there was higher than expected turnout. WaPo also notes:
In the complaint, Moore's attorneys noted the higher than expected turnout in the race, particularly in Jefferson County, and said that Moore's numbers were suspiciously low in about 20 Jefferson County precincts.
All of which is consistent with the dynamics of the race, created by Moore's candidacy:  some Republicans stayed home because they couldn't vote for Moore and a lot of other voters turned out to vote to make sure Moore did not win.  Also, competitive races increase turnout.  None of this is strange.
Keep in mind, this is a race in which the sitting Republican Senator, Richard Shelby, went on national television and stated he wrote-in another Republican and that he could not vote for Moore.
Back to the NYT piece:
It was not immediately clear when a judge would consider Mr. Moore's complaint or the affidavits from several people his campaign described as experts in elections; one has claimed to have "mathematically proved a conspiracy to assassinate" President John F. Kennedy.
Given the quality of some of Moore's campaign advisers, one suspects that these experts will be both colorful and, well, not especially expert.
That Moore, who was twice removed from the Alabama Supreme Court because his unwillingness to follow federal edicts, would assume that normal institutional functioning does not apply to him is not a surprise.