Roy Moore Wins Alabama Republican Senate Runoff
Despite, or perhaps because of, his bigoted, radical, far-right positions on the issues, Roy Moore beat the sitting Senator from Alabama in a runoff election that essentially guarantees that he will win the General Election later this year.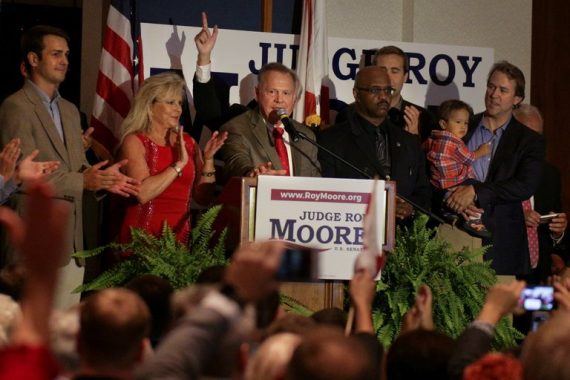 As the polls have been predicting for some time now, Roy Moore, who was twice removed from his position as Chief Justice of the Alabama Supreme Court for failure to comply with the orders of a superior Court, won last night's runoff election to determine the Republican candidate to fill the Senate seat vacated by Attorney General Jeff Sessions earlier this year:
MONTGOMERY, Ala. — Roy S. Moore, a firebrand former chief justice of the Alabama Supreme Court, overcame efforts by top Republicans to rescue his rival, Senator Luther Strange, soundly defeating him on Tuesday in a special primary runoff.

The outcome in the closely watched Senate race dealt a humbling blow to President Trump and other party leaders days after the president pleaded with voters in the state to back Mr. Strange.

Propelled by the stalwart support of his fellow evangelical Christians, Mr. Moore survived an advertising onslaught of more than $10 million financed by allies of Senator Mitch McConnell, the majority leader. His victory demonstrated in stark terms the limits of Mr. Trump's clout.

Taking the stage after a solo rendition of "How Great Thou Art," an exultant Mr. Moore said he had "never prayed to win this campaign," only putting his political fate "in the hands of the Almighty."

"Together, we can make America great," he said, borrowing Mr. Trump's slogan and adding, "Don't let anybody in the press think that because he supported my opponent that I do not support him."

Mr. Trump had tweeted his support for Mr. Strange several times in recent days, but tweets appeared to be deleted on Tuesday night. Mr. Trump offered congratulations to Mr. Moore in a tweet. "Luther Strange started way back & ran a good race. Roy, WIN in Dec!" he wrote.

In a race that began as something of a political afterthought and ended up showcasing the right's enduring divisions, the victory by Mr. Moore, one of the most tenacious figures in Alabama politics, will likely embolden other anti-establishment conservatives to challenge incumbent Republicans in next year's midterm elections.

And more immediately, the party will be forced to wrestle with how to prop up an often-inflammatory candidate given to provocative remarks on same-sex marriage and race — all to protect a seat in a deep-red state. Mr. Moore's incendiary rhetoric will also oblige others in the party to answer for his comments, perhaps for years to come, at a time when many Republicans would just as soon move on from the debate over gay rights.

On Dec. 12, Mr. Moore will face Doug Jones, a former federal prosecutor and the Democratic nominee, in a race that will test the party loyalties of center-right voters who may be uneasy about their nominee. It may also reveal just how reliably Republican the state has become in the quarter-century since a Democrat last won a Senate election here.

Mr. Jones said in an interview Tuesday afternoon that he believed voters would reward a candidate focused on "kitchen-table issues," and said Alabama's public reputation was at stake in the election. "People are tired of being embarrassed in this state," Mr. Jones said. "People want to see someone who can get things done."

But Mr. Moore, 70, has proved himself to be a political survivor. He has been effectively removed from the State Supreme Court twice — the first in 2003, over his refusal to remove a statue of the Ten Commandments in the courthouse; the second last year, when he urged the state's probate judges to defy federal orders regarding same-sex marriage.

And in recent days, both the president and Vice President Mike Pence had campaigned for Mr. Strange. Mr. Trump, an enormously popular figure in Alabama, cast aside the tradition of presidents treading carefully in contested primaries, as well as the warnings from his own advisers regarding a candidate trailing in the polls.

Yet instead of delivering a tightly crafted testimonial at a rally on Friday, the president rambled for nearly an hour and a half about a range of topics, while openly questioning whether he was making a mistake coming into the state for Mr. Strange, who oriented his entire run around Mr. Trump's endorsement and stood looking on with a red "Make America Great Again" hat atop his head.

Mr. Strange conceded defeat on Tuesday night before a subdued audience at a hotel outside of Birmingham, acknowledging in a moment of striking candor that he did not fully grasp the forces at play in his loss.

"We're dealing with a political environment that I've never had any experience with," Mr. Strange said. "The political seas, the political winds in this country right now are very hard to navigate. They're very hard to understand."

He thanked Mr. Trump effusively, praising the president as a "loyal friend" and attempting to absolve him of any blame for the result. "If this causes him any trouble," Mr. Strange said, "it's not his fault."

Mr. Strange's defeat was the first time an incumbent senator with active White House support has lost since 2010, when Arlen Specter, the longtime senator of Pennsylvania, was beaten in a Democratic primary after switching parties.

But his loss was not just a blow to Mr. Trump. Mr. Moore relentlessly linked the senator to Mr. McConnell, who has made a priority of protecting his caucus from intraparty challenges, but is an increasingly polarizing figure among grass-roots Republicans. Despite the money and staff he directed to the race, Mr. McConnell became as much a liability as he was an asset, leaving Republicans nervously wondering what that may portend in other primaries next year.

On Tuesday night, Mr. McConnell said in a statement that he understood Mr. Moore had channeled "a dissatisfaction with the progress made in Washington." Saying that he shared that frustration, Mr. McConnell said he was determined to help Mr. Moore win, and made no references to the bitter attacks on his leadership by Mr. Moore and his allies.

(…)

Mr. Strange's demise was in some respects as much a local phenomenon as a national one, stemming from his appointment this year by then-Gov. Robert Bentley to fill the seat vacated by Attorney General Jeff Sessions. Mr. Strange, the state's attorney general at the time, was overseeing an investigation into Mr. Bentley's personal relationship with a close aide, suggesting to many in a scandal-weary state that there may have been a corrupt bargain. The newly appointed senator denied any wrongdoing, but never fully confronted the issue in a way that would eliminate the lingering cloud over the appointment.

And by Monday, an adviser to Mr. McConnell, anticipating defeat, started to privately make the case that it was Mr. Bentley's scandal and the circumstances around the appointment that was most to blame for Mr. Strange's lackluster support.

Mr. Strange's status as a proxy for the Republican establishment and a test of the president's sway came about almost by accident — a consequence of factors having little to do with Mr. Strange himself.
Moore's win was hardly a surprise, of course. After coming in first place in the first round of the primary, where he beat the incumbent Senator and former state Attorney General Luther Strange by six points, Moore quickly developed a lead in the polls that seemed as though it would likely be insurmountable. By the time yesterday's election came around, the RealClearPolitics polling average showed Moore leading Strange by more than eleven points. It's also worth noting that Moore received more than 100,000 more votes in yesterday's runoff than he did in the first round of the primary and that, contrary to normal trends, voter turnout for the runoff was higher than the first round by more than 60,000 votes. Additionally, notwithstanding the fact that President Trump had won the state by more than 600,000 votes in the General Election and the Republican Primary by nearly 200,000 votes, Alabama Republicans ended up rejecting the candidate that Trump had endorsed, voting for Moore, who had received the endorsement of figures such as former Alaska Governor Sarah Palin and former White House adviser Steve Bannon, both of whom campaigned for Moore several times over the past several weeks. Trump, meanwhile, only appeared in Alabama once, at a rally in Huntsville that ended up being more about Trump and the kneeling protests by some National Football League player than it was about Strange. Indeed, at one point in that speech on Friday Trump seemed to suggest that maybe he had made a mistake in backing Strange and made it clear that he would support and campaign for Moore if he won the runoff. Moore, meanwhile, was running an anti-establishment campaign that was more akin to Trump's 2016 campaign than Strange's was, and was careful to tie Strange, who has only been in the Senate for a few months, to Senate Majority Leader Mitch McConnell and the so-called Republican "establishment." Between the signals from Trump and the nature of the campaign, it's clear that Trump supporters in Alabama felt free to reject the candidate that their President had endorsed and get behind the candidate that arguably has far more in common with Trump than Strange did.
As James Joyner implied when Moore came in first place in the first round of the primary, the outcome of the runoff most likely means that he will win the General Election set for December 12th. Alabama is a solidly red state where Republicans control all of the Governor's Mansion, the Lt. Governor's seat, and the Attorney General's office, as well as both chambers of the state legislature, the state's Congressional delegation, and both of its Senate seats. It's a state that has gone for a Republican in every Presidential election since 1976 and every election since 1964 with the exception of 1968  when it gave its Electoral Votes to native son George Wallace. Additionally, while the polling of a Moore-Jones race has been limited so far, the polling that has been done shows Moore with a strong and seemingly insurmountable lead over the Democratic candidate. While Democrats will no doubt try to pull out a win by running against Moore and his far-right views, the odds are decidedly against them and they would probably be wise to not invest too many resources into a campaign that is extremely unlikely to be successful.
To be sure, there is nothing good about Moore winning this runoff and the prospect of his becoming a United States Senator. In addition to the fact that he has twice been removed from his position of as Chief Justice of Alabama's Supreme Court, Moore also has a long history of holding what can only be described as bizarre and bigoted views. He has, for example, called the September 11th attacks punishment aimed at the United States from God for accepting homosexuality and other alleged sins. He has also called for homosexuality itself to be outlawed. During the time that President Obama was in office, he sided with the discredited birther movement and said he did not believe the President was born in the United States even after the Obama White House produced the President's birth certificate. He has also said that Muslims should not be permitted to serve in Congress, and made several supportive comments aimed at Russian President Vladimir Putin. Most recently, Moore made comments that appear for all the world to be racist when he referred to "reds and yellows" in derogatory terms.
As Steven Stromberg puts it in The Washington Post, Moore's victory is bad for the country as a whole:
Unburdened by a sense of responsibility or institutional tradition, Moore will have opportunity to use the considerable powers that individual senators possess to mangle the process of government. When votes will be needed to keep the government open, pass a budget or respond to a natural disaster, Moore is likely to join bomb-throwers such as Sen. Ted Cruz (R-Tex.) in threatening counterproductive disruption if the country refuses to bend to his views. Once in the Senate, Moore is likely to remain there for many years, posing a unique challenge to whoever may run the chamber, Democrat or Republican, in the future.

Roy Moore stands for anarchy, disorder, disunity and conflict. His platform just got higher, and his power more considerable. Every minute he is in a position of national prominence, the country loses.
Longtime Republican campaign consultant Ed Rogers, meanwhile, calls Moore bad for Alabama and bad for the GOP:
Moore's victory makes it more likely that marginal characters will run in GOP primaries nationwide next year, in some cases challenging incumbents who would otherwise have easy reelections. And along with Republicans being generally discouraged, the prospect of primaries may fuel unexpected retirements from the House and Senate that will make safe seats suddenly vulnerable and put the GOP majorities at greater risk. This phenomenon — combined with a diminished legislative agenda in Congress, an unpopular and volatile president, generic ballot polls showing a wide gap favoring Democrats and the fact that the party controlling the White House is supposed to take a beating in the midterms — does not bode well for Republicans in the 2018 elections. To say the least, momentum for the GOP is not building. This is not what a winning election cycle looks like. And let's not forget that in politics, bad gets worse.4

(…)

Political predictions are foolish. It is a mistake to take today's headlines and extrapolate to the next election. But Republicans are doing nothing to discourage Democrats about their prospects for 2018 by electing the likes of Moore. The idea that Moore's victory was some kind of Bannonite strategy to strengthen Trump by diluting rational Republicans in the Senate with incapable crackpots is demented.

The bottom line for Republicans is, in Congress, within the White House and among the electorate, things are perilously close to being out of control. Our leaders, while discouraged, certainly don't need to capitulate. But real Republicans need to start winning.
Thanks for nothing, Alabama Republicans.