More Hillary For Vice-President Speculation
Once again, Washington is abuzz with rumors that Hillary Clinton will be replacing Joe Biden as the Democratic Vice-Presidential nominee in 2012.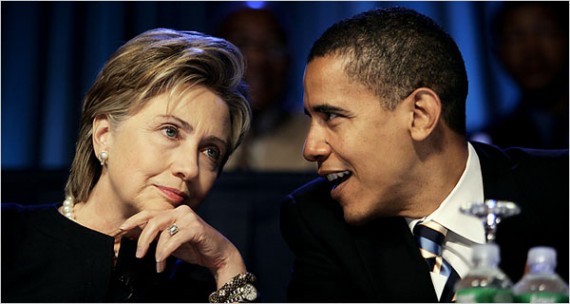 Last night, Bob Woodward once again ignited the rumors that Hillary Clinton could replace Joe Biden as President Obama's running mate in 2012:
Speculating that President Obama will replace Joe Biden with Hillary Clinton on the 2012 ticket has been a private pastime among some Democrats the past few months, and it broke into the open Tuesday night when investigative reporter Bob Woodward said it was a possibility in an interview on CNN.

Appearing on "John King, USA" to promote his book, "Obama's Wars," Woodward was asked by King about possible "political asides" that cropped up while he was doing research.

"A lot of people think if the president's a little weak going into 2012, he'll have to do a switch there and run with Hillary Clinton as his running mate," King said, repeating gossip that's swirled for several months and appeared from time to time on blogs.

"It's on the table," Woodward replied. "And some of Hillary Clinton's advisers see it as a real possibility in 2012. President Obama needs some of the women, Latinos, retirees that she did so well with during the 2008 primaries. So they switch jobs and not out of the question. The other interesting question is, Hillary Clinton could run in her own right in 2016 and be younger than Ronald Reagan when he was elected president."

Woodward did not offer any evidence that the idea is under consideration by either Obama or Clinton. A senior administration official said that any suggestion of replacing Biden with the secretary of state is totally off base.
Here's the video:
Like I said, this isn't a new rumor, it's been around virtually since the day President Obama took office. And, as I noted back in June when Sally Quinn raised the possibility, it does make a certain amount of sense for Democrats:
Biden, on the other hand, will be 74 when 2016 rolls around and, while he reportedly said last year that a run for President then is not out of the question, it is extremely unlikely that he'd be the nominee.

Republicans faced a similar issue in the run-up to the 2004 elections. There some who believed that Dick Cheney should step aside that year and allow President Bush to select another, younger, running mate who could become the GOP standard bearer in 2008. As it turned out, of course, the last four years of the Bush Administration were disastrous enough that it's unlikely that his Vice-President would have had much of an advantage in the race for the GOP nomination, to say nothing of the General Election.

Of course, there's no indication that Obama would even consider asking Biden to step aside in 2012, just as there was no evidence that Bush would have ever asked Cheney to do the same. If he did, though, and assuming that an Obama/Clinton ticket managed to win re-election in 2012, it could set up a very interesting election in 2016.
Nonetheless, the White House was quick to shoot down this latest manifestation of the Clinton-Biden swap rumor:
"There's absolutely nothing to it," senior adviser David Axelrod said Tuesday night. "The president is blessed to have a spectacular vice president and an outstanding secretary of state. They're both doing great work, and he wants to keep them on the job."

Advisers to Clinton said the same, and another Obama adviser called the idea "nuts."
Of course, that doesn't mean it won't happen. Biden could decide he doesn't want to serve another four years as Vice-President — although why he would is somewhat baffling since it's a job that doesn't require a large degree of work — in which case Hillary would seem to be a logical choice for the 2nd slot on the ticket.
Until then, consider these little more than another inside-the-beltway rumors.