More on Trump and the Fires
Trump appears to have been shamed into doing part of his job.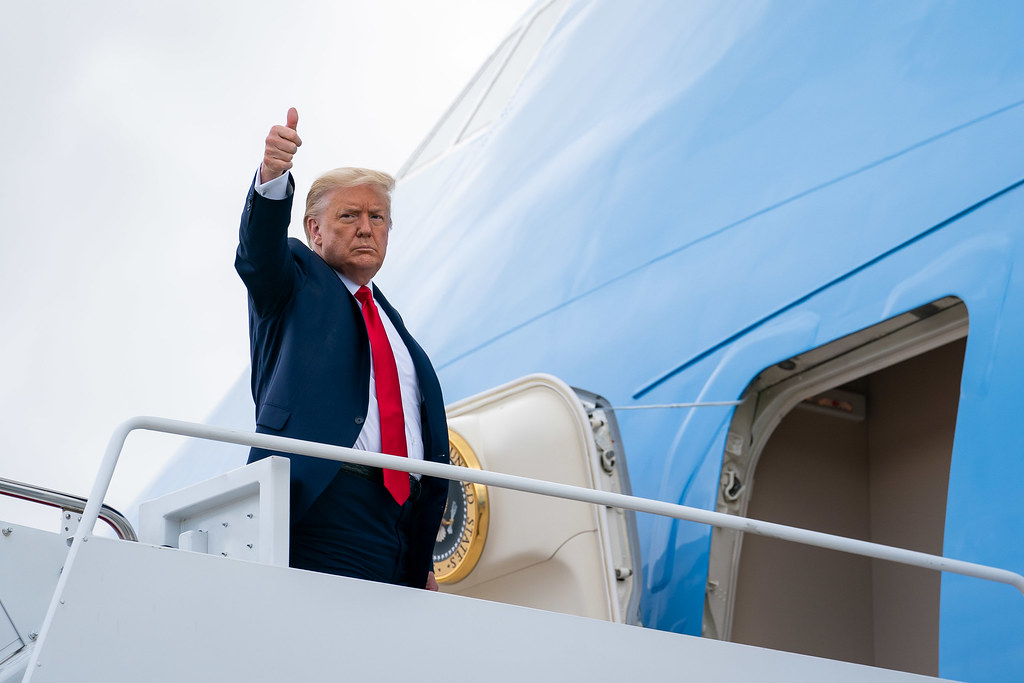 To add to my post yesterday, the NYT reports that Trump has been shamed into doing a basic function of his job, acknowledging national disasters. Hence, Trump to Visit California After Criticism Over Silence on Wildfires.
After weeks of public silence about the wildfires devastating the West Coast, President Trump scheduled a visit to California on Monday, where he will join local and federal fire and emergency officials for a briefing on the crisis.

The announcement of the visit, which was added to a three-day campaign swing through Nevada and Arizona, came after Mr. Trump tweeted Friday night thanking the firefighters and emergency medical workers. It was the president's first acknowledgment in almost a month of a wildfire season that has claimed at least 20 lives and destroyed millions of acres of land in California, Oregon and Washington.
There is so much going on, and this administration so abnormal, his lack of attention to wildfires has not garnered the attention it would have normally. Heck, in more normal times his lack of attention alone would have been a scandal.
The wildfires — which have created apocalyptic images of orange-hued skies, and served as a reminder of the consequences of climate change — have not come up in any of his public remarks in weeks.
That changed on Friday:
"I have approved 37 Stafford Act Declarations, including Fire Management Grants to support their brave work," Mr. Trump wrote, referring to an act that frees up federal funds and other resources to help supplement state and local efforts. "We are with them all the way!" Notably absent was any mention of residents who have been living under smoke-filled skies, many forced to evacuate their homes in the middle of a pandemic.
And, of course, when the article says "Mr. Trump wrote" it means "Mr. Trump tweeted" (and given the policy specificity and general coherence of the tweet, odds are that "an aide tweeted").
And I would underscore this, which I noted yesterday:
In one of the last times he mentioned the fires, he blamed the state of California for its forest management. "I said you've got to clean your floors, you got to clean your forests," he said at a Pennsylvania rally in August. He added, "Maybe we're just going to have to make them pay for it because they don't listen to us."
This is truly a grotesque thing for a leader to say: listen to me, or else suffer the consequences of your lack of fealty! And this is all made the worse by the inanity of the notion that if Californians would just "clean your forests" then all would be fine.
Clearly, the main thing Trump is worried about is campaigning against Biden, not actually acting like the head of state during a crisis:
A statement released by Mr. Biden on Saturday underscored all that the president himself had left unsaid.

"To the families who have lost everything; to the people forced to evacuate their homes; to the brave firefighters and first responders risking their lives to protect their neighbors — please know that we stand with you now," Mr. Biden said.
Trump clearly does not see himself as the President of the United States, but instead the President of People who Vote for Trump (and I realize this is hardly a new observation). And California is clearly not going into the Trump column:
Mr. Trump has long clashed with California. The state's attorney general, Xavier Becerra, has filed multiple lawsuits against the Trump administration, on issues like immigration, health care and environment policy. For its part, the administration has never appeared to hold back in confronting the state, and the president last year publicly blamed Gov. Gavin Newsom of California for a succession of wildfires and power outages that battered the state.

Democratic lawmakers from California suggested Mr. Trump was uninterested in helping a blue state. "There's a deep feeling that you get different treatment in this administration, in terms of speed and attention, based on how people have voted," Mayor Eric Garcetti of Los Angeles said in an interview on Saturday.

[…]

"If someone calls my office for help, I don't ask for their political affiliation or how their neighborhood voted," Mr. Garcetti said. "It would be refreshing to have a president who thought the same way when people are losing their homes and everything they ever had. He doesn't blame the Gulf Coast for hurricanes, but he blames California for not raking?"
Indeed.
And the piece concludes:
Miles Taylor, a former senior official at the Department of Homeland Security appointed by Mr. Trump, said recently that he witnessed the president seeking to cut off federal funding for California to combat wildfires simply because it is a Democratic stronghold.

"He told us to stop giving money to people whose houses had burned down from a wildfire because he was so rageful that people in the state of California didn't support him, and that politically, it wasn't a base for him," Mr. Taylor, who served in the administration from 2017 to 2019, said in an advertisement by a group supporting Mr. Biden's candidacy.
Is there any evidence that would make us doubt this account? Clearly not.